Over the past four years of the NDA government, Prime Minister Narendra Modi has implemented several welfare schemes in key areas such as financial inclusion and affordable housing

Moneycontrol News 
Over the past four years of the NDA government, Prime Minister Narendra Modi has implemented several welfare schemes in key areas such as financial inclusion, affordable housing, cooking fuel, electrification and transportation connectivity.
As the Modi-led government turns four on May 26, let's look at how these welfare schemes have performed so far:
Also read — Modi govt will seek coverage of all villages under flagship welfare schemes by 2019: Shah
Pradhan Mantri Awas Yojana (Gramin)
Under the Pradhan Mantri Awas Yojna (PMAY), the government aims to achieve 'Housing For All' (HFA) by 2022, when India will be completing its 75 years of Independence.
"By the time the Nation completes 75 years of Independence, Pradhan Mantri Awas Yojna will bring a 'pucca house' for every family in urban cities with water connection, toilet facilities, 24x7 electricity supply and complete access," PM  Modi had said in the joint session of Parliament in June 2014.
Over the past four years, 19,264 affordable houses were built across India. Out of the set target to build 19.5 lakh houses in rural areas, over 7.3 lakh people have received their first installment to build a house.
Progess report on the Pradhan Mantri Awas Yojna (Urban) was unavailable on the Ministry of Housing and Urban Affairs at the time of filing this report.
Pradhan Mantri Jan-Dhan Yojana (PMJDY)
PM Modi's flagship financial inclusion scheme, Pradhan Mantri Jan-Dhan Yojana, aims to ensure access to financial services such as banking, savings and deposit accounts, remittance, credit, insurance, pension in an affordable manner.
Under this scheme, 31.60 crore people across India opened a Jan-Dhan account as of May 9, 2018. By far, the PMJDY has emerged as one of the world's largest financial inclusion programmes.

Special benefits under PMJDY Scheme include accidental insurance cover of Rs 1 lakh, no minimum balance requirement and a life cover of Rs 30,000 payable on death of the beneficiary.
Insight 18 | A Look At 4 Years Of Modi Government
Deen Dayal Upadhyaya Gram Jyoti Yojana (DDUGJY)
The idea of electrifying every village in India was conveyed by PM Modi in his August 15 speech in 2015 where he promised electrification all un-electrified villages within 1,000 days. As per government records, by April 1, 2015, India had about 18,452 unelectrified villages.
The task to electrify the remaining villages was completed in 988 days as on April 28, 2018 as electricity reached Manipur's Leisang village after over 70 years of Independence under the Deen Dayal Upadhyaya Gram Jyoti Yojana (DDUGJY).
The Prime Minister, however, launched a Rs 16,320-crore Pradhan Mantri Sahaj Bijli Har Ghar Yojana, or Saubhagya scheme to provide electricity connections to over 40 million families in rural and urban areas by December 2018.
Out of the set target to provide electricity connection to 3,80,23,012 households, the government has so provided electricity connection to 61,89,812 houses as on May 25, 2018.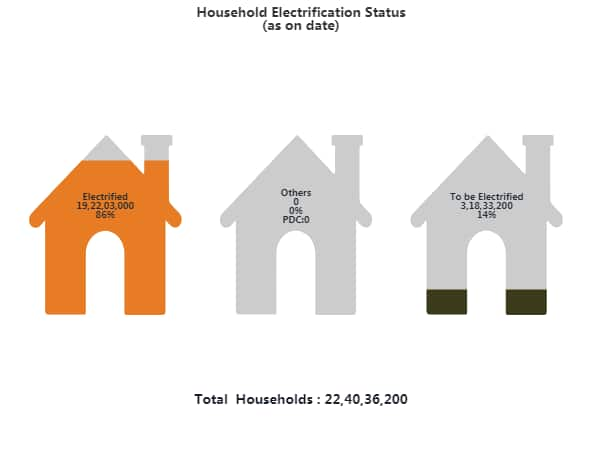 Pradhan Mantri Ujjwala Yojana (PMUY)
Under the PM Ujjwala Yojana, the government aims to provide LPG connections to below poverty line (BPL) households in the country to replace unclean cooking fuels used in rural India with the clean and more efficient LPG (Liquefied Petroleum Gas).
Earlier this year, the Centre had revised its target to provide LPG connections to eight crore from five crore. Nearly four crore (3,98,77,723) connections have been given under the scheme so far, about 80 lakh of them in the past five months.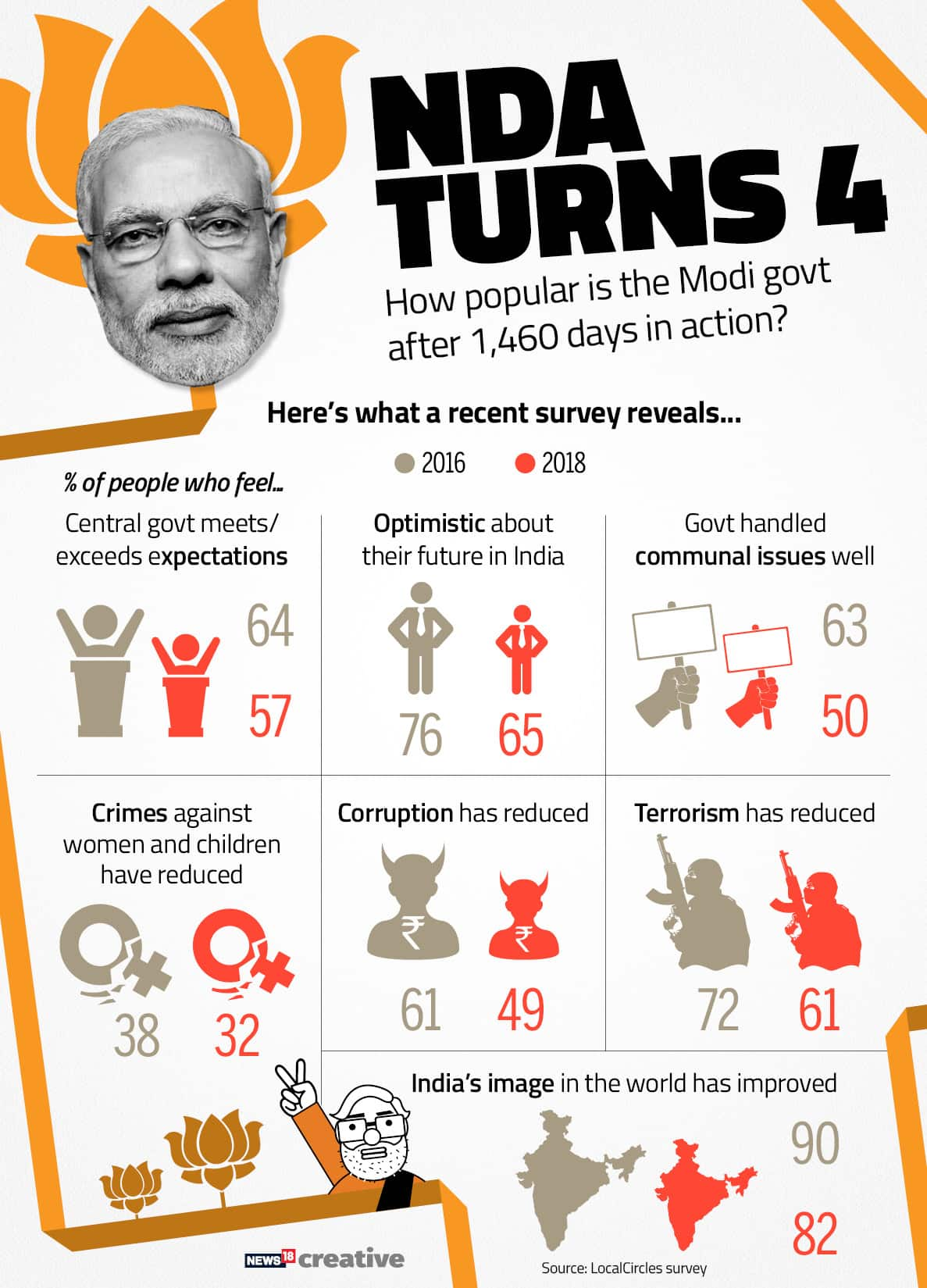 Swachh Bharat Mission (SBM)
PM Modi's flagship sanitation campaign in India that aims to build toilets and clean up streets, roads and infrastructure of India's cities, towns and rural areas.
In urban areas, over 46 lakh individual toilets have been constructed out of nearly 94 lakh application received for toilet construction. Total community and public toilets stood at 3.1 lakh and the number of open defecation free (ODF) cities clocked at 2,212 as of May 24, 2018.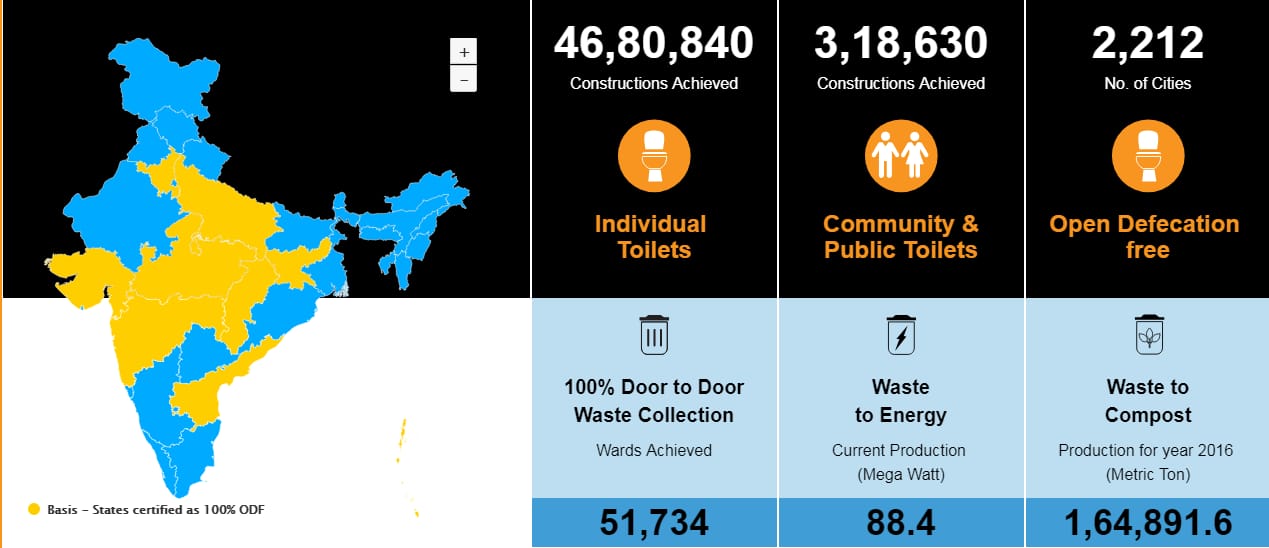 In the rural areas, over 7.2 crore toilets have been constructed across all villages in India compared to 9.5 crore households that do not have toilets. More than 60 percent of the rural households in all sates are reported to have toilets except Odisha (55 percent) and Bihar (55.1 percent). Out of the 3.6 lakh villages which self-declared open defecation free (ODF), 2.5 lakh declarations have been verified.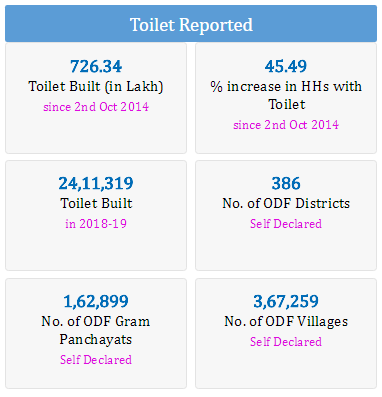 The NDA government has preponed deadlines for a number of welfare schemes with an aim to complete all its set targets before the forthcoming 2019 Lok Sabha elections.
The deadlines of Swachh Bharat has been revised to March 2019 from October 2019; Ujjwala Yojana, Saubhagya scheme and PM Awas Yojana's has been preponed to December 2018.
First Published on May 26, 2018 08:52 am