We continue to prefer Apex Frozen Foods from a business perspective, but volume growth is likely to see some stagnation this fiscal on account of lower domestic production and shrimp disease
Aquaculture companies delivered a weak set of earnings during Q1 FY19. Our initiation research note on the sector had a cautious outlook and the Q1 results were a reflection of weakening industry dynamics. So, what has changed since then that will have a bearing on shrimp-related companies.
Weak quarterly numbers

Apex Frozen Foods
,
Avanti Feeds
and
Waterbase
– the three listed mid-sized companies in the shrimp business - reported a disappointing Q1 due to a sharp contraction in operating margins, amid falling realisations and rising input costs. Waterbase's Q1 performance stood out among the three names as it reported a 22 percent jump in topline on higher volumes. Its margin came in better compared to its shrimp-feed peer Avanti Feeds as a sharp rise in raw material costs partially offset a decline in inventory and reduction in manufacturing expenses.

New feed capacities in pipeline

Nutreco, the Dutch producer of animal nutrition, has inked a joint feed venture with India's West Coast Group to set-up a 100,000 metric tonne per annum (mtpa) feed capacity in Gujarat. The plant is expected to open in the first quarter of 2020.
Earlier this year, Cargill, the world's largest agricultural company, inaugurated its Indian feed plant, tripling its output to 90,000 mtpa. Similarly, Andhra Pradesh-based Devi Seafoods India, the second-largest shrimp exporter in the country, is aiming to more than double its feed capacity over the next few years.
The total market size of the shrimp feed industry is pegged at about 1.1-1.2 million mtpa in FY17, with an installed capacity of around 2.2 million mtpa. The commencement of new feed capacities will further put pressure on the realisations, amid increasing supplies.
Volume contraction in US shrimp imports

Shrimp imports to the US grew 3 percent over the course of 2015 and 2016. Demand accelerated further in 2017 as volumes jumped by another 10 percent. Coming from a high base in 2017, growth in volume trajectory sustained during the early months of 2018, but has been tapering off since.

Slowing US demand, rising trade war concerns (import tariffs on shrimp) and stricter quality checks have resulted in a decline in shrimp imports in recent months. Volumes witnessed its first year-on-year drop in May, which continued over June and July. August shrimp imports showed signs of a minor recovery as volumes rose 8 percent. Despite the volume recovery, US import realisations continued their downward journey as prices hovered around $8-8.5 per kg during August compared to $9-9.5 per kg during May-June.
Indian shrimp prices show minor signs of recovery

Majority of farmers reported losses in the previous season due to low prevalent prices and increased production costs. On the international front, Ecuadorian farm gate prices for 40-50 count shrimp hit a low of $4.8 per kg in the first half of 2018 and is currently trading around $5-5.2 per kg. Similarly, prices of Indian vannamei shrimp moderately recovered to around Rs 280-290 per kg from the lows of Rs 200-210 per kg seen during May-June. Despite the rise, prices continue to trade at a significant discount compared to last year.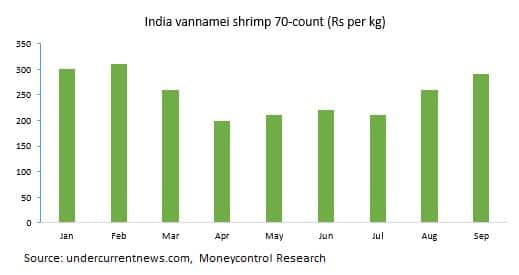 Vietnam's aggressive expansion plan

In January, the Prime Minister of Vietnam has announced an ambitious plan targeting a three-fold jump in shrimp exports to $10 billion by 2025. In 2017, the country's shrimp production was pegged around $3.5 billion in value terms and 500-600,000 mtpa in volume terms. The expansion targets a production of 800,000  mtpa by 2020 and 12,00,000  mtpa by 2025 through development of large-scale eco-shrimp farming areas. Besides Vietnam, Ecuador and Indonesia are also planning to significantly ramp-up their production capacities by 2020.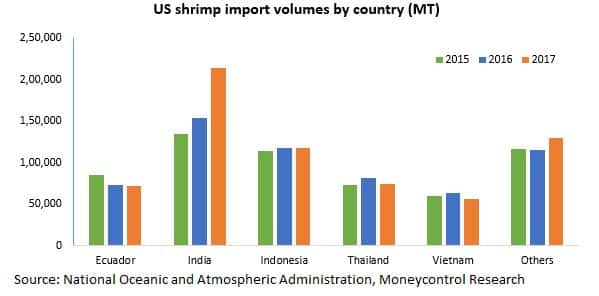 Shrimp disease in China and Thailand

Even as the industry faces challenging times, the detection of shrimp hemocyte iridescent virus (SHIV) has added to its concerns. The impact of the same is expected to be limited to certain parts of China and Thailand, but a further spread of this disease across other geographies could lead to a shortage of shrimps globally. Also, there is an increased focus on using medically important antibiotics (for farm and meat animals) as distributors as well as consumers are laying greater emphasis on health and hygiene. The European Union, on multiple times, has highlighted concerns over high incidence of antibiotics in shrimps. In May, the US Food and Drug Administration (FDA) refused entry of certain shrimps due to the presence of banned antibiotics.
Maintain cautious outlook on the sector
Although shrimp prices have recovered from their yearly lows, companies in the feed business will continue to face margin pressure. Prices of soyameal, maize and fishmeal, the key raw materials for shrimp feed, have seen some correction since our last update, but continue to trade 12-15 percent higher compared to the previous year.

While the shrimp feed business continues to suffer from overcapacity, the shrimp processing business is likely to face a volume contraction on account of stagnating US demand, slowdown in China and rising trade war concerns. In line with our expectations, the management of Avanti Feeds has revised downwards its FY19 feed volume guidance and expects volumes to be around similar levels as last year. We continue to prefer Apex Frozen Foods from a business perspective, but volume growth is likely to see some stagnation this fiscal on account of lower domestic production and shrimp disease. A weakening rupee against the dollar will boost export realisations.
Although the sector has seen minor positive developments over the last few months, we maintain our cautious outlook on the sector. Long-term Investors are advised to wait on the sidelines as we await further signs of recovery and better price points to initiate a position in these stocks.
For more research articles, visit our Moneycontrol Research page
First Published on Oct 18, 2018 01:47 pm