Nitin Agrawal
Moneycontrol ResearchHighlights:

- Strong clientele and no client concentration
- Diversified product portfolio with superior quality
- Strong order book providing earnings visibility


- Focus on new growth avenues: Aftermarket, BS-VI and electric vehicle
-------------------------------------------------
In a quest to identify businesses from the mid/smallcap space, which could be a part of one's long term portfolio, we have zeroed in on Rico Auto Industries (RAI). Following factors work in favour of the company:
The business

RAI is a manufacturer and supplier of high precision and fully machined components of both aluminium and ferrous to original equipment manufacturers (OEMs) in India and across the globe. It caters to clients in the four-wheeler (4W) and two-wheeler (2W) space. On the back of its multiple fully integrated facilities, it offers a complete spectrum to its customers and has become an important supply source of complex components and assemblies to its customers.
The moot question is why did RAI catch our attention?

After battling tough times due to the Hero Honda demerger, the management had taken measures to overcome the tumultuous situation and has now come out of the woods. De-risking client and product concentration, product innovation and industry opportunities have helped the company to turn the corner.
Strong clientele boosts confidence

On the back of superior product quality and innovation, RAI has been able to partner with who's who of the automotive industry not only in India but also abroad. It keeps on adding new clients in its kitty and has contracted with Kia Motors, Groupe PSA, Punch Powertrain and Daimler in the quarter gone by.

Strong order book provides earnings visibility

RAI has changed its fortune in the last three years after facing a difficult period of extraordinary challenges during FY13-15. From the meagre orders in its kitty in FY16, RAI ramped up significantly and received Rs 2,250 crore incremental orders in Q2 FY19, providing earnings visibility.
Focus on aftermarket a new growth avenue

In a quest to find new growth avenues, the company has started focusing on aftermarket from May 2017 with 2W components supply. It has since then been ramping up its presence in aftermarket and currently has 52 dealers in India (presence in more than 20 states), Sri Lanka and Nepal. It now supplies more than 192 parts in 2W segment and has started supplying 4W parts in Q2 FY19. The management expects revenue to touch Rs 25 crore and Rs 100 crore by FY19 and FY20, respectively, from Rs 0.14 crore in FY17.
Diversification – no client and product risk

RAI had a significant exposure (more than half of total revenue) to a single customer – Hero Honda -- which caused the company a lot of pain after the latter's demerger, leading to 25 percent revenue loss in FY16. Learning from past, the management has de-risked itself from product and client concentration over the years.
It has increased its focus on passenger vehicle (PV) and commercial vehicle (CV) components and reduced its exposure to the 2W segment to 35 percent in FY18 from 65 percent in FY13. The company also has a well-diversified product base with engine, transmission and chassis contributing 35 percent, 45 percent and 19 percent in FY18, respectively.
Change in norms an upcoming opportunity

The management is aggressively focusing on opportunities arising from the change in safety norms such as mandatory combined braking system (CBS) in the 2W space. It also indicated it will start the process of developing CBS.
RAI has been focusing on additional aluminium products as it senses a huge opportunity. It believes that various regulatory compulsions such as change in emission norm to Bharat Stage VI and upcoming shift towards electric vehicles would require vehicles to be energy efficient, thus calling for lighter components. Increased focus on aluminium products is visible from its share of contribution to total revenue, which is more than 70 percent now, up from 55-60 percent in FY13.
Financial performance – emerging out of the woods

The company has been performing well after facing challenges after the Hero Honda demerger. Net revenue grew by 10 percent compounded annually over FY16-18. Earnings before interest, tax, depreciation and amortisation (EBITDA) margin profile also improved significantly. It expanded 443.8 bps in FY18 as compared to FY15, primarily on the back of cost optimisation efforts undertaken by the company.
After FY15, RAI has been able to improve its return ratios and has been maintaining its debt-to-equity ratio under 0.5.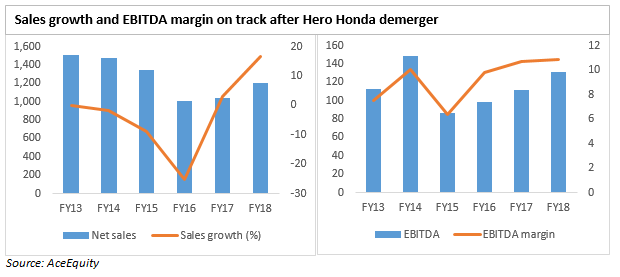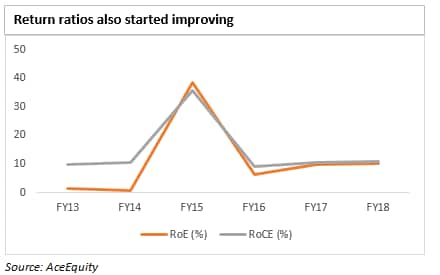 Valuation

Amid the volatility in the mid/smallcap space, the stock has corrected 37 percent from its 52-week high, making valuations attractive. Currently, it is trading at 14.8 times and 13.5 times FY19 and FY20 projected earnings, respectively.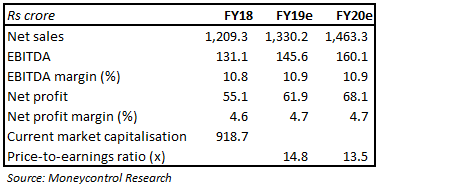 Peer comparison

For more research articles, visit our Moneycontrol Research page
First Published on Dec 6, 2018 01:24 pm