Superior performance is not limited to just HDFC Bank as a lot of value is being created by its subsidiary – HDB Financial Services
HDFC Bank, India's largest private sector bank, has been the most consistent performer on the street for many years, delivering earnings growth in high-teens. Predictability of its numbers make it at times almost boring to analyse. Its loan growth continues to remain strong (ahead of the industry), margin is steady and asset quality remains as pristine as ever.
The bank posted robust profit through 1998 to 2018, with compounded annual growth rate (CAGR) of 32 percent for 20 years. Return on equity (RoE) has been over 15 percent for every single year from 1998 to 2018. As a consequence of superior performance, the stock has generated more than 29 percent CAGR in the last 20 years.
The stock's upward trajectory is now more than 20 years old. Hence, the moot question for investors is can the rally continue and wealth be created by investing in HDFC Bank stock today? Despite the over two decade old rally, there are no signs of a dearth in earnings growth for HDFC Bank and hence we expect this rally to continue.
Going forward, the superior performance may not be limited to just the bank as a lot of value is being created by its subsidiaries. HDFC group has incubated many successful financial services businesses. Subsidiaries and associate companies have an equally blazing track record (GRUH Finance, HDFC Standard Life and HDFC AMC). Next in line is HDB Financial Services (HDB), a subsidiary of HDFC Bank (95.9 percent owned by the bank). As per media sources, the unlisted subsidiary is being valued at Rs 90,000 crore. If we incorporate this number into our valuation, upside to HDFC Bank's stock price rises further.
HDB Financial Services: Rapidly gaining scale

HDB has emerged as one of the larger players in the retail financing space over the past few years. It has presence in 831 cities through 1,165 branches as at March-end.
While the non-banking financial company (NBFC) complements the parent's product portfolio and supports collection activities for the retail portfolio, it functions independently and caters to customer segment distinct to that of banks.

HDB's asset portfolio stood at Rs 44,469 crore as at March-end and has grown at 35 percent CAGR in the last 4 years. The loan book has diversified with increased presence in commercial vehicle and construction equipment (CV/CE) financing and business loans. The company is aggressively expanding into consumer durable financing. Loan against property (LAP) portfolio at Rs 18,290 crore as on March 31 accounts for around 41 percent of overall loan portfolio.
HDB's asset quality is healthy with gross non-performing assets (NPAs) of 1.58 percent as on March 31, despite unsecured loans constituting 21% of the portfolio. The loan book, however, is relatively unseasoned and has to be fully tested across economic cycles.
HDB's profit more than quadrupled during the last four years to Rs 952 crore. Return on assets (RoA) stood at 2.4 percent in FY18, aided by healthy net interest margin (NIM) and low credit cost.
Impact on HDFC Bank's valuation
We expect HDB to gain further scale over the medium term due to immense growth potential in the sector and adequate capital support from the bank. So far, HDFC Bank has cumulatively infused Rs 3,480 crore in HDB.
Value unlocking through a public listing of HDB is still some time away. However, given its current size, we had assigned value to HDB to arrive at the fair value for HDFC Bank stock. Read: HDFC Bank well poised to leap ahead, buy
In our earlier note, we valued HDB at Rs 25,940 crore, which is 3 times FY20e book value (or 4 times trailing book). It translates to a price of Rs 331 per share. However, as per media reports, investors are buying HDB shares at Rs 1,150 per share, valuing the company at Rs 90,000 crore. If we incorporate the same into our valuation, the upside to HDFC Bank shares increases substantially.

Looking differently, if we value HDB at Rs 90,000 crore, the HDFC Bank share currently trades at FY20 price-to-book ratio (P/B) estimate of 2.8 times, which is significantly below its historical range.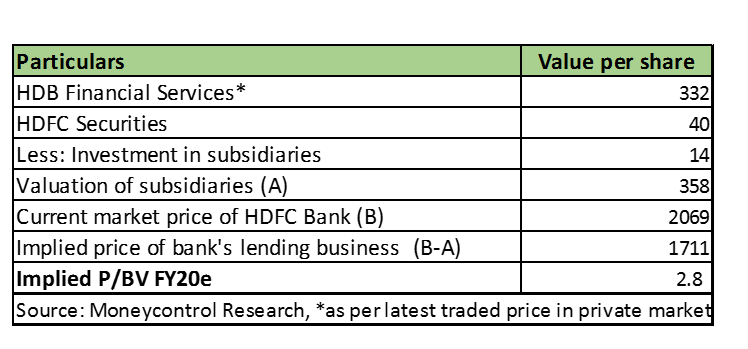 Though HDB's value in the private (unlisted) market may not be the most appropriate or accurate measure of its value, we see a lot of value being created by it. Even if we value it on a conservative basis (3 times FY20e book value), we arrive at strong upside (more than 20 percent) to HDFC Bank's stock price.
It is rarity to find a high quality business with decent and predictable earnings growth at reasonable valuations. Current consolidation of the stock price may be due to uncertainty relating to impending CEO change in FY20. Investors should utilise this as an opportunity to buy into the stock. We expect management transition to be smooth as HDFC Bank is a process driven institution.
With markets staring at multiple headwinds in the near-term, HDFC Bank is a must own core holding among Indian equities.
For more research articles, visit our Moneycontrol Research page
First Published on Aug 31, 2018 04:34 pm