Recent government initiatives (Dedicated Freight Corridors, Sagarmala and BharatMala) along with GST, e-way bill and change in axle load norms is aiding growth as well as formalisation in the sector.
Transport Corporation of India (TCI) and TCI Express (TCIX) reported their second quarter earnings in the first week of November. TCIX had a stellar quarter as it delivered strong topline growth and operational performance. In contrast, TCI posted a mixed set of numbers with healthy double-digit revenue growth, but profits remained flat as increase in operating costs weighed on margin. Both these logistics companies have gained market share since the introduction of Goods & Services Tax (GST) and remain well-positioned to reap benefits of industry reforms.
Transport Corporation of India

Sales for the Multi-modal logistics service provider -- TCI – grew 19 percent year-on-year (YoY) to Rs 621 crore. Earnings before interest, tax, depreciation and amortisation (EBITDA) came in flat despite higher topline, even as margin declined by 100 basis points (100 bps = 1 percentage point). Sharp increase in fuel prices and change in business mix dragged operating margin.

Growth in revenue and profitability during Q2 was hampered by multiple factors. Delay in festive season and truckers strike in July had a compounding effect on volumes of its three business lines. Kerala floods and adverse coastal conditions on the west coast impacted cargo movement for its seaways segment. On the cost front, the company reported higher operating expenses due to sharp jump in crude oil prices.

Topline for the freight division stood at Rs 293 crore in Q2, implying segmental revenue growth of 27 percent. Revenue for the supply chain solutions segment came in 9 percent higher at Rs 255 crore due to a high base last year. Strong demand from the automobile industry drove sales growth in this segment. Seaways division reported its strongest ever revenue growth (36 percent) across its three business verticals in Q2 FY19. Topline growth in Q2 was boosted by fleet expansion. In March, TCI added another ship to its existing fleet of five, which operates on the east and west coast. Margin for the seaways segment contracted on higher energy prices.
The company incurred a capital expenditure of Rs 113 crore in H1 FY19. The same for FY19 is pegged around Rs 200 crore. The new investment will primarily be used for acquiring a new fleet of trucks and ships as current capacities are nearing optimum utilisation. The investment will be funded through a combination of debt and internal accruals. Its Balance Sheet remains healthy and the debt-to-equity ratio is expected to remain at current levels of 0.6 times as majority of the debt is required to meet its working capital needs.
TCI Express
Revenue increased 21 percent to Rs 247 crore. EBITDA came in 38 percent higher than last year at Rs 27 crore. Profit after tax rose 25 percent to Rs 16 crore.

Revenue continues to be on an uptrend as the company delivered its fourth consecutive quarter with topline growth in excess of 20 percent. This has been aided by strong demand from pharmaceuticals, automobile, retail and SME (small and medium enterprises) sectors. TCIX added around 2,000 customers during H1 and its total number of clients at the end of Q2 stood at nearly 2 lakh.
Expansion in operating margin has been achieved through technology integration as well changes in its distribution strategy. TCIX has been able to maintain margin on a sequential basis in spite of rising fuel prices as it follows a fuel surcharge-based pricing mechanism and has been able to selectively pass on crude-related costs to clients during the quarter gone by.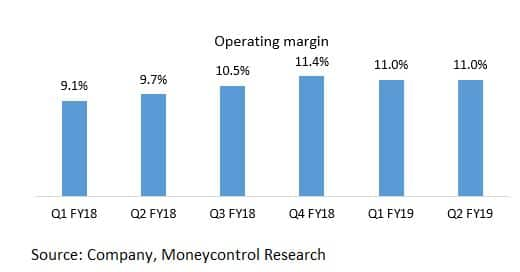 The company provides express cargo delivery services through a network of 28 sorting centres. It follows an asset-light model and operates majority of these (18) on a leased basis and owns the balance. Going forward, the management plans to own sorting and distribution centres in a few strategic business hubs (Delhi, Pune, Kolkata and Chennai) as it allows greater control on business operations. However, it will continue to lease centres at other locations.
Capex spend for H1 stood at Rs 16 crore and the same for FY19 is pegged around Rs 60 crore.
Outlook and recommendation
Increase in economic activity has been driving demand for the logistics industry. Recent government initiatives (Dedicated Freight Corridors, Sagarmala and BharatMala) along with GST, e-way bill and change in axle load norms is aiding growth as well as formalisation in the sector.

We remain optimistic on earnings growth of both these companies and expect them to deliver healthy earnings growth over the next couple of years. From a valuation standpoint, TCIX trades at 25 times FY20 price-to-earnings multiple and appears priced to perfection. Investors with a medium to long term view should look to accumulate TCIX on dips given its strong fundamentals, low leverage (D/E ratio of 0.1 times at FY18-end) and market share gains from competitors.
TCI's performance was fairly robust considering business conditions in Q2 was hit by a number of adverse factors. Margin is expected to recover in the short to medium term as fuel-related costs will be passed on to clients over the next two quarters. Over the long run, growth in revenue and profitability will be driven by seaways and supply chain solutions segments. This should further boost profitability as these segments enjoy higher margins compared to its core freight business. TCI trades at a significant discount to its sister company TCIX and offers a fairly attractive long term investment opportunity at a forward price-to-earnings multiple of 15 times, with significant scope for a re-rating.
For more research articles, visit our Moneycontrol Research page
First Published on Nov 15, 2018 02:51 pm