We recorded two calls from con men to understand what their modus operandi is. Listen in to avoid falling prey and losing out money to scamsters.
Getting a call from a WhatsApp number with the logo of Kaun Banega Crorepati? Before you answer it, pause for a second. The excitement is understandable, but it may not be Big B on the other end, saying "Hello, main Amitabh Bachchan bol raha hoon Kaun Banega Crorepati se." Instead, it could very well be a scamster trying to con you off your hard-earned money.
On November 13, this journalist received a WhatsApp call — that had the logo of Kaun Banega Crorepati as its display picture — from +923043994634. The country code (+92) is that of Pakistan. Realising that it was one of those scam calls, he cancelled it and blocked the number. On second thoughts, however, he decided to call back on the number to find what it was all about and figure out the modus operandi.
We recorded the call to understand the nitty-gritties. Listen in to avoid falling prey and losing out on your money to such scamsters.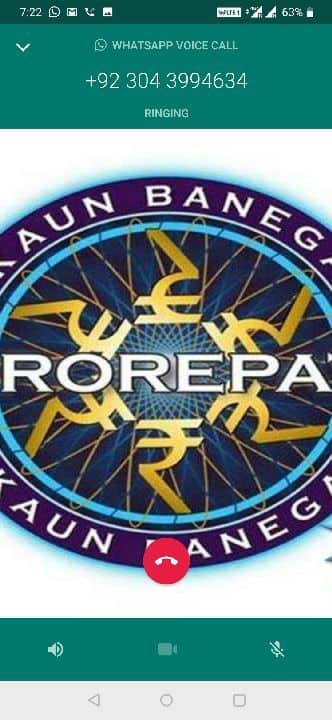 After calling the number, the person on the other end said 25 people across India had won Rs 2.5 million in the Ghar Baitho Jeeto Kaun Banega Crorepati (KBC) competition, and this number was included on the list. He said a "paper" (message) would be sent in a bit, which details the procedure to receive the cash.
Here's how the conversation went. (We had to speak in Hindi as the caller was comfortable in the language. In the background, another person can be heard talking to a prospective victim.)
Following the call, the message (below) was sent: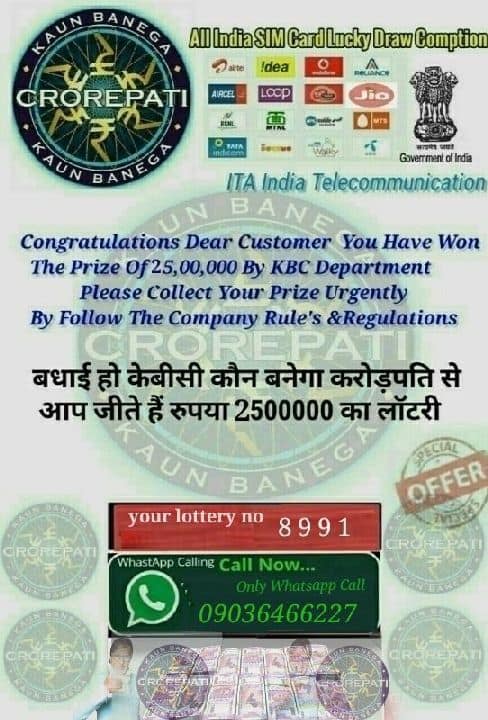 The caller then asked us to save this number 09036466227 and make a call via WhatsApp to one Vikram Singh, supposedly a branch manager at State Bank of India (SBI). He added that Singh was the person who would seek bank details to transfer the prize money.
We probed a little and the person said he was calling from Churchgate in Mumbai, from the "KBC headoffice".
We assured that we'd call the other number.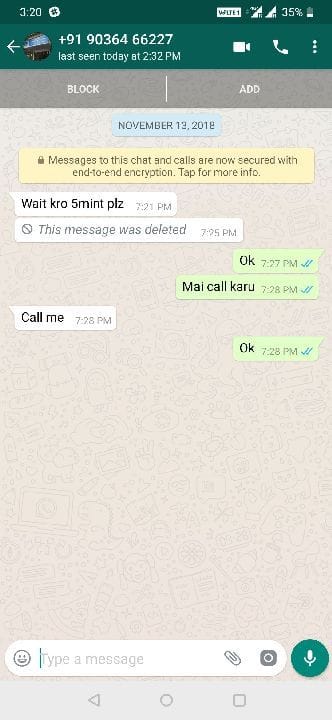 Here's what happened on the other call:
Now, this so-called "Vikram Singh" congratulated us and said the amount would be transferred the next day, as the bank was closed and internet banking was not available. We did tell him that transactions can be made 24X7, but he insisted that it was not possible at 6.30pm.
Nonetheless, before we could share our fake bank account details with Singh, he said we would have to initially deposit a sum of Rs 15,000 to receive the cash prize as it was tax that needed to be paid to the government. At this juncture, we decided to call the scam, following which the person cut the call.
The way such calls are being made to unsuspecting people, and WhatsApp – that has end-to-end encryption – being used as a mode, will such fraudsters ever get caught and people be saved from losing out on their hard-earned money?
KBC runs a ticker and the show repeatedly warns viewers not to engage in such malicious calls. Moneycontrol contacted WhatsApp and here's what a spokesperson from the messaging platform had to say, "WhatsApp cares deeply about the privacy of our users - people rely on WhatsApp for all kinds of sensitive conversations, including with their doctors, banks and families. Scammers have no place on our platform and we encourage people to report such a problem so we can take action, including banning those accounts from WhatsApp. This is why when you receive a message from an unknown number for the first time, we display the option to report the number directly inside the chat."
First Published on Nov 16, 2018 07:56 am