The Reserve Bank of India issued a clarification after spotting some misinformed messages circulating online about the closure of some public sector banks after being placed under Prompt Corrective Action.
In its second such clarification this year, the Reserve Bank of India has reiterated that any bank placed under Prompt Corrective Action (PCA) framework will not close down and operations directly involving the general public remain unaffected.
"The Reserve Bank has clarified that the PCA framework is not intended to constrain normal operations of the banks for the general public," the central bank said in a statement.
This comes after the Reserve Bank of India came across some misinformed messages circulating in some sections of media, including social media, about closure of some Public Sector Banks in the wake of their being placed under the PCA framework.
In a separate statement, a senior government official clarified that there is no plan to shut down any bank. Rajeev Kumar, secretary at the Department of Financial Services advised citizens not to believe rumors since there 'no question' of closing down any bank.



No question of closing down any Bank. Govt is strengthening PSBs by 2.11 lakh Cr recapitalisation plan. Do not believe rumour mongers. Recap, Reforms roadmap for PSBs firmly on track @FinMinIndia @arunjaitley @PMOIndia @RBI


— Rajeev kumar (@rajeevkumr) December 22, 2017
On Wednesday, public sector lender Bank of India was placed under PCA — the first time such action was taken on a large public sector lender. On the same day, RBI also placed additional restrictions under PCA on United Bank of India.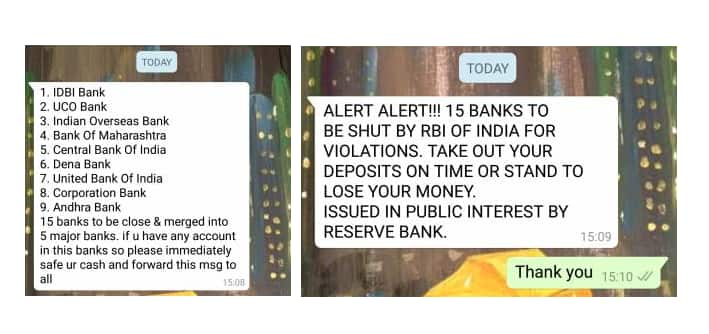 Since then, there have been a flurry of messages on WhatsApp saying "15 banks to be shut by RBI for violations" and that people must withdraw their deposits or lose their money.
However, these messages are fake — no banks are closing down and your deposits are safe.
As of today, ten banks have been placed under PCA -- Bank of India, Corporation Bank, Oriental Bank of Commerce, UCO Bank, Central Bank of India, IDBI bank, Dena Bank, United Bank of India and Bank of Maharashtra.
Previously, in 2015, Indian Overseas Bank  was under PCA for when its gross non-performing assets (NPAs) touched 10 percent.
In June this year, the banking regulator had given a similar clarification that under its supervisory framework, RBI uses various measures/tools to maintain sound financial health of banks.
PCA framework is one such supervisory tool, which involves monitoring of certain performance indicators of the banks as an early warning exercise and is initiated once such thresholds as relating to capital, asset quality etc. are breached.
Its objective is to facilitate the banks to take corrective measures including those prescribed by the Reserve Bank, in a timely manner, in order to restore their financial health. The framework also provides an opportunity to the RBI to focus on such banks by engaging with the management more closely in those areas.
The Reserve Bank has emphasised that the PCA framework has been in operation since December 2002 and the guidelines issued on April 13, 2017 are only a revised version of the earlier framework.
First Published on Dec 22, 2017 04:07 pm