Following its strong price performance since listing, valuations are definitely rich. Given HDFC AMC's best-in-class return ratios, we see premium valuations sustaining and expect the stock to be a long term compounder
HDFC Asset Management (HDFC AMC), the second largest asset management company (AMC) in India, reported a strong Q1 FY19 earnings, with net profit rising 25 percent year-on year on the back of increase in assets under management (AUM) and better asset class mix.
We see asset management industry on a sustained growth path driven by India's long-term economic growth prospects and buoyant equity markets. HDFC AMC, being a leading player, will continue to be one of the key beneficiaries of the enduring growth in the mutual fund industry. With its strong retail brand and well-diversified asset mix, we expect it to continue to grow its assets under management (AUM) and profitability.
Growth in AUM led by equity assets

AUM increased to Rs 301,100 crore as of June-end, a growth of 22 percent YoY. This was slightly better than the industry's total AUM growth of 21 percent during the same period. It continued to maintain its overall market share at 13 percent.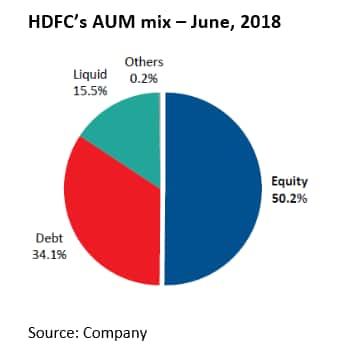 While in line AUM growth is a positive, the key highlight was the robust growth in equity assets at 33 percent YoY. We are most enthused by the fact that high revenue earning equity assets constitute 50 percent of its total AUM. In terms of asset mix, HDFC AMC stands out far better than the industry, which has 42 percent of total AUM in equity assets as at June-end.
Better asset mix aided strong Q1 earnings

Thanks to better asset mix, Q1 saw 21 percent revenue growth, almost keeping in pace with AUM growth. Growth in total operating expenses was controlled at 12 percent, aided by muted distribution costs. As a result, core operating profit growth stood at 29 percent YoY. The market share of 16 percent in actively managed equity oriented funds makes it the industry's most profitable AMC.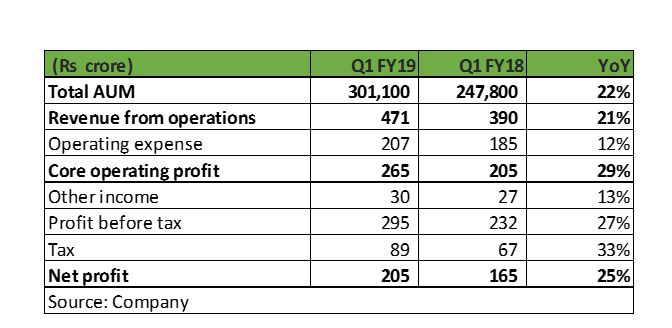 Granularity of asset book provides comfort

HDFC AMC continues to enjoy the highest share of individual customers. The AMC added 1.88 million individual accounts in the past one year, taking total live individual accounts to 8.4 million as at June-end. As a result, 62.4 percent of the AMCs total monthly average AUM is contributed by individuals compared to 52 percent for the industry. This is very encouraging as flows from individual customers are relatively sticky. Also, individual investors favour equity schemes, which generate higher investment management fees compared to debt schemes. The current monthly flow through systematic investment plans (SIP) stood at Rs 1,164 crore. Around 65 percent of SIP book has a tenure of more than 10 years, adding to predictability and visibility in AUM growth.
Well diversified distribution channel

The AMC enjoys HDFC Bank's distribution channel. However, HDFC Bank's contribution is limited to 9 percent of the total AUM as at June-end as the AMC has extensive multi-channel sales and distribution network comprising of other banks, national distributors and independent financial advisors (IFAs). Direct channel contributes 36 percent of total AUM, which is the testimony of HDFC AMC's strong brand.
The AMC is well placed with 134 out of its total 210 branches located in beyond top 30 cities, referred as B30 cities. B30 locations are expected to drive the future growth as mutual fund is a largely under-represented investment class in these places.
Rich valuations but a long-term compounder
The mutual fund industry in a sweet spot with multiple growth levers. The gradual but steady shift of household savings away from physical to financial assets and increasing share of mutual funds within financial savings are key catalysts of future growth. HDFC AMC is best positioned in the investment management space with its strong and trusted brand recall; favourable asset mix, with leading position in equity business; expanding distribution network; and experienced management.
The AMC delivered stellar listing gains as the stock listed at a 58 percent premium to its issue price earlier this month. Following the strong price performance since listing, with the stock gaining over 60 percent over the issue price, near term upside to the stock price looks limited.
Valuations are definitely rich as the AMC is trading at 13 percent of its trailing AUM and 35 times FY20e earnings. On a relative basis, HDFC AMC is being valued at more than 50 percent premium to its closest peer. This doesn't come as a surprise. Akin to most of HDFC group companies, AMC also commands a relative premium valuation purely stemming from its brand and consistency in performance.
Given HDFC AMC's best-in-class return ratios with return on equity (RoE) above 40 percent and future growth levers, premium valuations will sustain and expect the stock to be a long term compounder. Investors looking for high quality business, with consistent earnings growth, may look to utilise adverse market volatility, if any, as an opportunity to add to the stock.
For more research articles, visit our Moneycontrol Research page
First Published on Aug 24, 2018 03:27 pm