Despite claims that applicants are vetted by the Interpol and other regional agencies for a history of criminal conduct, many economic offenders slip through the net to clinch residency permits in tax havens
Fugitive diamond merchant Mehul Choksi, who defrauded Indian banks to the tune of Rs 13,166 crore, spent a mere Rs 1.37 crore ($200,000) to acquire an Antiguan passport before the scam broke out. Choksi owes 34 Indian banks more than Rs 6,086 crore in addition to the Rs 7,080 crore siphoned off Punjab National Bank (PNB). The diamantaire is not the only Indian who has sought refuge in Caribbean countries with low tax regimes.
A half-yearly report published by Antigua's Ministry of Finance and Corporate Governance reveals that 28 Indians had applied for citizenship through the investment route since 2014. The Caribbean nation grants domicile to foreign applicants who invest upwards of $200,000 in the country.
Of the 28 Indians who had applied for an Antiguan passport in the last four years, seven were granted citizenship in the first half of 2017. Despite claims that applicants are vetted by the Interpol and other regional agencies for a history of criminal conduct, many economic offenders slip through the net to clinch residency permits in tax havens. The CBI had released a statement saying it had not received any request for verification from the Interpol regarding Choksi's application for Antiguan citizenship.
So, what makes the Caribbean a tropical paradise for white-collar criminals?
Also see: Looking to settle in paradise? Here are 5 countries where you can 'buy' citizenship
Foreigners can acquire dual citizenship in Antigua and Barbuda by either investing in a pre-approved business, government-approved real estate or in the country's National Development Fund (NDF). The level of investment required to buy citizenship using each of the three routes vary.
Antiguan citizenship can be obtained by contributing upwards of $200,000 crore (Rs 1.3 crore) to the NDF, investing $1,500,000 (Rs 10.3 crore) in a business based in the country, or purchasing real estate worth $400,000 (Rs 2.7 crore). The non-refundable donation to Antigua's national fund to be eligible for citizenship was previously as low as $100,000.
Since the inception of the Citizenship by Investment programme, 1,121 high-net individuals have sought a second home in Antigua, in anticipation of trouble from law enforcement agencies back home. The list is dominated by Chinese nationals, who account for 43 percent of all applicants.
Indians queueing up for a one-way ticket to the island nation constitute 2.5 percent of the total inflow of citizenship-seekers. The relatively low investment barriers, compounded by the low tax regimes in place in those countries make the Caribbean a lucrative destination for runaway businessmen to park wealth earned lawfully, or otherwise.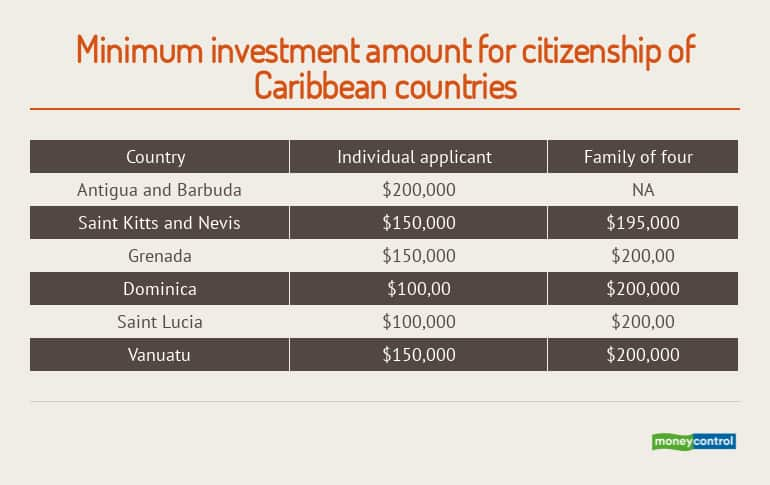 Among Caribbean nations, Dominica and Saint Lucia offer the best citizenship packages for individuals, while Barbuda, Antigua and Saint Kitts and Nevis are better for families. The time taken to process applications is the least in Saint Kitts and Nevis.
An investment of $200,000 (Rs 1.37 crore) in a government-backed real estate project, or $150,000 (Rs 1.03 crore) to the Saint Kitts Sustainable Growth Fund is sufficient to buy a passport which grants visa-free entry to 151 countries, including India and the United Kingdom.
Another option for foreigners seeking immunity from repatriation is Dominica. The island nation provides irrevocable second citizenship to individuals who cough up as little as $100,000 (Rs 68.7 lakh) towards the Dominica Government Fund. Dominican citizenship can be bought without proving residency, or ever visiting the country.
Besides providing an exit route if the going gets tough in their home countries, investing in a second passport makes sound business sense for the world's wealthy. Most Caribbean countries do not tax income, inheritance, long-term capital gains and dividend income. Individuals who are not deemed economic offenders in the country of their origin are also attracted by the laxity of regulations in the financial sector.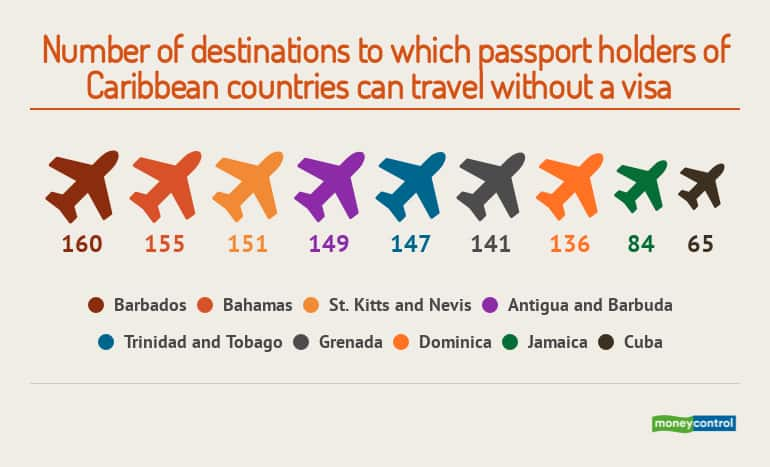 Most tax havens are not signatories to extradition treaties with the countries of origin of their foreign-born citizens. This will allow high-net individuals to transact business from their new domiciles using ill-gotten wealth. Mehul Choksi can travel without a visa to 132 countries, including the Schengen zone as well as the UK, both trading partners of India.
Moreover, to retain his second passport, Choksi has to spend only five days a year in Antigua. A dual citizenship also leaves the door open for economic offenders to return if the situation at home blows over.
India currently has extradition treaties in place with 42 countries including Hong Kong, Malaysia, Kuwait, Mauritius and Switzerland. Signatories to bilateral extradition treaties are duty-bound to treat India's requests. In the absence of a treaty, it is up to the country in question to consider the validity of the application in accordance with domestic laws and procedures. Usually, extradition is undertaken only in exceptional cases on the condition of reciprocity.
First Published on Jul 30, 2018 12:47 pm