Karan Bajaj wears many hats — he is an author of four books, was a consultant and taught yoga. How did he manage to sell his startup, still not two years old, to India's second largest startup in an all-cash deal?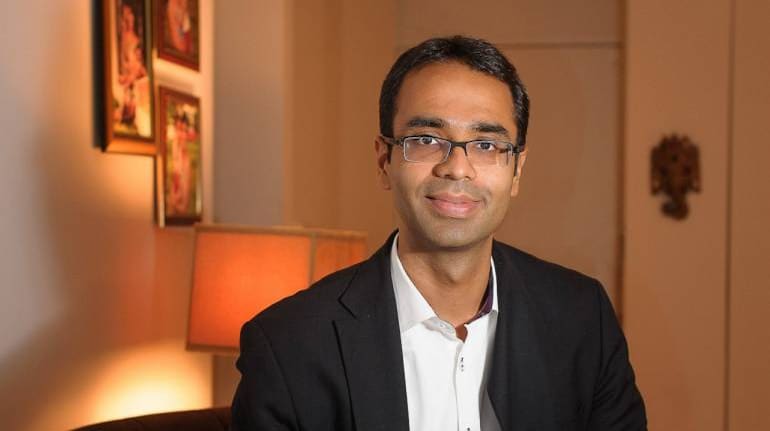 Karan Bajaj is not your typical entrepreneur. Sure, he does have a top management degree (IIM-B) and a stint at a consulting firm (BCG), but don't let that fool you.
Over the last 15 years, he has written four books - from thrillers about a down-on-his-luck man about to commit suicide, to the tenets of yoga and vipassana.
One fine day in 2012, Bajaj and his American wife took off on a sabbatical, from Europe to India by road, and to teach and practice yoga in an Ashram in South India. Later he was also the South Asia head for Discovery Networks, after which he started WhiteHat Jr., providing live coding classes for kids.
Last week, Bajaj sold WhiteHat, still not two years old, to Byju's, India's second largest startup, in a $300 million all cash deal. He owned a little over 40 percent in the startup.
Bajaj has worn a lot of hats, in completely different sectors. A lot has been written about WhiteHat Jr's business model, investors, valuation and product. But we go behind the hood to see what makes Karan Bajaj tick; how did seemingly unrelated past experience helped him here, what motivates him, and what are his biggest influences. He opened up to Moneycontrol over a Zoom call the day after being acquired. Edited excerpts:
Q: It's a big acquisition. What next?
A: We are exactly where we were two days ago. Just grow aggressively, even more than before. Both India and the US are growing 100 percent month-on-month. Sixty-five percent revenue coming outside of the top 15 cities, so there is a lot of depth in India. We also want to expand into Australia, New Zealand and the UK.
Q: Do you think you could make the majority of revenue from outside India in say, two years?
A: Possible, but the expansion seems pretty boundaryless, and the overall pie is growing. Teachers are from India but students are from all over the world. It is possible other countries may become bigger, but that is not because India is any less but only because the aggregate population of the rest of the world is more than India
Q: But isn't the ability to pay for coding classes far higher abroad?
A: Maybe, but we are seeing quite a broad market here as well. Right now the total revenue is split, 55 percent US and 45 percent India. But the user split is still 65 percent India and 35 percent US.
Q: Cash exits in India are rare, more so of this scale. Any plans with the money?
A: I'm quite a yogi at heart, so I am quite minimalist by nature. Most of the things I like doing, like reading, or immersing myself in my work, are quite inexpensive. So no specific plans.
Q: You have had quite an unusual and unstructured career. How have your past experiences helped you with WhiteHat, and get it to where it is today?
A: In so many ways. For example, because of my history of backpacking around the world, in Brazil, or the US, I have quite a boundaryless view of the world. My wife is American. Because of being so open, decisions get taken very quickly. The moment we turned cash-flow positive in India, we went quickly to the US. And I was very comfortable and confident that the US market would respond just as well. And it has.
Also Read: Byju's acquires WhiteHat Jr in $300mn deal
Q: Did being a writer help you?
A: The writing helped a lot. A typical entrepreneur would go through a lack of confidence and conviction, because it (building a business) is such a daunting task. But when you write a novel, if you have taken a blank page and turned it into a 300 page book that people are reading, you get a sense that if you just show up everyday, and keep making progress, eventually the output will come. So even in the entrepreneurial journey, I was very sure of myself in the early days. That there is nothing here today, but I will show up everyday and one day it will become a big company. I had no doubt about that.
My experience with travel and with creation - creating a TV channel and writing books - helped me be comfortable with a lack of structure in the early days of the company.
Being CEO of Discovery made me very focused on profits and losses, and financially judicious. We have raised very little money. We have raised $11 million so far, and before the Byju's acquisition, we had $16 million in the bank. So we were very disciplined economics wise.
Q: What was virtual dealmaking like? You hit the market to raise a round, which eventually became an acquisition, but what was constant pitches and selling a story over Zoom like?
A: It was surprisingly conducive. We found it remarkably efficient. Byju and I met over video six weeks ago and didn't know each other at all. Within a week, we had contours of a deal and we had investor approval. And in four weeks, the bankers and investors closed everything. I actually think the deal was more efficiently done virtually.
Q: Have you considered that selling to Byju's will give you time for non-WhiteHat work, even in the long run? You know that this company has a home so you can pursue whatever else you want?
A: See, I have a bit of an obsessive personality. I do one thing, and I do that very deeply. You could have argued why I lived in an Ashram for a year. But when I wanted to do yoga, that's all I wanted to do. So right now I want to run a startup. That's all I want to do. I don't have much of a risk/return equation in my mind. When I wanted to write full time, I did that, not worrying about having a job on the side. So I want to just do one thing, and do that very well.
Q: So right now writing, or traveling (post-pandemic), etc isn't a priority?
A: Well, I'm also a bit old in some ways, for a startup founder. But I'm also young, for a human being (laughs). I have more years to write and do other things.
Q: But you have had a very unstructured career so far where you have done many different things. Did it cross your mind that if you want to leave the company some day, it is in good hands?
A: So I don't think I embark on any activity with a time frame in mind. So even when I dropped off the yoga thing, it wasn't because I had said, after ten months I will return. I just felt like I had reached a point where I had learnt all I had to learn. So I move on only when I feel like, I have done everything here that I wanted to. Sometimes it happens sooner, sometimes later.
Q: Can you take us through your average day?
A: I wish there were some great secrets to what I do. But there isn't. I wake up at about 8-8:30, later than usual because sleep cycles are off during the pandemic. I meditate straight away for half an hour, and my day officially begins at 10 am. I work quite a lot, somewhat unfortunately for my team, but I work from 10 in the morning to 11 at night or so. I have a lot of energy because of yoga and meditation so I can keep going. And I read and meditate before I sleep.
Q: What are you reading right now?
A: Right now I'm revisiting Andy Grove's (former Intel CEO) High Output Management. I'm also reading a lot on gamification because we are doing a lot of work in that area. Some parenting books. At any point I'm reading one fiction and nonfiction book. In fiction I'm reading some Ian McEwan literary detective novel. I can't remember the name...
Q: What's your guilty pleasure novel? Something the purists may consider passé but you enjoy?
A: I enjoy the Forrest Gump book a lot. It was very mind opening. It is not considered a great novel, but it was life changing for me because I really liked that boundaryless idea of doing one thing after another. He (Gump) kept falling into things, doing them very well, and falling into the next thing. I read it very early in life and it really influenced the way I think. I was very comfortable with the idea of jumping into unrelated things.
Q: What are your plans for the next 6-12 months?
A: Just grow more aggressively. The company is on a tear right now so we don't want to lose the momentum. Since January we have been cash flow positive so that has allowed us to be aggressive and invest our own cash into the company instead of going to investors. So today even if my parent company has money to burn, I want to remain cash flow positive because it lets me be in charge of my own destiny.
The acquisition gives us some psychological relief because we have betted so heavily every month, and there was no cover or insurance, except my confidence that we will be able to pull it off.
Q: Going to market to raise funds (which became a buyout), was it distracting from running the business?
A: Definitely. For an entrepreneur, raising funds takes a lot of bandwidth. Multiple conversations, multiple investors, follow-ups, exposure of product and tech team to investors it is all very time consuming. On the flipside, you do learn what's happening in the outside world, what's unique or not unique about your model, and it does help the business.
Q: Have you considered that this ed-tech boom may be temporary, and post the pandemic, growth for all players may dip?
A: The dynamics for each player in the market is different, but if you look at us, it has been a wonderful confluence of factors. This is a new skill, with worldwide demand and very liquid supply in India. So there doesn't seem to be any limit to what can be accomplished. We have a very narrow focus, and a leg-up on the market. We are doing 20,000 live classes a day, when newer players are starting out with a few 100. That is a steep learning curve.
For the sector as a whole, there is some hype around the ed-tech boom, but getting paying customers even during the pandemic wasn't easy. So what is your eventual revenue and cash figures is the question. Everything else is a vanity metric.
A: You do have a narrow focus- coding for kids. Would you consider going beyond this?
Q: Yes, we are launching math classes for kids. The thesis is the same, that kids should fall in love with math from Grade 1, and that we will make it creation-based learning - helping them use math to build stuff. But we are sure we will have only a live product. Byju's is clearly the leader in asynchronous learning. They do that very well. We don't want to compete with that and this is where our expertise lies.
First Published on Aug 11, 2020 08:25 am