Welspun Enterprises, which is probably the experimental lab for the Welspun Group, holding several non-core and new ventures like infrastructure, oil & gas, power, solar and even finance, is finally sharpening its focus.
Welspun Enterprises, which is probably the experimental lab for the Welspun Group, holding several non-core and new ventures like infrastructure, oil & gas, power, solar and even finance, is finally sharpening its focus.
The lack of business focus in the past can be seen from the cash idling on its books. The company is sitting on a cash and cash equivalent of close to Rs 1000 crore which is about 8 times assets employed in the business of about Rs 138 crore (fixed assets and current assets excluding cash).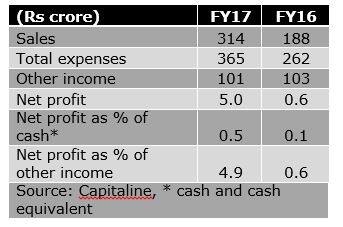 Last year, the company's sales turnover of Rs 314 crore was not enough to absorb expenses of Rs 376 crore. But for Rs 108 crore of other income, the bottomline would have slipped into the red. The reported profit of Rs 4.96 crore was only 0.49 percent of the cash in the business and minuscule compared to the total capital employed in the business at around Rs 1430 crore.
Returns on assets and cash is abysmally low and with the public holding of close to 55.37 percent, it is rather unusual to keep such cash. One possible reason could be the nascent nature of many of the businesses. The company was created in 2015, after merging Welspun Enterprises, Welspun Infratech, Welspun Plastics and Welspun Infra Projects with Welspun Projects.
Nevertheless, the company is now charting out a plan to deploy cash in productive assets. It recently unveiled plans to put about Rs 300 crore in two new road assets, another Rs 350 crore for the financial services business and about Rs 100-200 crore in the oil and gas business.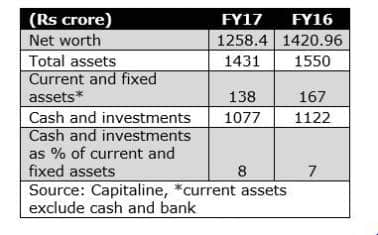 Infrastructure: Scaling up
One segment where the focus seems to be improving is the construction and infrastructure business, which accounts for more than 80 percent of the revenues. Welspun Enterprises has executed over 13 BOT projects in the past and is currently sitting on EPC orders of about Rs 800 crore. It has now agreed to acquire 49 percent stake in two NHAI Hybrid Annuity Model (HAM) projects from MBL Group for a consideration of Rs 23 crore with the option to acquire additional 51 percent at fixed price of Rs 24.5 crore.
In addition to this, the company will also invest Rs 250 crore equity in these projects, thereby taking its total equity investment to Rs 300 crore. The management says the internal rate of return is in the mid-teens.
The company is looking to build up scale in this space. Return from these projects is expected to be decent and better than what the idle cash sitting on the balance sheet is generating. The cumulative return from internal rate of return on BoT and EPC contract margins will be better. Within the next one year the order book is expected to jump by about 3 times. With the execution period of close to 24 months, it should be able to clock a turnover of about Rs 1000-1500 crore by the end of FY19 as against the current revenue of Rs 314 crore.
However, the risk here is that these projects were acquired in stressed conditions and in a competitive environment where other peers were also putting their bids. The understanding of the expected return, regulatory risks, nature of these projects and other variables may not be clearly understood at this stage.
NBFC: Could be a big gamble
Infrastructure is still pretty old business. The company also plans to invest Rs 350 in a financial services business for a 60 percent stake, and promoters will invest their personal funds for the balance 40 percent. The company will seek RBI's approval for the NBFC licence and induct a new team of experienced professionals.
While this could create value, the financial services space is fairly crowded with players having deep pockets competing for a share of the pie. While addressing analyst concerns during the analyst conference call, the senior management explained that financial services business makes sense as it will allow faster churning of capital.
Similar to infrastructure and financial services, the company has decided to invest over Rs 100-200 crore in oil & gas. In oil & gas, it has 35 percent stake in Adani Welspun Enterprises and is currently exploring about 4 oil & gas blocks in Mumbai and Gujarat.
Investment Heavy
The company is committing excessive capital (around Rs 800 crore on a current asset size of about Rs 138 crore) in businesses that are new. Except for infrastructure, most of the other businesses are at a nascent stage. The company is still experimenting with them, and their contribution to the top line and bottom line is negligible.
Ideally, a company which is already running a couple of established businesses trying to commit smaller doses of capital to new segments is well appreciated and well understood.
However, if there is too much of capital invested in new businesses, the fate hinges critically on the successes of these businesses. For Welspun, the market has already built these expectations with the company now having a market capitalisation of close to Rs 2000 crore or twice the size of its cash in the books. Even if one removes cash from market capitalisation, the remaining value of Rs 950 crore is almost 3 times its sales turnover in FY17.
For now, the company has spelt out the plan to deploy the cash. But whether this exercise will create value for its shareholders will only be known in future.
Follow @jitendra1929
First Published on Jul 28, 2017 11:54 am