Akash Jain of Ajcon Global is positive on Mahanagar Gas, Aegis Logistics and Tech Mahindra.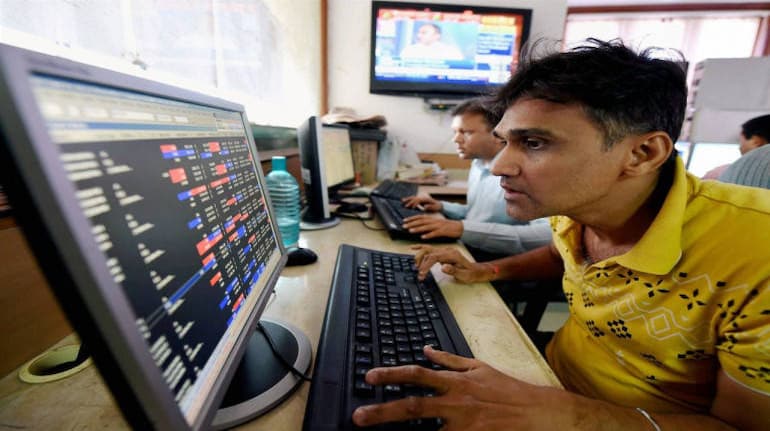 Akash Jain
Last week, Nifty witnessed a fall of 107 points (down 1 percent) at 10,714.3 and the Sensex was down 266.12 points (0.74 percent) at 35,423.48. India's volatility index (India VIX) rose 7.6 percent last week, while BSE Smallcap index declined 3 percent, BSE Midcap down 2.4 percent, and the largecap index shed 1 percent.
The Indian markets on Friday jumped most in a month, mirroring a bounce in global equities as investor sentiment improved after two days of turbulent selling. The risk-off bets eased after the dollar weakened and China relaxed restrictions on foreign investments.
The rupee rebounded 0.5 percent, the most since June 2, to end at 68.45 against the dollar. A day earlier the rupee had touched a lifetime low of 69.09 amid a spike in global crude prices. Finance Minister Piyush Goyal sought to calm frayed nerves, saying there was no need for any 'knee-jerk reaction' to deal with the fall in the rupee.
Brent crude traded around $78 per barrel levels, after gaining over 5 percent during the week. Oil prices dipped on Friday amid escalating trade friction between the United States and other major economies, although crude markets remain tight due to supply disruptions and generally high demand.
Ajcon's view

Trade wars have impacted global markets, with $1.7 trillion of market capitalisation getting wiped out since June 12. Foreign portfolio investors (FPIs) sold shares worth Rs 157 crore, while domestic institutional investors (DIIs) pumped in Rs 2,260 crore.
The rupee has touched its all-time low against the dollar last week. It has been one of the worst performing currencies among peers. Against the dollar, it has depreciated 7.1 percent since January. Historically, market returns have been poor in a year when the Indian currency has depreciated against the dollar and vice versa.
We believe most quality names are available in the largecap space at a good valuation. After the massive destruction in midcaps and smallcaps, one can consider companies where FY18 earnings have been strong, backed by an ethical management. Many of these smaller companies are expected to perform better in FY19.
Here is the list of three stocks that can give 11-30 percent return by FY19:
Mahanagar Gas (MGL): Buy | Target - Rs 1,076 | Return - 30%
Mahanagar Gas's long-term city gas distribution (CGD) business outlook looks very positive in view of the following factors: Favorable regulatory environment addressing previous bidding round impediments with forward looking and investor friendly reforms.
Likely surge in the natural gas demand due to increased awareness about pollution and commitment of the Government of India at COP21. Rising population and rapid urbanisation, strong policy framework and guidelines in terms of CGD footprint expansion, mission PNG, smart cities, green corridors, etc., and the developments of CGD network in over 326 cities by 2022 and the ninth round of CGD bidding round called by PNGRB offering 86 new geographical areas in 174 districts, which will cover almost 29 percent of India's population.
Our conviction on the company stems from the fact that CNG is most preferred fuel by auto consumers as it is priced around 60 percent discount to petrol and 45 percent discount to diesel.
We like the company considering its Monopoly status in CNG space – Mumbai and adjoining areas, extensive supply network built over 20 years, infrastructure exclusivity Mumbai – upto 2020, adjoining areas – upto 2030, Raigad – upto – 2040 underpenetrated market with significant potential for expansion, robust infrastructure in place to support future growth, favourable regulatory environment, focused growth strategy in place, significant entry barriers for competitors to enter into its area of operation such as infrastructure exclusivity, requirement of large investments to establish a natural gas distribution network, lead time in allocation of domestic natural gas and obtaining the required regulatory approvals.
Natural gas penetration in Maharashtra is around 30 percent implying huge growth potential. Given the rising awareness of CNG and PNG's benefits over alternative fuels, we believe MGL's volume outlook remains optimistic. During FY18, MGL was able to add an additional 20 CNG stations and upgraded 14 stations, the capacity of which went up. With this, MGL added almost 3.44 lakhs kgs per day of compression capacities and its cumulative compression capacity stands at 30.80 lakh kg/day. At present, MGL operates 223 CNG stations, supplying CNG to more than 609000 vehicles with a steel pipeline network of 5,042 kms as of now.To tap the big opportunity presented in this sector, the Company is aggressively looking to increase its CNG stations by 20 in FY19E.
In the Piped Natural Gas (PNG) space, the Company added around 1.6 lakh domestic consumers in FY18 taking the tally to around 10.3 lakh customers. The Company has added over 440 industrial and commercial consumers and has over 3,600 industrial and commercial consumers as of now. Going forward, MGL plans to only add to its current rate of household additions per year under its domestic PNG segment. The Government of India recently came out with auctions for 86 new geographical areas under the PNGRB bidding for which MGL has been one of the key bidders targeting ~20 cities.
We expect the Company to post strong volume growth going ahead led by increase in CNG consumption both in auto and PNG space. Geographical expansion to Raigad & Karjat and Government's push for PNG's domestic connections will support volume growth. The Company has also recently hiked CNG prices which would help its operating margins to improve and which would be evident in FY19.
Post significant correction witnessed owing to concerns like stake sale by BG Asia Pacific Holding Private Limited ultimately owned by Royal Dutch Shell, higher raw material cost and rupee depreciation, the Company at CMP of Rs. 828 (Face Value: Rs. 10), is attractively valued at 17x at reported FY18 EPS of R. 48.38. The Company enjoys decent return ratios (ROE: 22.8 percent and ROCE of 31.9 percent) with equity capital of Rs. 98.8 crores. We expect an upside of 30 percent for investors with a horizon of 12 months with a target of Rs 1,076 (18x at estimated FY20 EPS).
Aegis Logistics: Buy | Target - Rs 270 | Return - 27%
The company is a leading LPG sourcing player and is a robust play on LPG import market as it is capturing complete value chain of Logistics right from gas sourcing, shipping, terminalling, distribution to industrial, commercial and auto gas stations. LPG demand in the country is expected to rise owing to the Upsurge in gas connections under Pradhan Mantri Ujjwala Scheme by the government. According to PPAC, consumption of LPG in India stood at 21,537,000 MT in FY17 whereas imports of LPG in India stood at 11,026,000 MT. The incremental demand in LPG is met through imports. Increasing LPG imports will require new terminal capacity which augurs well for Aegis Logistics.
The Company boasts of strong gas distribution network:
a) B2C – Auto gas retailing: Distributes LPG as Auto fuel through gas station network. The Company has 108 Auto Gas stations across 7 states.
b) B2B – Bulk Industrial Distribution: Distributes LPG through road tankers to Auto, steel, Ceramic Industry
c) Commercial LPG: Distributes packed cyclinders for commercial and industrial users. The Company has 109 commercial distributors spread across 45 cities in 8 states.
Revenue Model
a) Gas Division (accounts for 66 percent of EBITDA)
- Fee based revenue model for gas logistics
- Fees for sourcing business
- Retail margin for gas distribution
- Handling and other service charges
b) Liquid Division (accounts for 34 percent of EBITDA)
- Fee based revenue model
- Handling and other service charges
- O&M fees
Aegis has entered into a Joint Venture for its Singapore based LPG sourcing and supply business with ITOCHU Petroleum Co., (Singapore) Pte Ltd. Aegis Logistics Ltd. sold 40 percent of its equity ownership in its wholly owned subsidiary, Aegis Group International Pte. Ltd. Singapore, to ITOCHU Petroleum Co., (Singapore) Pte Ltd., a wholly owned subsidiary of ITOCHU Corporation for a total consideration of $ 5.85 mn. With this JV, the Company attained cost leadership in the LPG import market.
The Company has recently completed implementation of two fully refrigerated tanks of static storage capacity of 25,000 MT with a throughput capacity of 2.5 mn MT and a LPG bottling plant at Haldia at a Project cost of Rs. 250 crores and Rs. 25 crores respectively financed through internal accruals completed in Q3FY18. The Company has signed 20 years of MOU with a large PSU as the anchor customer at the current market throughput rates for use of this terminal. In Q3FY18, the Company has completed debottlenecking of Mumbai LPG terminals with static capacity of 20,000 MT and throughput capacity of 1.1m MT (incremental 0.4m MT) at a cost of Rs 15 crs financed through internal accruals. Brownfield Capacity expansion at Pipavav has been completed too in Q3FY18 with a static capacity of 10,200 MT and throughput capacity of 0.8mn MT at full utilization at a project cost of Rs. 75 crores financed by internal accruals. Throughput volumes for LPG handled in Pipavav expected to grow through existing and new customer relationships. LPG capacity, post-expansion, static capacity for FY18 stands at 63,300MT and throughput capacity stands at 5,000,000MT.
The total revenues for FY18 stood at Rs. 4,791 crores versus Rs. 3,939 crores year earlier that is a rise of 22 percent for consolidated Aegis group revenues. EBITDA rose by 24 percent on yoy basis to touch Rs. Rs. 306 crores in FY18. Profit after tax witnessed a growth of 57 perxent to Rs. 214 crores in FY18.
As far as the Gas Terminal division is concerned, the topline increased by 22 .4 percent to Rs. 4,622 crores in FY18. FY18 EBITDA for the division grew by 30 percent to Rs. 203 crores. The most important segment in the LPG volumes is obviously the LPG throughput terminal logistics volumes. For the year, the Company clocked a growth of 29 percent to 1,742,467 metric tonnes volumes of LPG handled at 3 terminals in Mumbai, Haldia and Pipavav. LPG sourcing volumes for the year were 1,176,598 metric tonnes versus year earlier 1,043,067 metric tonnes, a rise of 13 percent. The Packed LPG Commercial Cylinder business saw a yoy growth of 8 percent to 13,504 metric tonnes. Bulk industrial distribution sales of LPG witnessed a yoy growth of 71 percent to 40,232 metric tonnes as it signed up new customers. Autogas volumes stood at 24,150 metric tonnes for the year versus 23,217 metric tonnes year earlier, a rise of 4 percent. The key driver of rising LPG profit in the division was the LPG terminal logistics volumes which increased by 29 percent for the year. The Management expects a major boost to the LPG terminal volumes in FY 2019 because of full year operations of the Haldia terminal. This Haldia terminal was commissioned only in Q3 of FY 2018. But in FY 2019, the Company will see the full year benefit of the Haldia sales volumes.
With regards to Liquid division, the revenues registered a growth of 9 percent on yoy basis to Rs. 168 crores. EBITDA for liquid division saw a growth of 13 percent to Rs. 103 crores. The future growth will depend on new capacity, in Kandla, Haldia, and Mangalore, which is coming up.
At CMP of Rs. 213 (Face value: Re. 1), the stock trades at a P/E of 33x at FY18 EPS of Rs. 6.38. We expect an upside of 27 percent with a target price of Rs. 270 (30x at estimated FY19 EPS of Rs. 9).
Tech Mahindra: Buy | Target - Rs 730 | Return - 11%
Tech Mahindra registered growth of 5.6 percent on yoy basis in FY18 R.s 307.73 billion while EBIDTA for FY18 grew by 12.6 per cent with EBIDTA margins touching 15.3 per cent. "It's been a great year of execution despite volatilities in the market place. Our customer accolades and various recognitions for sustainability reflect well on our long term strategy for growth," said Vineet Nayyar, Vice Chairman, Tech Mahindra. The Company's growth was mainly led by enterprise business in Q4FY18. In Q4FY18, the Company witnessed excellent set of numbers . Revenues registered an increase of 3.6 percent on qoq basis. Revenue in Dollar terms grew by 2.9 percent qoq to USD1,244.3 mn. EBITDA witnessed a qoq growth of 11.7 percent to Rs. 1,412 crs. EBITDA margin expanded by 120bps qoq to 17.5 percent in Q4FY18. PAT increased by 29.6 percent qoq to Rs. 1,222 crores. Going ahead, Enterprise is expected to drive growth of the company in the year ahead. Growth in communication segment is likely to be subdued in FY19 while it may improve in FY20E on the back of rollout & increasing spend on 5G. Commenting on the Q4 performance, CP Gurnani, Managing Director& CEO of Tech Mahindra said "Continued focus on operational metrics has led to improved performance though the year. Growth in digital areas is particularly encouraging. We remain focused on delivering value to our customers, while helping our employees FUTURise with constant innovation in the digital world."
The Company witnessed a reduction in its overall headcount in FY18 and pushed for higher utilization. Its overall headcount (software plus BPO business) declined by 4,886 over the previous fiscal. Employee headcount stood at 112,807 in FY18 vs. 117,693 in FY17, a decline of 4886 employees. IT Attrition (LTM) increased 100 bps to 18 percent QoQ while utilisation (excluding trainees) improved 100 bps sequentially to 84 percent The most noticeable difference in headcount is in the software arm which shed the size by 9,966 employees to touch 72,437 employees in FY18 as against 82,403 employees in FY17. The reduced headcount helped the company improve utilisation by 70 basis points to an all-time high of 84 per cent in Q4 of FY18 when compared with the corresponding quarter in FY17. Interestingly, the company's utilisation including trainees also stood at the same level as trainees were absorbed into projects rapidly. During this period, attrition on last twelve months (LTM) basis, has only increased from 17 per cent to 18 per cent. In FY18, other IT peers namely- Tata Consultancy Services (TCS), Infosys, Wipro, and HCL Technologies – though saw a moderate headcount growth, had together added 13,972 employees (taking into consideration the number of people exited in the year) to their workforce, compared to 59,427 in the previous fiscal. Apart from Tech Mahindra, Bengaluru-headquartered Wipro also witnessed a reduction in its headcount by 1654 employees in the fiscal.
"Earlier, revenue (growth) was proportional to manpower but today the nature of the business will be cyclical when it comes to manpower. It doesn't mean that jobs are not being created. If we are doing more digital transformation deals, then the headcount will vary," CP Gurnani, CEO & MD of Tech Mahindra said post the company's Q4 results. While he did not give a projection on headcount, he said the manpower requirement would continue tapering as system operations move from initial development stage to more stable phases. The management has however said that fresher hiring will continue. Going ahead, the Management is confident of improvement in EBIT margin in FY19.
With the tailwind of Rupee depreciation, the company is also expected to face some headwinds owing to rolling out of phased wage hikes to employees over the first two quarters. However, the company is expected to mitigate some of these impacts with increased automation and an optimal mix of offshoring, outsourcing and near-shoring.
With regards to its clients, after four consecutive quarters of de-growth, revenues from top five customers (23.2 percent of revenue) grew 2.9 percent QoQ. Top 11-20 customers registered decent growth of 13.4 percent in Q4FY18. Non-top 20 accounts grew 1.6 percent sequentially. The management alluded that top five/10 accounts, which witnessed de-growth in FY18, could perform better in FY19E. From a client metrics view, it was steady during the quarter with active clients increasing by 10 sequentially to 913. Cash & cash eq. stood at Rs. 7,774 crore as of March 31, 2018.
At CMP of Rs. 655 (Face Value: Rs. 5), the stock trades at a P/E of 15x on FY18 EPS of Rs. 42.7. We expect a target price of Rs. 730 by FY19 end (15x on estimated FY19 EPS OF Rs. 49) implying an upside of 11 percent).
Disclaimer: The author is Vice President - Equity Research, Ajcon Global. The views and investment tips expressed by investment experts on moneycontrol.com are his own, and not that of the website or its management. Moneycontrol.com advises users to check with certified experts before taking any investment decisions.
First Published on Jul 2, 2018 01:53 pm