The current market capitalisation stands at Rs 3,254.33 crore, declining sharply from Rs 7,690.6 crore hit in January 2018.
Coffee Day Enterprises was trading at an all-time low on July 30 after multiple media houses reported the disappearance of founder VG Siddhartha, who has been missing since the evening on July 29.
The stock was locked at 20 percent lower circuit at Rs 154.05 on BSE, which indicated that there were no buyers for the share.
There were pending sell orders of 23,42,728 shares on the BSE and 88,07,523 shares on the NSE, with no buyers available at 1449 hours.
At the time of publishing this copy, it was trading with volumes of 9,014 shares (compared to its five-day average of 3,204 shares) on the BSE and 1,06,711 shares (compared to its five-day average of 86,270 shares) on the NSE.
The subsidiary of the company, Sical Logistics, was also locked at 20 percent lower circuit at Rs 72.80 on the BSE.
"VG Siddhartha, Chairman and Managing Director of Coffee Day Enterprises has not been reachable since yesterday evening. We are taking the help of concerned authorities," said the company that runs coffee shop chains in India.
The company further informed exchanges that Coffee Day is professionally managed and led by a competent leadership team, which will ensure continuity of business.
On June 27, Siddhartha wrote a letter to company's board of directors saying he has failed to create the right profitable business model despite best efforts.
He further said, "I would like to say I gave it my all. I am very sorry to let down all the people that put their trust in me. I fought for a long time but today I gave up as I could not take any more pressure from one of the private equity partners forcing me to buy back shares, a transaction I had partially completed six months ago by borrowing a large sum of money from a friend. Tremendous pressure from other lenders nod to me succumbing to the situation."
"There was a lot of harassment from the previous DG Income tax in the form of attaching our shares on two separate occasions to block our Mindtree deal and then taking position of our Coffee Day shares, although the revised returns have been filed by us. This was very unfair and has led to a serious liquidity crunch," he added.
Here are five key points to know about VG Siddhartha's Coffee Day Enterprises:
Company Profile
Coffee Day Enterprises is the parent company of the Coffee Day Group, which houses Café Coffee Day that pioneered the coffee culture in the chained café segment in India.
The company opened its first Café Coffee Day (popularly referred to as CCD) outlet in Bengaluru in 1996 and has established the largest footprint of café outlets in India spread across more than 200 cities. The company also operates CCD outlets in Austria, Czech Republic, Malaysia, Nepal and Egypt.
The company is also engaged in coffee business through subsidiary, Coffee Day Global Limited-CDGL (earlier known as Amalgamated Bean Coffee Trading Company Limited) and its subsidiaries. It is also engaged in coffee trading through CDEL and Coffee Day Trading Limited.
In addition to its coffee business, Coffee Day Enterprises operates other select businesses, namely, development of IT- ITES technology parks, logistics, financial services, hospitality and ITITES.
Its subsidiary Tanglin Development Limited is engaged in the development and management of technology parks and related infrastructure, offering bespoke infrastructure facilities for ITITES enterprises.
It provides integrated logistics solution through subsidiary Sical Logistics Limited while services such as broking, wealth management, portfolio management etc are provided by its subsidiary Way2Wealth Securities Private Limited.
Coffee Day Enterprises also owns and operates three luxury boutique resorts (one directly through the company, and two through a wholly-owned subsidiary, Coffee Day Hotels & Resorts Private Limited), under the brand The Serai.
Coffee Day Enterprises, its subsidiary Coffee Day Trading and founder VG Siddhartha had 10.63 percent, 6.45 percent and 3.33 percent stake respectively in Mindtree as per the shareholding pattern of December 2018 available on exchanges. They offloaded the entire stake in midcap IT company in 2019.
Siddhartha was roped in as an investor by Ashok Soota for Mindtree, which was started by 10 people, including Subroto Bagchi, Rostow Ravanan and KK Natarajan, in 1999. According to reports, Siddhartha invested Rs 340 crore for a 20.4 percent stake in Mindtree.
Promoter Shareholding
Founder and MD & CEO, VG Siddhartha owns 32.75 percent stake in Coffee Day Enterprises and Malavika Hegde, non-executive director, has 4.05 percent stake in the company as per the latest shareholding pattern available on exchanges.
Among others, Devadarshini Info Technologies Pvt Ltd, Coffee Day Consolidations Private Limited, Gonibedu Coffee Estates Pvt Ltd and Sivan Securities Private Limited together own 17.13 percent shares in CDE.
Hence, total promoter and promoter shareholding stood at 53.93 percent as of June 2019, of which 75.70 percent shares are pledged against debt.
Top Investors
Norway-based foreign portfolio investor Government Pension Fund Global held 2.31 percent stake in Coffee Day Enterprises while overseas corporate bodies (private equity investors) - NLS Mauritius LLC, KKR Mauritius PE investments II Ltd, Marina West (Singapore) Pte and Marina Iii (Singapore) - have 22.35 percent shareholding as of June 2019.
Among non-institutions, Infosys co-founder Nandan M Nilekani held 2.69 percent stake, and investor Kammargodu Ramchandregowda Sudhir has 2.49 percent stake in Coffee Day Enterprises.
Financials and Debt
The company reported 20 percent growth in FY19 profit at Rs 127.51 crore compared to the previous year and revenue from operations grew by 12.6 percent to Rs 4,264.5 crore in FY19.
But its profit from non-controlling interest fell sharply to Rs 19.72 crore in FY19 from Rs 42.01 crore in FY18.
The finance cost in the year ended March 2019 at Rs 456.32 increased sharply by 31 percent and in March quarter, the same cost jumped 59 percent YoY to Rs 145 crore.
Borrowings (under financial liabilities section of consolidated statement of assets and liabilities) stands increased to Rs 3,889.63 crore at the end of FY19, against Rs 810.91 crore in FY18.
The same-store-sales growth in quarter ended March 2019 was 5.48 percent, down sharply from 8.2 percent in year-ago period and 11.06 percent in December quarter.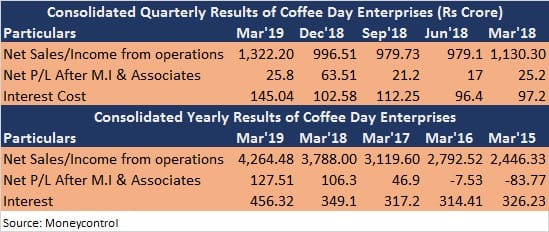 Stock Returns and Loss in Market Capitalisation
Shares of Coffee Day Enterprises had a subdued listing in November 2015, falling nearly 18 percent to end at Rs 270.15 on the BSE on debut day against issue price of Rs 328 per share.
The stock hit a record high of Rs 364.50 on January 23, 2018, since then it lost nearly 58 percent to trade at Rs 154.05, the lowest level seen since listing. From the issue price, it shed 53 percent.
The current market capitalisation stands at Rs 3,254.33 crore, declining sharply from Rs 7,690.6 crore hit in January 2018.

First Published on Jul 30, 2019 03:11 pm