Sequentially, the growth in sales was 8.2% but EBIDTA grew 5.3% - a clear pointer to the margin pressure that India Inc is beginning to experience.
The early birds of the result season rarely throw negative surprises and the Q2FY19 earnings season was no exception. The result analysis of the first little over 100 companies shows a steady performance. The results dominated by heavyweight IT giants and high quality private sector banks were broadly on expected lines.
The aggregate picture from India Inc so far
The aggregate sales of the group show year-on-year (YoY) growth of 35.7 percent compared to 32.1 percent reported in the previous quarter and 13.9 percent in the year-ago quarter.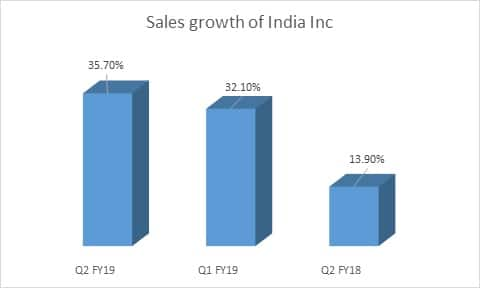 Source: Moneycontrol Research
However, operating profit failed to keep pace with EBITDA (earnings before interest, tax, depreciation, and amortisation), growing by 30.1 percent YoY in the quarter under review compared to a growth of 37.4 percent in the previous quarter.
In fact, sequentially (quarter-on-quarter) the growth in sales was 8.2 percent but EBITDA grew 5.3 percent - a clear pointer to the margin pressure that India Inc is beginning to experience.
Operating margin for the group as a whole declined by 50 basis points sequentially and 70 basis points year on year to 17.2 percent.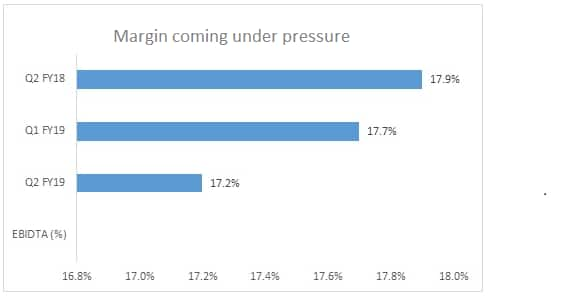 Source: Moneycontrol Research
Overall interest outgo was stable at around 9.2 percent of sales. The muted performance on the profitability front was on account of the result of Zee Entertainment. While the company exhibited strong topline performance and margin expansion, the reported profitability number was impacted by one-off gains in the year-ago quarter.
Eleven Nifty companies have reported earnings with no major hiccup
The earnings picture for Nifty companies was no different from the broader trend. Eleven Nifty companies reported earnings so far. The aggregate sales growth for this group was a healthy 36.6 percent, an improvement over the 33.7 percent growth reported in the previous quarter and 14.1 percent in the year-ago quarter.
However, the growth in operating profit decelerated to 26.9 percent as against 33.3 percent reported in Q1 FY19.
Sequentially, for Nifty companies, while the growth in sales was 7.6 percent, operating profit grew by only 4.7 percent. Consequently, reported operating margin declined 150 basis points YoY and 60 basis points QoQ to 18.7 percent.
Nevertheless, reported profitability growth at 15.7 percent was better than 11.1 percent reported in Q1FY19 and 9.3 percent that was reported in Q2FY18. The growth in reported profit would have been better sans the one-off impact of Zee.
Private banks steady, Kerala based banks a positive surprise, IT a mixed bag
In terms of sectors, most of the private banks had a decent quarter although headline number of IndusInd Bank got impacted due to one-off provisions. Bandhan, DCB and HDFC Bank were in line. The positive surprise for the sector came from the Kerala-centric banks like Federal Bank and South Indian Bank that reported surprisingly muted slippage and guided to modest asset quality woes despite the floods in their key markets of Kerala.
Contrary to expectations of a superlative all-around show, IT was a mixed bag. While rupee depreciation gains were evident, the larger names like TCS, Infosys continued to report good numbers. The midcap companies were a divergent lot with a stellar NIIT Tech, improved Cyient, but disappointing Mindtree and Persistent.
Margin pressure on account of soaring input prices was visible in the earnings of cement majors like ACC and Ultratech. Hero Motocorp too succumbed to input cost pressure.
Reliance industries was a mixed bag with refinery soft but a strong show from retail. HUL had a strong topline performance although gross margin declined on input pressure.
Smaller companies that ought to be on investors' radar
There were few companies outside the large cap universe that captured our attention with stellar earnings. Few names worthy of mention are Mahindra CIE, Pudumjee Paper, Shakti Pumps and Sadhana Nitro. Investors should definitely keep these stocks on their radar as the volatile market presents numerous opportunities to accumulate companies with earnings visibility.
Of the losers outside the large cap universe,
Goa Carbon
and
Bhansali Engineering
were key disappointments that we took note of.
First Published on Oct 22, 2018 02:34 pm