Consumer-facing businesses appear to be the preferred picks of most investors, and retail companies are no exception. Consequently, it isn't surprising to see such stocks trading at a premium.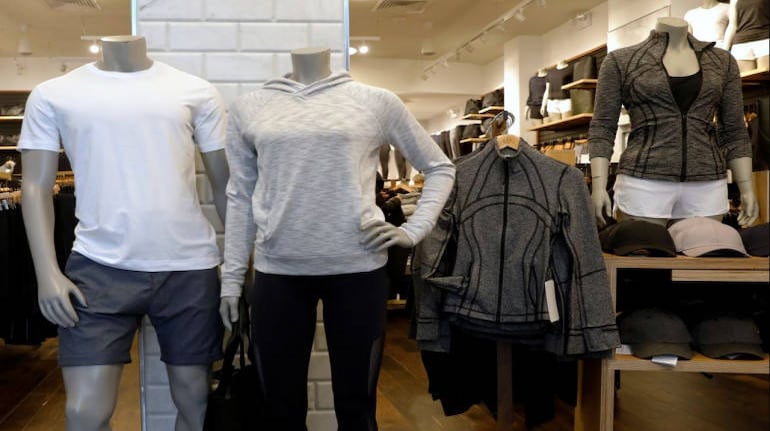 Opportunities such as industry consolidation, growing brand consciousness, pan-India product availability and booming e-commerce have ensured that Indian retail remains a secular growth story. In this context, the sector merits attention.
Yearly performance snapshot



Company-specific analysis
Aditya Birla Fashion & Retail
ABFR's fashion apparel network spans e-commerce portals, 2,465 brand stores (including 275 Pantaloons stores), 4,982 multi-brand outlets and 4,054 points of sale in department stores across the country.
Madura and Pantaloons, ABFR's two segments, ended FY18 on a strong note. For Madura, lifestyle brands grew due to wedding and festive sales, fast fashion brands managed to reduce their losses, and branded innerwear business scaled up rapidly. Pantaloons grew because of 66 new stores.
Growth in lifestyle brands and brand-building activities (in Madura), coupled with store additions (in Pantaloons), will chart ABFR's top-line trajectory. Reduction of losses in the fast fashion space and cost management measures in Pantaloons will be pivotal in increasing margins.
Avenue Supermarts (D-Mart)

D-Mart operates 155 stores with a retail area of 4.9 million square feet. Its presence spans densely populated regions in Maharashtra, Gujarat, Telangana and Karnataka. Lower and middle-class buyers are the company's target audience.
The company added 24 stores in FY18, whereas sales per square feet increased 5 percent year-on-year (YoY) from Rs 31,120 to Rs 32,719. A shift in product mix from grocery items to general merchandise, operating leverage and debt repayment led to an improvement in margins.
D-Mart aims to add 25-30 stores each year over the next 2 fiscals. This should help offset slow YoY sales growth associated with its existing mature outlets. High inventory turns, a well-managed working capital cycle and additional loan repayments should culminate into higher margins.
Future Retail

Future Retail is one of India's largest retailers. The company's offerings include grocery, fast moving consumer goods (FMCG), consumer durables, apparel and home furniture. Its 1,035 outlets cover 26 states across the country.
The company reported healthy sales growth because of 188 store additions across all formats (including 19 Hypercity outlets) and Big Bazaar's 13.4 percent same-store sales growth. Margin expansion was led by closure of some non-profitable e-Zone outlets and a better product mix.
Going forward, Future Retail's revenue growth will take place mainly through network expansion strategies (through large and small-sized stores). Increased presence of own brands and cost synergies (through integration of Hypercity and Big Bazaar) is likely to facilitate margin accretion.
Shoppers Stop

Shoppers Stop is one of India's largest department stores. It sells products across categories such as apparel, lifestyle and home furniture. Crossword, Home Stop, MAC, Estee, Clinique and Bobbi Brown are its major brands.
The company's FY18 revenues bore the brunt of sluggish like-to-like sales growth, business restructuring, store renovations and transitions pertaining to the Goods & Services Tax. In spite of flat EBITDA margins YoY, profit after tax margin expanded due to retirement of debt from divestment proceeds.
Omnichannel focus (through a tie-up with Amazon), store openings and value-driven same-store sales growth should boost Shoppers Stop's top-line. Exit from non-core businesses, an unleveraged balance sheet by FY19 end and growing contribution of private labels will have a positive margin rub-off.
Trent

Trent operates stores across categories such as fashion clothing (Westside and Zara), toys and stationery (Landmark), value-priced footwear and apparel (Zudio), and grocery cum daily use items (Star Bazaar).
The company reported a robust set of numbers in FY18, with Westside's revenues growing 20 percent YoY because of accelerated network expansion and healthy like-to-like growth. Lower discount days and operational efficiencies led to a margin uptick.
Impetus towards high realisation brands and outlet additions in Westside, complimented by good same-store sales growth in Zara and network expansion in Zudio, will be the key sales drivers. Cost control initiatives in Landmark and paring of losses in Star Bazaar should boost margins.
V2 Retail

V2 Retail is a clothing retailer that caters to price-sensitive and aspirational buyers in Tier II and III cities and rural hubs of India. The company operates 65 stores across 17 states and 59 cities of the country, primarily in the north.
The company's strong YoY revenue growth in FY18 was attributable to new store openings. This, in turn, led to a marginal increase in operating margin. Nevertheless, at the same-store level, YoY sales growth was subdued in Q4 FY18 due to increased competition.
The management plans to increase the store count to 124 by FY20-end and is also working on reviving same-store sales growth through a better product mix. Reduction in inventory days, economies of scale and lower overheads due to adoption of the small-sized store format should augur well for the margins.
V-Mart
V-Mart is a medium-sized hypermarket value retailer that caters primarily to aspirational customers. The company sells apparel, general merchandise and groceries through its 171 outlets (total retail area of 14.4 lakh square feet) across Tier I/II/III cities of northern, north-western and eastern India.
The company registered 7 percent YoY same-store sales growth because of store additions (30 during the year), strong marketing initiatives and refurbishment of stores. Cost rationalisation steps, limited promotional expenses and higher proportion of full-priced sales helped expand margins.
Tapping unserved regions in Tier IV regions of north-eastern India, emphasis on higher volumes, and an increase in retail area by 15-17 percent in FY19 should bolster V-Mart's sales growth. To fetch better margins, inventory optimisation and sale of private label brands will be prioritised.
Outlook and stock picks
In revenue terms, Q1 FY19 is expected to be a soft quarter for retail companies owing to a high base (pre-GST purchases because of advancement of discount season in Q1 FY18) and no apparent festive season boost.
Some challenges could impact all retailers in varying degrees. These include stiff competition, extended 'end of season sale', inability to derive high asset turns, same-store sales underperformance, an unfavourable product mix and long working capital cycles.
Consumer-facing businesses appear to be the preferred picks by most investors and retail companies are no exception. Consequently, it isn't surprising to see such stocks trading at a premium.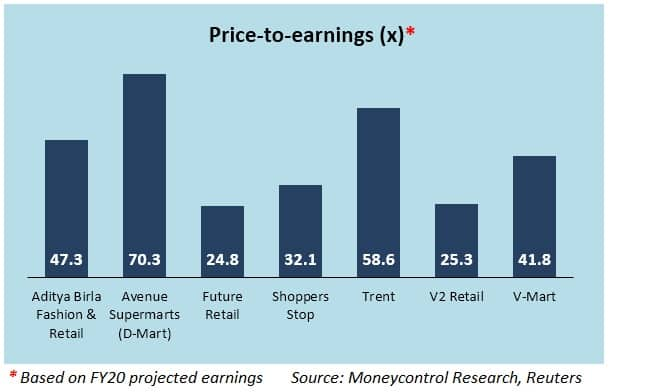 D-Mart and V-Mart will remain expensive stocks given their robust fundamentals. Trent's and Shoppers Stop's restructuring-related positives are comprehensively captured in their respective stock prices already.


Though ABFR doesn't offer any valuation comfort, its turnaround strategies could help it re-rate. The stock is close to its 52-week low, implying that long-term investors still have a good entry opportunity.
Future Retail has been phasing out its unprofitable arms and pursuing inorganic growth opportunities. Despite the stock's undemanding valuation, incremental earnings will take a while to accrue.
Expectations of a good monsoon in India's semi-urban/rural areas and surplus cash availability in the books to fund growth plans make us bullish on V2 Retail, which trades at a steep discount to others.
Moneycontrol Research page
First Published on Jul 17, 2018 03:53 pm