A slowdown in hiring in the face of topline expansion is indicative of a change in the trajectory of IT companies, as they chase greater margins with a slimmer workforce.
Major information technology (IT) services companies in India have been consistently registering double digit growth over the past few years, but for job aspirants, questions linger over the lucrativeness of a career in IT. Although the BSE IT index rose by 42 percent in the past one year, slow hiring has caused growth in the sector's employee base to fall by over 40 percent from the year-ago period.
Between 2013 and 2018, total revenue of India's IT industry increased by 41.5 percent, from $118 billion to $167 billion. However, over the past few quarters, expansion in workforce is not inline with revenue growth.
Investors in IT companies witnessed windfall gains since the turn of the decade. Engineering graduates had a reason to smile. The IT industry added 1.9 lakh to 2.4 lakh employees between FY11 and FY16. This number fell to 1.7 lakh in FY17, before dwindling to 1 lakh in FY18.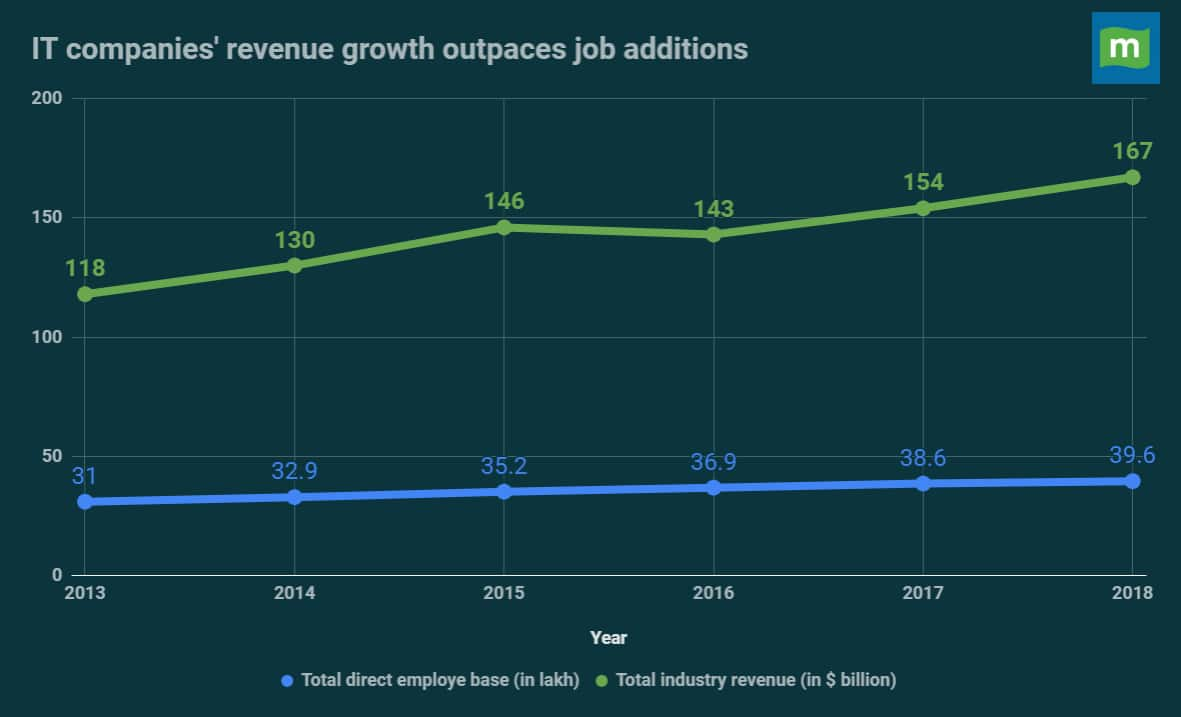 A slowdown in hiring in the face of topline expansion is indicative of a change in the trajectory of IT companies, as they chase greater margins with a slimmer workforce.
According to Nasscom's Jobs and Skills Report 2017, companies have rejigged their human resource policies by improving utilisation rates, trimming wage hikes, delaying promotions, and most importantly, hiring fewer people. Many companies have embraced automation to enhance profitability, with the expectation that the initial investment on upgrading technology will be outweighed by savings accrued by reducing employee costs.
The change in the technology landscape has also forced many employers to reskill the existing workforce rather than hire domain specialists. Companies have also shifted focus on emerging technologies such as artificial intelligence and machine learning, moving from IT services to digital innovation. Digital offerings account for almost a quarter of the total revenue of major IT players.
In the past, as global trade barriers were removed, Indian companies put local talent to work in offshore locations at relatively lower wages compared to the market rate in the host country. However, with the global labour-arbitrage model becoming obsolete in the face of automation, employers are now laying greater emphasis on quality of new hires, rather than recruiting fresh graduates in droves.
Previously, big IT players would hire fresh graduates in anticipation of clinching projects that foreign firms are looking to outsource. With such orders diminishing, hiring weaned off. The emphasis has now shifted to recruiting individuals with domain expertise in emerging technologies.
This earnings season has borne good tidings for shareholders in Indian IT firms. Tata Consultancy Services (TCS) reported a 24 percent growth in profit in the first quarter of 2019, and a 16 percent rise in revenues. Rival Infosys fell short of expectations, registering a modest 12 percent growth in revenues. However, despite a robust quarter for the services sector, companies have desisted from adding more employees to their rolls, as was witnessed during their heydays when revenue growth was around 30 percent.
Brokerage houses expect the present rally to be the best in eight quarters, with aggregate profit and revenue growth touching 14 and 12 percent, respectively.
Top listed IT companies have been beset with lukewarm growth over the last two years, with criticism directed on over-reliance on the banking, financial services and insurance (BFSI) sector. Uncertainty in the American market, with calls for protectionism becoming increasingly hoarse, have also threatened to throw a spanner in the works of Indian IT companies.
The revival of fortunes of India's IT pack should be seen in concurrence with a successful attempt to branch out into other sectors such as healthcare, manufacturing, life sciences and utilities in alternative markets in Europe and APAC (Asia-Pacific) to offset any eventuality in their primary market.
Nasscom has predicted that a saturation point has not been reached, and that the industry will add around 25 lakh new jobs by 2025. In relative terms, this estimate might spell bad news for job seekers.
According to data compiled by the Ministry of Human Resource Development (MHRD), 41.6 lakh students enrolled for engineering courses across the country in 2016. A glut in the number of engineering graduates would entail that the industry will not be able to absorb a sizeable portion of the talent pool, if recent hiring trends are to follow.
First Published on Jul 17, 2018 08:44 pm