As many as 7 stocks are now trading with a market-cap of more than Rs 20,000 crore, including Abbott India, Adani Green, Ipca Lab and Tata Consumer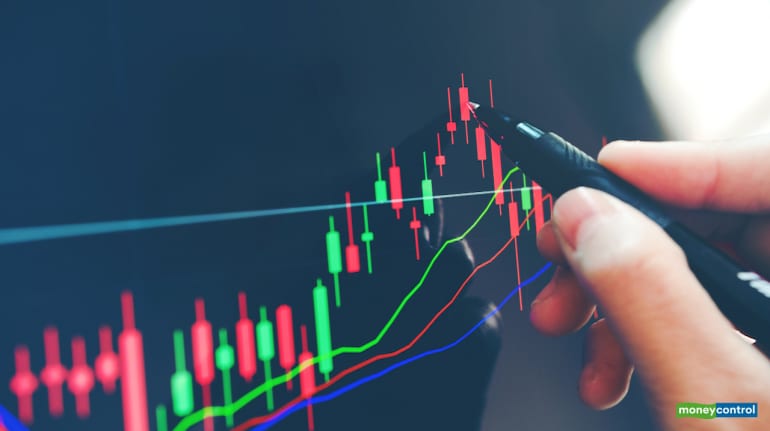 Luck seems to have run out for most investors in the last one year but there are few lucky stocks which stood the test of time amid sharp sell-off seen in 2020 which pushed D-Street into a bear market.
For reference, we have used stocks with a market capitalisation of over Rs 20,000 crore as largecaps, and midcaps stocks are those which have a market capitalisation of Rs 5,000-20,000 crore.
There are as many seven erstwhile midcap stocks which are now trading with a market capitalisation of more than Rs 20,000 crore. These include Abbott India, Adani Green, Ipca Lab, Tata Consumer, Jubilant FoodWorks, PI Industries, and Whirlpool Of India Ltd.
Abbott India and Adani Green Energy rallied more than 100 percent in the last one year while the rest rose between 20-70 percent since May 2019, data from AceEquity showed.

The next big question in front of investors is – will the momentum continue in these stocks or should investors book profits?
Most of the stocks are potential leaders in their own sector and the rally could continue in these stocks for the next year as well, suggest experts. Most of them could well give double-digit returns, they said.
"The stocks mentioned have outperformed in the last year one year and selectively we believe stocks like Abbott, Ipca Labs, Jubilant Food works and Tata Consumer are the potential outperformers as they are being leaders in respective categories of products in their sectors," Vikas Jain, Senior Research Analyst at Reliance Securities told Moneycontrol.
"Pharma and Consumer sector continues to be our favourites and they have been the leaders of the current up move in the last few weeks of the up move from lower levels," he said.
Jain further added that the stocks are trading near their 52-week highs but we remain positive and any decline should be used to add longs for the long term. We expect the stocks to deliver returns of 18-23 percent return over the next one year.
Largecaps to Midcaps:
There are as many as 38 erstwhile largecap stocks which fell below the market capitalisation of Rs 20,000 crore compared to the year-ago period in May. These include Indiabulls Housing Finance, Bank of Baroda, Canara Bank, M&M Financial Services, BHEL, IDFC First Bank, etc. among others.
Most of the stocks which have fallen below the market capitalisation of more than Rs 20,000 crore compared to the year-ago period are from financials as well as NBFC space along with autos.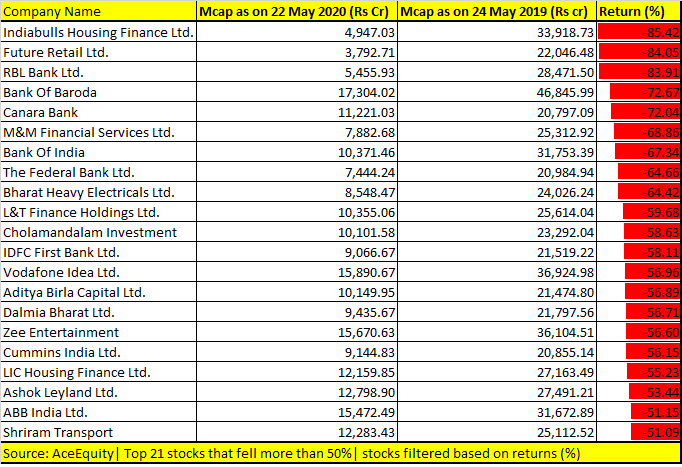 Experts feel that the momentum is likely to weaken in most of the companies which have seen a steep fall in the last one year largely on account of fall in demand due to global factors as well as COVID-19 outbreak, but consumer discretionary stocks could see some recovery as lockdown opens.
"Out of these nearly 40 companies, 15 are Banks & NBFC's, which has suffered most due to COVID-19 and recovery in these will take longer. Other companies belong to capital intensive sectors such as auto, auto-ancillary and real estate," Atish Matlawala, Sr Analyst, SSJ Finance & Securities told Moneycontrol.
"We do not foresee any quick recovery coming in these companies post COVID and hence would recommend lightening position in these stocks except 3M India, Gillette India, and Godrej Industries. These 3 stocks can be accumulated on the decline," he said.
What to buy?
The extension of the lockdown resulted in a severe fall in demand across sectors which will take some time to recover. The outbreak of COVID-19 will alter the business model for most of the companies.
Investors have to very careful in picking stocks if they are planning to make a fresh investment at current levels. There are many stocks that are available at discounted valuations but not all may be considered as top buys.
One has to be very selective in this list as we have witnessed sharp weakness in sectors like Auto, NBFC's, and Realty over the past 18 months, and very few will be able to bounce back.
"Several companies are expected to take big hit earning following a lockdown in the last month thereby affecting their earnings. We believe in a very dynamic world with a lot of uncertainty in the next few months," Rahul Sharma, Head of Research, Equity99 Advisors told Moneycontrol.
"We advise investors only to trade in Nifty-50 stocks at different levels and avoid building any stock portfolio in this scenario. However, chemicals, pharmaceuticals, and agriculture-related stocks will remain trader's favourite in this market," he said.
Atish Matlawala of SSJ Finance & Securities prefers 3M India, Gillette India, and Godrej Industries.
Vikas Jain of Reliance Securities prefers Ashok Leyland, Cholamandlam Finance, Cummins, Godrej Properties, LIC Housing, Shriram Transport, and TVS Motors are the few stocks one should add at current levels and on dips.
"The risk-reward is favourable trading at the lower band of valuations and once the broader market improves earnings and multiples will expand for better returns," he said.
Disclaimer: The views and investment tips expressed by investment experts on Moneycontrol.com are their own and not that of the website or its management. Moneycontrol.com advises users to check with certified experts before taking any investment decisions.
First Published on Jun 1, 2020 10:15 am