Ridham Desai & Sheela Rathi expect FPI flows to improve in 2019 after they turned net sellers in 2018
The year 2018 has been a volatile one for the Indian equity market. The Sensex has gained around 5 percent so far this year, while the Nifty has risen 2 percent.
The market has had to deal with a lot of news like the outcome of five states' assembly elections, ups and down in crude oil prices and the rupee's value against the dollar, a liquidity crisis at NBFCs after the IL&FS default, and US-China trade tensions.
It is highly likely that 2019 will also be a volatile year, with the Lok Sabha elections taking centre stage, but considering favourable macros like the fall in crude oil prices, which is quite positive for corporate earnings, and expected easing in US-China trade tensions, and recovery in banks' credit growth, among others, the market is expected to move higher over the next 12 months, experts said.
"Fundamentals (both macro and corporate) appear to be at the start of a new up cycle, valuations are at mid cycle and market sentiment or psychology looks depressed. On balance, equity shares appear to offer more upside than downside," Ridham Desai and Sheela Rathi, Equity Strategists at Morgan Stanley, wrote.
The brokerage has set its December 2019 target for the Sensex at 42,000, implying an upside of 20 percent and 25 percent in rupee and dollar terms, respectively, compared to the MSCI EM index's upside of 7 percent in dollar terms.
The only caveat to its high target is that the Indian electorate does not deliver a shock verdict in the forthcoming 2019 Lok Sabha election by delivering a fragmented coalition government.
Many analysts feel that state elections and the general election are different in several ways. The thing to look at in the generals is the number of seats the ruling party secures in comparison to its tally in 2014, especially after all three key states (Chhattisgarh, Madhya Pradesh and Rajasthan) turned in favour of Congress.
"Assuming a 5-7 percentage point vote share swing away in the other northern and western states, the BJP tally from these states will be likely impacted by 42-69 Lok Sabha seats. In eastern and southern states, it would gain 7-17 seats. Its allies viz JD(U), Shiv Sena, SAD and LJP would win about 25 seats. Thus, NDA would get 245-280 seats," CLSA said in a report.
Strategists at Morgan Stanley feel that the political cycle (measured as policy certainty) is likely to turn down, growth is likely moving higher, and credit growth seems to be at the beginning of a new cycle. They also believe terms of trade are improving, rates are in a bit of a pause before continuing their rise, and profit margins appear to be at the start of a new up cycle.
They believe valuations appear to be mid-cycle (or in the middle of the historical range) compared to fundamentals, which seem to be coming out of a cycle trough. They prefer to use price-to-book as a valuation metric as against price-to-earnings, given how depressed earnings are relative to the trend.
According to them, valuations could head either way in the short run depending on factors other than fundamentals such as India's election outcome and global events, but the sentiment is more likely to improve from post crisis lows.
In bull case, which has 30 percent probability to happen, they expect the Sensex at 47,000 by December 2019. "Better-than-expected outcomes, most notably on policy and global factors. The market starts believing in a strong election result (one party has a clear majority). Earnings growth accelerates to 29 percent in FY19 and 26 percent in FY20," it reasoned.
The Sensex going to 33,000 levels, which is bear case, have only 20 percent probability. It could happen only in case of weak global conditions, poor election outcome (a hung parliament) and earning below expectations.
Morgan Stanley continue to back growth at a reasonable price and believe the way to construct portfolios is to buy stocks of companies with the highest delta in return on capital.
They expect market performance to broaden and hence also like mid-caps where the forward growth is not reflecting share price performance.
Ridham Desai and Sheela Rathi highlighted key themes in Morgan Stanley portfolio, wherein they prefer 8 growth stocks -- Reliance Industries, HDFC Bank, ITC, Prestige Estates, Asian Paints, Titan Company, M&M Financial and Bajaj Auto.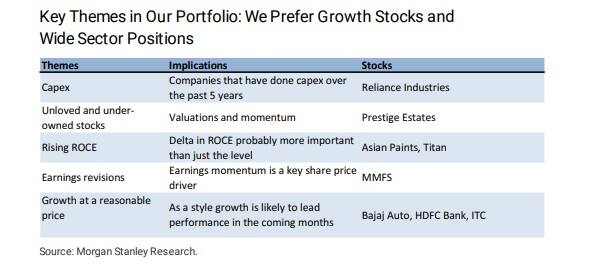 Both strategists expect FPI flows to improve in 2019 after they turned net sellers in 2018. They net sold around Rs 22,000 crore worth of equities in 2018.
"FPI flows have also made a cycle low, and with India ownership in the average emerging markets (EM) portfolio down to seven-year lows, there is a good case for a turn in FPI flows in 2019. This is also consistent with our constructive EM call," they said.
Disclaimer: Reliance Industries Ltd. is the sole beneficiary of Independent Media Trust which controls Network18 Media & Investments Ltd.
Disclaimer: The above report is compiled from information available on public platforms. Moneycontrol advises users to check with certified experts before taking any investment decisions.
First Published on Dec 13, 2018 10:09 am