PE multiple is widely used as a valuation tool that helps in screening a stock on a relative basis.
The S&P BSE Sensex might have taken a knock of over 4,000 points since August when it touched its lifetime high, but there are over 200 stocks that are now trading at attractive valuations as they have slipped below their 5-years Average PE.
The price-earning, or PE ratio or PE multiple, is widely used as a valuation tool that helps in screening a stock on a relative basis.
Generally, when a stock is trading below its 5-year PE average, it is perceived to be undervalued against its intrinsic value, and hence, expected to deliver higher returns in a subsequent period.
As many as 219 stocks in the BSE500 index are now trading below their 5-year average PEs. 25 of them have slipped over 50 percent which include names like Kwality, PC Jeweller, Eveready Industries, Bharat Electronics, Force Motors, Can Fin Homes, Motilal Oswal, Reliance Capital.
Well, it does look like most of the stocks in the list are now available at attractive valuations but at the same time, we have to also see that they have witnessed an erosion in the market value as well in absence of a meaningful pick up in earnings.
Hence, not every stock(s) which has gone below its/their respective 5-year average should be considered as attractive buys, suggest experts. Investors should do their own research before putting their money to work.
"Although this makes it perfect buy when a stock trades at a lower valuation but it is not applicable to every stock in the universe. This is because PE is derivation of multiple factors like earnings growth, operating margin, the fundamental condition of company prevailing in the market which decides the future prospectus of the company," Dinesh Rohira, Founder & CEO, 5nance.com told Moneycontrol.
"These PE alone should not be a sole deciding factor for a buy, but it should be analysed in collaboration with other fundamental parameters," he said.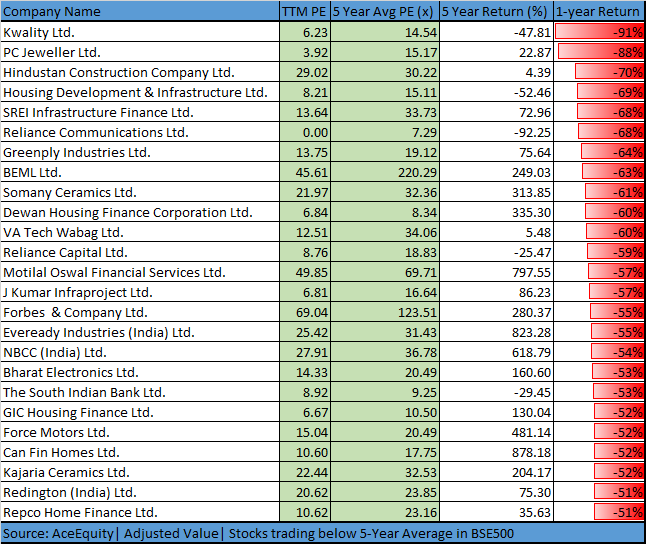 The real winners are the stocks which have managed to hold on to gains. As many as 178 stocks in the BSE 500 index are trading above their 5-Year Average.
Out of 178 stocks, we have collated a list of 20 stocks which have risen 20-80 percent so far in the year 2018 including NIIT Technologies, HEG, MindTree, Indiabulls Ventures, Firstsource Solutions, Mphasis, TCS, RIL, Bata India, VIP Industries.
The general rule of thumb is that when a stock is trading above their average PE it usually indicates a willingness of investors to pay a premium over current earnings in anticipation of high growth expectation.
Also read: On Dussehra, Anand Rathi is betting on 5 stocks with a 1-year view
However, a decision to hold or book-profit on such stock will depend on relative comparison backed on fundamental quantitative and qualitative factors, suggest experts.
"Our preference is to judge valuation of a stock versus its fundamentals, there may be good reasons why a particular stock may be trading at a premium, or this may just reflect the stock being overvalued," Vivek Ranjan Misra- Head of Fundamental Research at Karvy Stock Broking told Moneycontrol.
"If a stock is trading expensive, relative to fundamentals, investors should sell the stock and hold on to a stock that is cheap relative to its fundamentals," he said.
Rohira of 5nance.com said that if the stock is fundamentally facing challenges in terms earnings growth despite a premium valuation then it will be prudent to book-profit at the current level.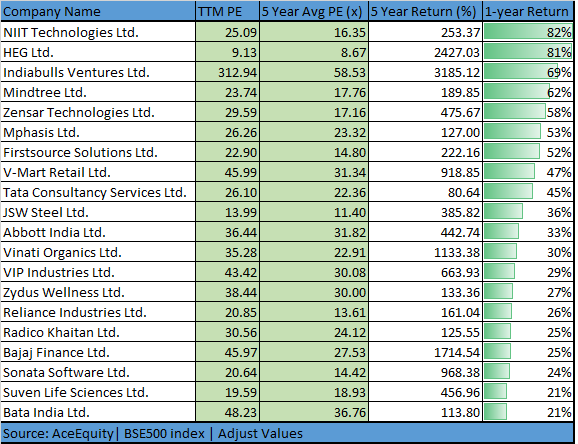 Note: The above report is for information only and not buy or sell recommendations. Moneycontrol.com advises users to check with certified experts before taking any investment decisions.
First Published on Oct 19, 2018 10:01 am