Other multibagger stocks which corrected in double-digits in 2018 include names like Dilip Buildcon, Adani Transmission, Avanti Feeds, Future Consumer and Jaiprakash Associates
After a dull start to the year, Indian market started seeing an upmove last month and the momentum has continued in July as well with Nifty, Sensex hitting fresh record highs almost on a daily basis, last week. But, there is one thing which is missing in 2018, and that is there are no 'multibaggers'.
The year 2017 saw a flurry of stocks that gave multibagger returns in the S&P BSE 500 index, but this year there has been no multibaggers so far. Dspite a correction in some of the stocks which delivered multibagger returns in the previous calendar year, experts feel that those stocks are still attractive bets.
For reference, we have taken 20 stocks which gave multibagger returns in the year 2017 and have corrected by about 80 percent in 2018 in the S&P BSE 500 index.
Rain Industries rallied 577 percent in 2017, but has now dropped by about 80 percent in 2018, Venky's India rose 550 percent in 2017 and has now corrected by 24 percent this year, and Bombay Dyeing has tumbled 19 percent in 2018 after witnessing nearly 500 percent rally in the previous calendar year.
Other multibagger stocks which corrected in double-digits in 2018 include names like Dilip Buildcon, Adani Transmission, Avanti Feeds, Future Consumer, Jaiprakash Associates, Vakrangee, ITI, and Motilal Oswal, according to data compiled from AceEquity.
"Many stocks which rose significantly in 2017 have not steeply declined on account of their good earnings visibility. Many companies are continuing to report a good set of earnings despite their higher base as a result of either new product launches, increase in market share or improving capacity utilisation," Foram Parekh, Fundamental Analyst, Indiabulls Ventures told Moneycontrol.
"We feel stocks like FCEL, Meghmani organics and Motilal Oswal are trading at attractive levels and valuations and they still have room to give good returns. Many promoters have taken the opportunity of this correction and have increased their stake which reflects the strong confidence of the management in their business," Parekh said.
For example, FCEL's management has been continuously increasing their stake over a period of 2 quarters. The entire mid-cap space has witnessed absurd valuations and hence has been correcting since January. Midcaps are now trading at comfortable valuations.
Foram further added that earnings is the key to fetch good returns and if there is good earnings visibility, stocks will continue to give good returns even when the index is underperforming.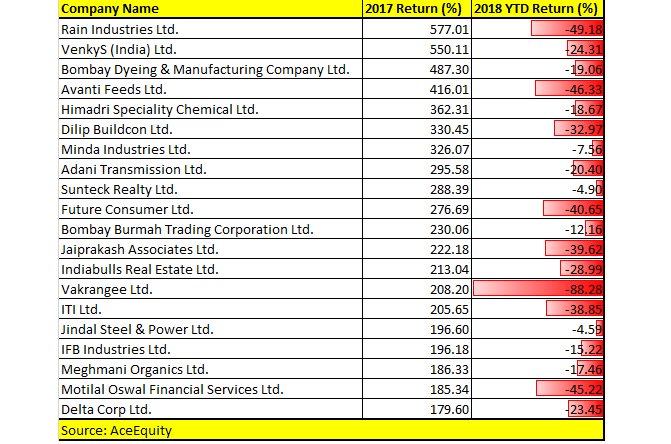 Will the small & midcaps bounce back?
The biggest mystery of 2018 is the wide diversion seen in the performance of Nifty and the Nifty Mid & Smallcap indices. However, experts feel that the bottoming out process has begun and mid & smallcap stocks should see some buying momentum.
After a massive sell-off seen from February-March, large-cap indices like Nifty have come back to new high. A large part of the current run in Nifty is on account of encouraging 1QFY19 results.
There are visible signs that corporate earnings are set to clock strong growth, going forward, even as small and micro-cap stocks continue languishing near their respective 52-week low, suggest experts.
"The divergence in trend in both the indices has more to do with valuation premiums these smallcap companies were enjoying at the start of the year. Implementation of GST last year had triggered massive re-rating of smaller companies as the formalisation of the economy will benefit smaller companies more as larger-cap companies already operate in a formal environment. This led to historic high premium for valuation of smaller companies," Shailendra Kumar, CIO at Narnolia Financial Advisors told Moneycontrol.
"What is happening right now is basically a kind of mean reversion. Gradually, the valuation differential between large- and small-cap stocks needs to narrow down to historically average," he said.
On an absolute basis, mid and small-cap space still trades at a high valuation, so apart from some cyclical catch up, we do not expect any major re-rating in mid and small-cap stocks immediately.
Given the fact that largecaps have a tendency to give limited returns and smallcaps have a risk of turning into a penny stock, midcaps are the only segment which can give exponential returns, hence, buying will definitely come in the mid-cap space as the market sentiment improves, suggest experts.
"Buying momentum will definitely resume in Midcaps. Nifty is already trading near its highs and eventually buying will be followed in the mid-cap space. As mid-caps have the tendency to give exponential returns, investors will definitely turn to midcaps," suggest Parekh.
"We have noticed midcap companies which have reported good earnings over a period of time, have not corrected significantly. For ex, during the entire phase where midcaps index have been underperforming, stocks like BATA, Jubilant Food, Berger Paints, KPIT etc. are around their 52-weeks high," she added.
First Published on Jul 30, 2018 01:17 pm