It's advisable to review your monthly credit card and bank statements for any unauthorised and sham transactions.

It took just one foolish move for Chennai-based Bharat Iyer to lose Rs 50,000 from his bank account. In March 2018, Iyer shared personal and financial information such as his debit card number and CVV number over a call with an unknown person posing as a bank executive. The fraudster managed to trick Iyer into sharing confidential information and used it to commit a fraud transaction in his bank account.
According to TransUnion CIBIL's Fraud Trend 2018 report, several individuals have experienced some sort of fraud (refer to table), whether it was identity theft / new account fraud, synthetic identity fraud, account takeover fraud or card-not-present fraud. Let's look at different types of fraud, its impact and ways to avoid them.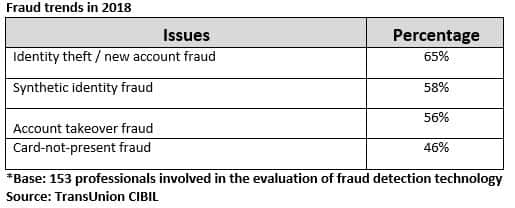 i. Identity theft fraud

Identity theft fraud is the most common type of fraud where the fraudster wrongfully obtains your personal information and uses the same for fraudulent activities as we saw in Iyer's case. With identity theft, the fraudster is even able to apply for a credit card under your name or apply for a loan. Fraudsters forge your signature while applying for card / loan.
Supratim Chakraborty, Partner, Khaitan and Company said, "In identity theft fraud the financial liability may be limited in certain cases by reporting of such fraudulent transactions within the timelines prescribed by the Reserve Bank of India (RBI)."
How to avoid it?

Do not click on any link in an unsolicited email or share your personal information such as Customer ID, internet PIN, Credit/Debit Card number, expiry date and CVV number among others with unauthorized personnel over e-mail, call or message. Further it's important to keep a check on your credit / debit card statements and transaction history for any suspicious behaviour. Also, check your TransUnion CIBIL report at regular intervals. This is a good way of verifying your credit accounts and ensure that your credit report does not reflect any credit facilities which you have not availed.
Srikanth Gaddam, Vice President, Information Technology and Security, CreditVidya added, "Wherever possible, use hypertext transfer protocol secure (https) as an extension on websites for secure communication on internet while applying for loans, using net banking and to pay credit card bills. A secure platform will encrypt your data, thus preventing it from falling into the hands of others."
ii. Synthetic identity fraud

Here, the fraudster uses a combination of fictitious personal data and legitimate personal data of yours to create fake identity in order to obtain loans from
bank
, apply for duplicate insurance policy and take a loan, apply for credit card, etc.
For instance, in January 2018 Mumbai resident Anuj Thakkar was a victim of synthetic identity fraud. The fraudster obtained his personal data with the help of an insider from an insurance company. He then applied for an insurance policy and created a fake identity to open a new bank account and avail a loan of Rs 1.5 lakh backed by the policy. This loan amount in the new bank account created by the fraudster reflected in the records of the insurance company against Thakkar's name. Thakkar got to know about this fraudulent transaction after six months from credit report as it reflected loan against insurance policy of Rs 1.5 lakh which he had not applied for.
How to avoid it?

Chakraborty said, "You should regularly check your credit report and credit score to identify any sudden variations / fraudulent transactions and immediately report any anomalies to bank / financial institution." Also, it's important to exercise caution while sharing personal information or official identity documents (such as permanent account number, passport, Aadhaar, etc) with any person.
iii. Account takeover fraud

Account takeovers occur when fraudsters steal login information to pose as trusted customers and seize control of your online accounts. Harshala Chandorkar, Chief Operating Officer, TransUnion CIBIL said, "Fraudsters successfully make small changes to your account information, add a new user or request another card. Then quickly initiates unauthorized purchases or withdraws money using your account / card."
How to avoid it?

Chandorkar suggested, "Use two-factor authentication for net-banking / transaction through cards." Also, it's advisable to review your monthly credit card and bank statements for any unauthorised / sham transactions.
iv. Card-not-present fraud

This
fraud
can be committed in two ways, first the most common form is sending e-mails with the fraudulent purpose of obtaining card details of the victim in the guise of offering the victim some form of financial benefit. Second method is carding, whereby the offender uses stolen/ cloned debit/ credit cards of yours to make transactions. Chakraborty explained, "Use of skimming machines at ATM machines coupled with the use of cameras to capture the PIN, allows fraudsters to access/clone cards and perform transactions."
How to avoid it?
Avoid replying to suspicious e-mails by sharing personal and financial information. Adopt to safe banking practices such as avoid sharing net banking / card PINs, credit card CVV number, etc.
Chandorkar added, "Check automated teller machines for any attached suspicious devices before transacting and create secure passwords for net banking. Also, it's recommended to change your password / PIN at regular intervals."
Follow @thanawala_hiral
First Published on Dec 28, 2018 09:46 am