In our constant endeavour to enhance portfolio performance, we are making few changes in our large cap portfolio
In our pursuit to evaluate largecap portfolio to focus on quality stocks and capture valuation arbitrage opportunity to enhance portfolio performance, we are making a switch from Aditya Birla Capital to Sundaram Finance.  We also introduce HDFC in the portfolio, a quality name with consistent earnings available at a compelling valuation. Both these stocks, HDFC and Sundaram Finance, not only offer upside potential but also provide strong downside protection, an important criteria considering we are heading into an election year.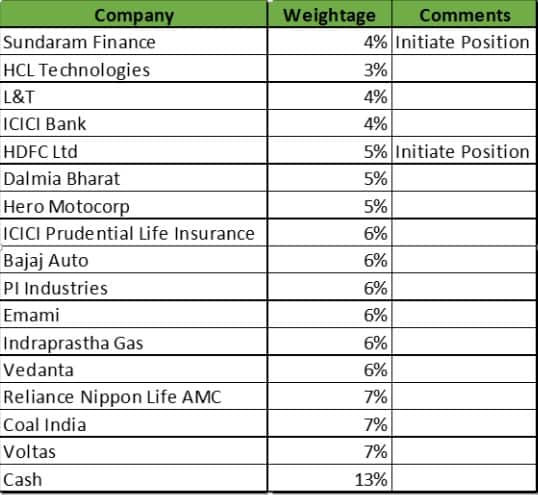 Aditya Birla Capital (ABCL), which houses financial services businesses of Aditya Birla group, enjoys a leadership position (ranked 3rd) in mutual funds business. But ABCL has nascent presence in health insurance, financial advisory, securities broking and insurance broking.  While these businesses could be long-term value drivers, the lending business faces headwinds in the medium term due to rising interest rates. There is not much downside since the stock has corrected significantly. However, we believe the sustainable upside to the stock price is still some time way.
For now, we see multiple growth levers for HDFC. HDFC has marginally outperformed the Nifty year to date by around 5%, but we expect more to follow.  While the core mortgage business is on a stable growth trajectory, the financial conglomerate stands to gain from equally strong performance of its subsidiaries. With increasing scale and profitability of subsidiaries, more than 50 percent of the value of the company is now derived from subsidiaries. To capture the considerable value created by subsidiaries we include the latest value unlocking in the HDFC AMC in our valuation. We see the core lending business is getting valued at 1.8 times FY20 estimated book value.  So while HDFC's headline valuation seems on a higher side, the core lending business is trading at a significant discount to its historical average.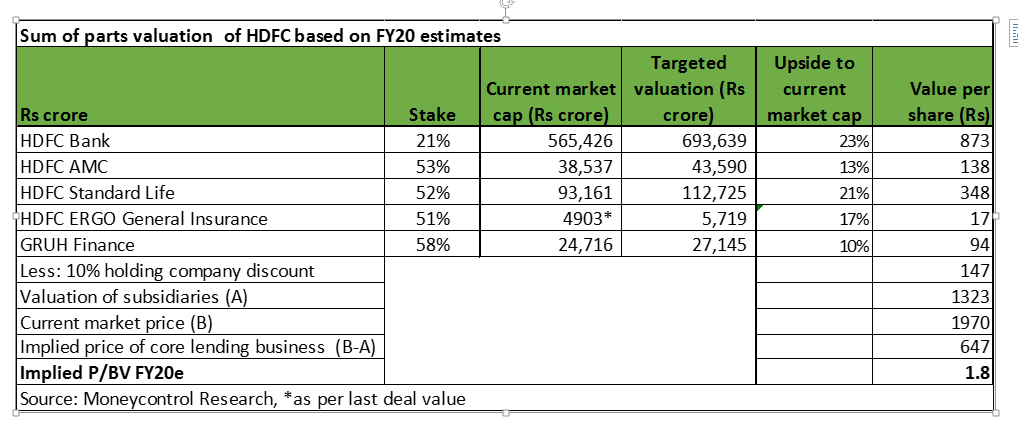 One of the argument is that investors can directly buy most of HDFC's key subsidiaries today. So obviously some money has flown out of parent holding company (HDFC) to the subsidiaries. Despite the limitations associated with holding company structure, we believe it is a rarity to find a financial services powerhouse (not just a housing finance play) at a reasonable valuation and investors should utilise this opportunity to buy into the stock.
Second argument for the cheap valuation is the fact that HDFC's core earnings growth in mid-teens is lower in comparison to many other smaller housing finance companies (HFCs) that are reporting earnings growth of over 25%. But remember other HFCs are growing on low base. We believe HDFC's ability to deliver consistent performance across rate and growth cycles in spite of its large size and high competition commands premium valuation.
Read: HDFC continues steady performance in Q1, buy
We are upbeat on improving fortunes of NBFCs and expect them to continue to garner high share in the overall credit pie. Sundaram Finance, with diversified business segments, will be the key beneficiary of the multiple growth drivers across various financial services business. We expect the company to grow lending book albeit at gradual and steady pace, improving the ROE. Additionally, the other financial services business like AMC and general insurance are expected to grow in sync with India's economic growth.
Read: Sundaram Finance: A long term compounder
The stock has underperformed in year to date but has an enviable track record of long term wealth creation. The demonstrated track record of stable and profitable growth across business cycles (mid- teens ROE for past 10 years), established franchise with experienced senior management team, good overall asset quality makes Sundaram Finance a worthy inclusion in the portfolio.
For more research articles, visit our Moneycontrol Research page
First Published on Aug 29, 2018 05:44 pm