Highlights:

- Better-than-expected cigarette volumes; lower segmental margin underline fragile recovery
- FMCG business benefits from restructuring, operating leverage and mix
- Hotels and paper businesses performance in line with sector-wide promising trend
- Growing interest in dairy business a key aspect to watch
- FMCG margin expansion holds promise for re-rating
-------------------------------------------------

ITC's Q4 FY19 operating sales grew 13.3 percent year-on-year led by double-digit topline growth for all segments.
Result snapshot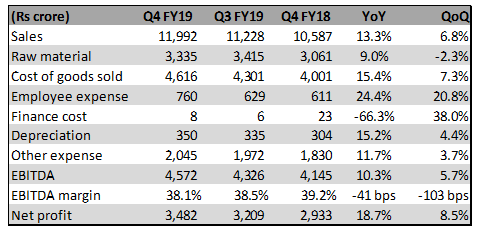 Source: Company
Key positives

Better-than-expected volume growth in the cigarette businesses, which constitutes 43 percent of sales, was the key positive. Volume growth is estimated to be in the 7-8 percent range and partially benefits from a stable Goods & Service Tax (GST) rates. However, operating margin were a tad weaker due to adverse product mix and higher cost of leaf tobacco.
FMCG sales (25 percent of sales) grew 10 percent YoY after excluding the impact of restructuring of lifestyle retailing and education and stationery products businesses. The management highlighted that EBITDA margin for the FMCG business is seven percent compared to 5.7 percent in Q4 FY18. Though this is still long way from the frontline FMCG benchmarks, it is fast improving. Absolute segmental EBITDA increased 31 percent YoY driven by enhanced scale and better product mix.
Hotels business (four percent of sales) saw a steady improvement in sales, benefiting from higher occupancy, increase in room rates and higher food and beverage revenue. Operations at the recently commissioned hotels -- ITC Kohenur, Hyderabad (commissioned in Q1 FY19) and ITC Grand Goa (possession granted in October last year) -- were scaled up. The company updated on the steady progress in the construction of ITC Hotels at Kolkata and Ahmedabad. Construction of ITC Royal Bengal in Kolkata is nearing completion and is expected to be commissioned in Q1 FY20.
Segmental performance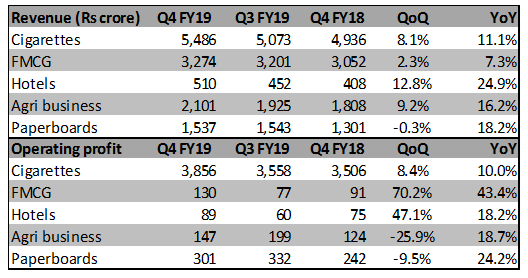 Source: Company
Key negatives

Overall EBITDA margin contracted 103 basis points (100 bps=1 percentage point) on account of higher cost of goods sold and employee cost offsetting moderate increase in other expenses. Segmental margin in the cigarette and hotels businesses were lower than last year, while there was a significant improvement in margin for the FMCG and paperboard businesses.
The management reiterated the observation of FMCG peers that consumption space has slowed down and there is sluggish demand in the rural areas.
Other observations

In the agribusiness (16 percent of sales), the company has strengthened its milk procurement network for Aashirvaad Svasti dairy products, with significant increase in daily milk collection. In recent times, the company has expanded its milk sourcing network to Kolkata for fresh dairy products and to Punjab for meeting the requirement of dairy beverages under the brand Sunfeast Wonderz. The company has recently augmented the dairy category from milk to dairy products – curd, paneer, milkshakes and ghee.
The management is gradually shifting its focus towards branded products in the agribusiness. Branded frozen prawns and packaged frozen snacks are some of the recent additions in these high value-added segments.
It must be noted that the Q4 result also includes net gain on restructuring of the lifestyle retailing business comprising sale proceeds of John Players trademark/copyright amounting to Rs 70.5 crore.
Outlook
While cigarettes volume trend is better-than-anticipated, a possible trend for downtrading needs a close watch as the recovery is in a fragile phase. Also, we take solace from the fact that the fiscal/taxation side of the cigarettes business has likely stabilised.
We believe that the thesis of broadening of growth levers for ITC is unfolding as expected. Few of ITC's other businesses have witnessed encouraging growth traction in recent times: volume growth in the FMCG business and growth outlook in the hotel and paper business. We are as well enthused about operating leverage playing out for FMCG business in particular.
A back of the envelope calculation suggest that a normalisation of ITC's FMCG business margin in line with peers could help ITC's overall EBITDA margin perk up around 280 bps, ceteris paribus.
We view the appointment of Sanjiv Puri (current Managing Director) as Chairman takes away any worries with respect to succession planning.
Also read: ITC's hospitality forays – the less talked about business interest of tobacco/FMCG giant
The stock is currently trading at a significant discount (24.5 times FY20 estimated price-to-earnings) to the FMCG sector's trading multiple of around 40 times FY20 estimated P/E. Given this context, we remain constructive on the stock.
For more research articles, visit our Moneycontrol Research page
Disclaimer: Moneycontrol Research analysts do not hold positions in the companies discussed here
First Published on May 14, 2019 09:57 am