We see a lot of comfort in the current valuation at 1.1 times FY20 estimated book and recommend accumulating the stock in the current weak market
Federal Bank delivered in line performance with no overt shock on account of the floods in its key market of Kerala. The management's guidance on slippage is modest and commentary on growth trajectory is optimistic.
The stock has corrected close to 21 percent in the past six months and looks reasonably valued at 1.1 times FY20e book. We recommend gradual accumulation in this weak market phase.
Lower slippage a positive surprise after the Kerala floods

In the July-September quarter, overall gross slippage stood at Rs 477 crore. Of this, Rs 220 crore slippage accrued from Kerala and close to Rs 59 crore was on account of the floods. Under the restructuring dispensation, the bank restructured loans worth Rs 35 crore in Q2 and should undertake another Rs 70 crore in Q3 as the deadline for restructuring expires on November 30.
The management is guiding at an annual slippage of Rs 1,450 crore (addition of Rs 150 crore for the Kerala floods). Given that the slippage in the first half of FY19 was to the tune of Rs 938 crore, the bank expects slippages in the second half to fall to Rs 512 crore.
Credit cost in Q2 fell 64 basis points and the management is guiding at 70 bps for the full year. The slippage figure will be closely monitored going forward.

The size of the standard restructured pool fell to Rs 577 crore from Rs 581 crore in the preceding quarter and the bank's total stressed portfolio (standard restructured, security receipts and net non-performing assets) stands steady at 2 percent of advances.
Quarter at a glance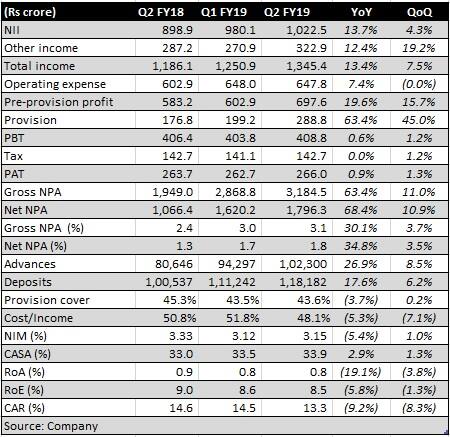 Federal Bank's Q2 net profit was flat at Rs 266 crore. Growth in net interest income (difference between interest income and expenses) at 14 percent lagged credit growth as net interest margin (NIM) declined. On a sequential basis, margin showed an improvement.
Decline in treasury income led to muted growth in other income, although core fee performance was decent. While pre-provision profit rose by close to 20 percent, reported profit growth was flat on account of rise in provision, driven by a rise in investment provision pertaining to security receipts as well as investment in unlisted subsidiaries.
Decent performance on the business front

In FY18, Federal Bank's share in incremental credit and deposit in the banking system was close to 2.2 percent and 2 percent, which is much higher than its absolute share at 1.1 percent and 1 percent, respectively, thereby exhibiting success in its efforts to gain market share.
Business growth momentum remained strong with the advances book growing 26 percent driven by retail, business banking and corporate.
The management is consciously improving quality of its book, with 71 percent of outstanding wholesale credit rated A and above. However, in the quarter gone by, there has been an increase in the ratio of risk weighed assets to total advances, which needs to be monitored.
The bank clarified that it has no exposure to Infrastructure Leasing & Financial Services (IL&FS) but lends to three operational assets of its subsidiaries that are complete, generating cash flow and are still highly rated.
Its exposure to non-banking financial companies (NBFCs) is close to 12 percent of assets and a large part is contributed by top three highly rated players.
Given the opportunity presented by the comatose state of public sector banks and funding challenges of NBFCs, the bank is targeting 20-25 percent credit growth going forward.
On a sequential basis, the bank managed to keep a check on the rise in the cost of deposits thanks to the traction in low-cost deposits (CASA – current and savings account) that it saw over the quarter. Contribution from non-resident rupee (NRE) deposits remain meaningful.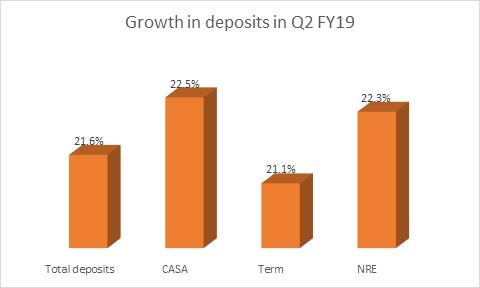 Source: Company
The bank is mindful of the need to step up CASA and has identified it as a focused strategy.
Guidance assumes importance
The bank has guided at a reasonably low slippage in H2 FY18 and 70 bps of credit cost. It is also targeting a return on assets (RoA) of a percent by FY19-end.
The management is countering falling corporate yields by foraying into relatively high margin businesses like unsecured retail credit and commercial vehicle financing.
Non-interest income is another area of focus. To improve the share of core fees, the bank has recently acquired stake in Equirus Capital: a boutique investment firms. The company has brought on board a strategic investor - Truenorth - in its non-banking subsidiary Fedfina, which should help it scale up the business.
Directionally, the bank appears to be making the right moves. However, for a convincing rerating to happen, the management has to deliver on its FY19 guidance.
We are positively surprised with the slippage and FY19 guidance and would monitor the same closely. However, we do see a lot of comfort in the current valuation at 1.1 times FY20 estimated book and recommend accumulating the stock in the current weak market.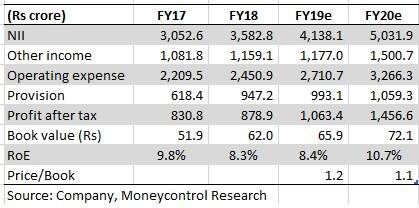 First Published on Oct 22, 2018 10:42 am