India had gone from having one centre for COVID-19 testing to about 1,300 laboratories in six months, Prime Minister Narendra Modi said.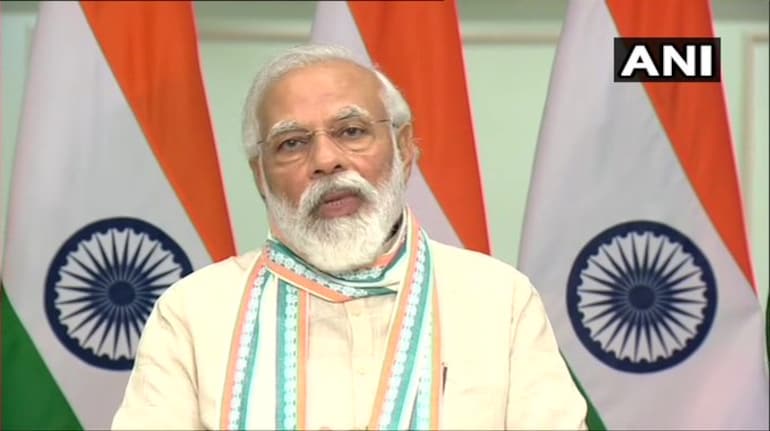 Prime Minister Narendra Modi has said efforts are being made to scale-up daily COVID-19 testing in India to 10 lakh.
Modi made the remarks while inaugurating high throughput COVID-19 testing facilities at three Indian Council of Medical Research (ICMR) laboratories in Mumbai, the National Capital Region and Kolkata on July 27.
"In January, we had only one centre for the corona test, while today about 1,300 labs are working in the whole country for corona testing. Today, more than 5 lakh tests are being conducted in India every day. In the coming weeks, we are trying to upscale it to 10 lakh per day," Modi said.
India had conducted 1.7 crore COVID-19 tests till July 27, ICMR data shows. Of these, 5.2 lakh tests were conducted on July 27 itself.
COVID-19 Vaccine
Frequently Asked Questions
View more
How does a vaccine work?
A vaccine works by mimicking a natural infection. A vaccine not only induces immune response to protect people from any future COVID-19 infection, but also helps quickly build herd immunity to put an end to the pandemic. Herd immunity occurs when a sufficient percentage of a population becomes immune to a disease, making the spread of disease from person to person unlikely. The good news is that SARS-CoV-2 virus has been fairly stable, which increases the viability of a vaccine.
How many types of vaccines are there?
There are broadly four types of vaccine — one, a vaccine based on the whole virus (this could be either inactivated, or an attenuated [weakened] virus vaccine); two, a non-replicating viral vector vaccine that uses a benign virus as vector that carries the antigen of SARS-CoV; three, nucleic-acid vaccines that have genetic material like DNA and RNA of antigens like spike protein given to a person, helping human cells decode genetic material and produce the vaccine; and four, protein subunit vaccine wherein the recombinant proteins of SARS-COV-2 along with an adjuvant (booster) is given as a vaccine.
What does it take to develop a vaccine of this kind?
Vaccine development is a long, complex process. Unlike drugs that are given to people with a diseased, vaccines are given to healthy people and also vulnerable sections such as children, pregnant women and the elderly. So rigorous tests are compulsory. History says that the fastest time it took to develop a vaccine is five years, but it usually takes double or sometimes triple that time.
View more
Show
Follow our LIVE blog for the latest updates of the novel coronavirus pandemic
Modi said India was in a "much more stable position" than other countries because of the right decisions" taken at the "right time".  The country's COVID-19 death rate was much lower than of "big countries", he said.
"At the same time, the recovery rate here is much higher than other countries and is improving day by day. Today, the number of people recovered from corona in India is about to reach 10 lakh," he said.
Modi, while virtually inaugurating the three laboratories, also said that India had managed to scale up the production of PPE kits and N-95 masks.
"Just six months ago, there was not a single PPE kit manufacturer in the country. Today, more than 1,200 manufacturers are producing more than five lakh PPE kits every day. At one point, N-95 masks were also imported. Today more than three lakh N-95 masks are being manufactured in India every day," he said.
Click here for Moneycontrol's full coverage of the novel coronavirus pandemic
First Published on Jul 28, 2020 09:30 am