The move has been taken in a bid to prevent the spread of the novel coronavirus in Ahmedabad city, the worst-affected by COVID-19 in Gujarat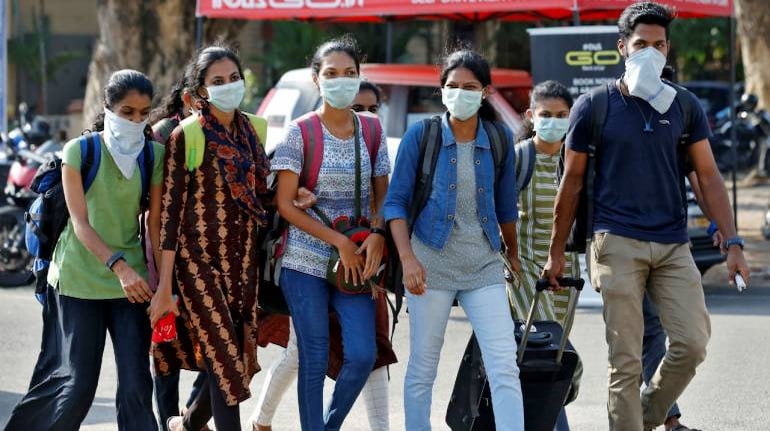 The Ahmedabad Municipal Corporation (AMC) has decided to impose fines ranging from Rs 2,000 to Rs 50,000 on street vendors, neighbourhood shops, supermarkets, malls, etc, if their owners and employees are found without face masks, The Times of India has reported.
The move has been taken in a bid to prevent the spread of the novel coronavirus in Ahmedabad city, the worst-affected by COVID-19 in Gujarat.
The AMC has also decided to suspend licences of shops for three months whose owners and employees are found working without masks from May 1, besides the fine, said the report.
COVID-19 Vaccine
Frequently Asked Questions
View more
How does a vaccine work?
A vaccine works by mimicking a natural infection. A vaccine not only induces immune response to protect people from any future COVID-19 infection, but also helps quickly build herd immunity to put an end to the pandemic. Herd immunity occurs when a sufficient percentage of a population becomes immune to a disease, making the spread of disease from person to person unlikely. The good news is that SARS-CoV-2 virus has been fairly stable, which increases the viability of a vaccine.
How many types of vaccines are there?
There are broadly four types of vaccine — one, a vaccine based on the whole virus (this could be either inactivated, or an attenuated [weakened] virus vaccine); two, a non-replicating viral vector vaccine that uses a benign virus as vector that carries the antigen of SARS-CoV; three, nucleic-acid vaccines that have genetic material like DNA and RNA of antigens like spike protein given to a person, helping human cells decode genetic material and produce the vaccine; and four, protein subunit vaccine wherein the recombinant proteins of SARS-COV-2 along with an adjuvant (booster) is given as a vaccine.
What does it take to develop a vaccine of this kind?
Vaccine development is a long, complex process. Unlike drugs that are given to people with a diseased, vaccines are given to healthy people and also vulnerable sections such as children, pregnant women and the elderly. So rigorous tests are compulsory. History says that the fastest time it took to develop a vaccine is five years, but it usually takes double or sometimes triple that time.
View more
Show
Earlier, the municipal body used to fine Rs 1,000 for the first offence and Rs 5,000 for subsequent offences of not wearing masks, said the report adding that this range of fine was applicable to all.
However, under the new rules, shops, vendors, malls etc, will be covered. Also, shopkeepers will also have to ensure that not only their staff but customers also wear masks and sanitise their hands, the report said.
The COVID-19 death toll in Ahmedabad has so far reported at 137, while the number of cases has increased to 2,777, according to the state government's website.
City civic authorities said the high number of deaths can be avoided if positive patients get admitted to hospitals as soon as they develop symptoms of the infection.
If a person experiences any symptoms of COVID-19, he or she should immediately rush to a civic hospital. It is important to seek timely treatment if lives are to be saved," said municipal commissioner Vijay Nehra.
The civic body will distribute masks and sanitisers to vendors and shop owners who supply essential items, he said.
(With inputs from PTI)
Follow our full coverage on COVID-19 here.
First Published on Apr 30, 2020 01:58 pm