Highlights:-

-
Reliance Retail is among the fastest growing retailers globally
-
A diverse store network and wide product range should keep revenue accrual intact
- By FY21, the retail vertical may constitute 50-60 percent of RIL's current market cap
--------------------------------------------------
Reliance Retail (RR), India's biggest retailer, has been on a roll in recent quarters. The big player, along with Reliance Jio, is anticipated to be a major driver for RIL's (Reliance Industries) next leg of growth.
At a time when RIL's erstwhile flagship segments (petrochemicals, refining, oil and gas) are facing headwinds typical to commodity businesses, the focus is overtly shifting to domestically-driven consumer businesses (retail and telecommunications).
After disrupting the telecom space and achieving market leadership, Jio has seen some signs of a moderation -- in number of subscribers -- in the quarter gone by. This was partly attributable to stiff competition from Bharti Airtel and Vodafone Idea. RR, on the other hand, has been growing noticeably at a pace considerably faster than any other major retail player.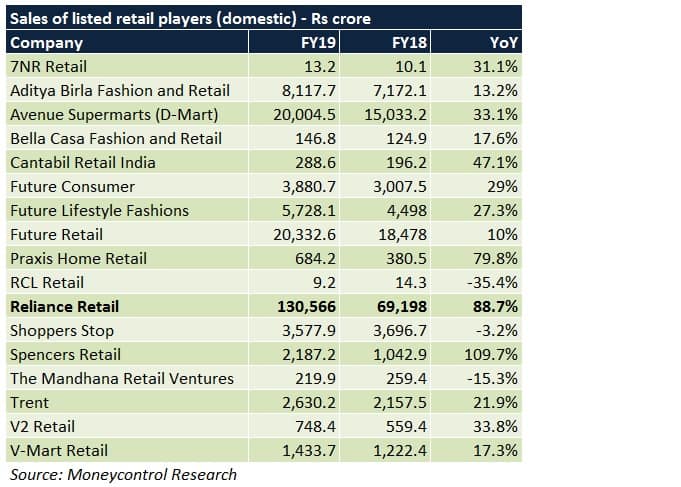 In this context, from RIL's point of view, it is pertinent to assess what makes RR a force to reckon with.
RR - Q1 FY20 performance
RR reported a stellar 47.5 percent growth YoY (year-on-year) in its top line. This was largely led by 265 new stores during the quarter. Operational efficiencies led to margins improving by 60 basis points YoY.
In core retail (excluding petro retail and Jio stores), the margin was 8.9 percent.
What are RR's key strengths?
Network
RR is well-entrenched in all markets of India. With nearly 10,644 stores in 6,700 cities, RR's retail area spans approximately 23 million square feet of retail space. Warehousing facilities to the tune of approximately 10 million square feet are also available at its disposal, which reduces the need to rely on external players for inventory management.
Accelerated brick-and-mortar expansion is likely to continue in all segments – grocery, fashion/lifestyle, electronics, fuel retailing and Jio digital outlets. Impetus will be particularly laid on tier 3 and 4 regions, where the headroom for growth is huge and markets are relatively underpenetrated.
Diversified portfolio
RR covers almost the entire value chain of a customer's shopping needs.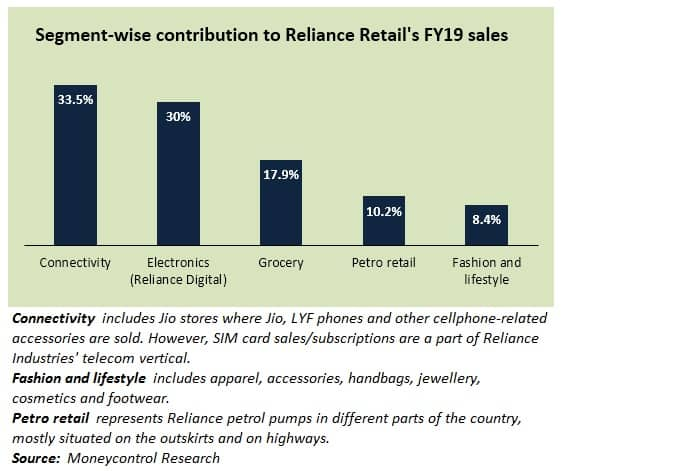 Besides enhancing the brand recall of RR as a whole, a varied mix of products helps in risk diversification, with cross selling opportunities, the ability to serve customers looking for different price points within a product class and one-stop shop solution that attracts more footfalls usually  leading to an uptick in average transaction size per customer.
Going international
RIL acquired Hamleys, a global retailer of toys, gifts and games in April 2019. Although the company was an exclusive franchise for Hamleys for a while, the acquisition underscores the management's intent to explore markets beyond India. There's also the possibility that RR's other brands, especially private labels, may one day find a place on shelves of foreign retailers.
Organic growth opportunity
RR's customer loyalty programme covers more than 100 million members. This, in itself, is a large chunk of India's consumption universe to capitalise on. In due course, evidently, these numbers are slated to grow significantly.
Integration
Retail and Jio complement each other's growth prospects. For instance, shoppers at RR's numerous outlets may be able to avail of better offers if they are Jio subscribers, implying that a lot of non-Jio users may want to consider switching to Jio's SIM card.
On the other hand, those on the Jio network would get details of schemes available at RR's stores from time to time. As a result, they would be more inclined to shop at RR rather than visiting stores run by some other retailer.
The challenges
On an already high base, revenue growth may moderate from a quarter-on-quarter perspective. This could impact margins as well.
Consumption sentiment in the country remains subdued as of now. Weakness in demand may increase RR's inventory holding costs since dealers, distributors and stores may possibly slow their pace of placing new orders.
Competition from other organised and unorganised players will continue to persist, irrespective of the geographical location.
Lease rentals for commercial properties have been rising lately. Lower-than-expected asset turns, coupled with growing capex, could push downward pressure on RoCE (return on capital employed), free cash flows and earnings.
A formal announcement pertaining to the launch of an all-encompassing e-commerce platform is awaited. Though this will accelerate RR's revenue growth significantly, the portal will report losses in the short to medium term. This is because of high costs associated with discounts, promotions, dealer incentives, logistics, storage and competition (with well-entrenched players such as Amazon and Flipkart).
Peer comparison - Domestic
In FY19, RR's top line was nearly twice of all other listed retailers put together, growing at a staggering pace of 88.7 percent YoY. In a way, this is an industry-leading performance.
In spite of the heavy capex in connection with store openings, RR's operating margins increased pretty markedly compared to the competition in the fiscal year gone by. Having said that, there is scope for further improvement when compared to some of India's other major retailers such as Aditya Birla Fashion and Retail, D-Mart, Future Lifestyle Fashions and Shoppers Stop.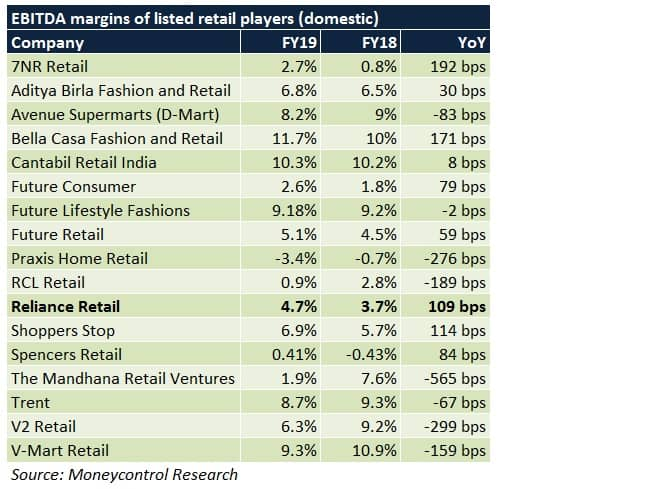 Peer comparison - International
When we compare RR to some of the world's biggest retailers, its standout performance merits attention. Though RR's revenue (in absolute value) isn't the largest globally, in terms of the extent of growth, it has managed to outpace its foreign counterparts by a mile. Moreover, RR's operating margin is only second to Walgreens Boots Alliance and almost on par with Walmart.

Outlook
The contribution of RR to RIL's consolidated revenue and EBIT has been consistently increasing, notwithstanding some minor blips in certain quarters.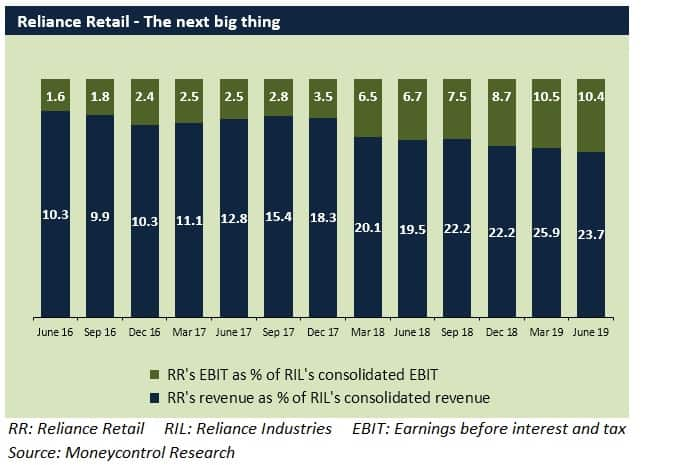 We remain optimistic about RR's revenue growth potential on the back of its wide store network, robust presence across diversified product categories and continued large-scale investments targeting aggressive/fast-paced expansion.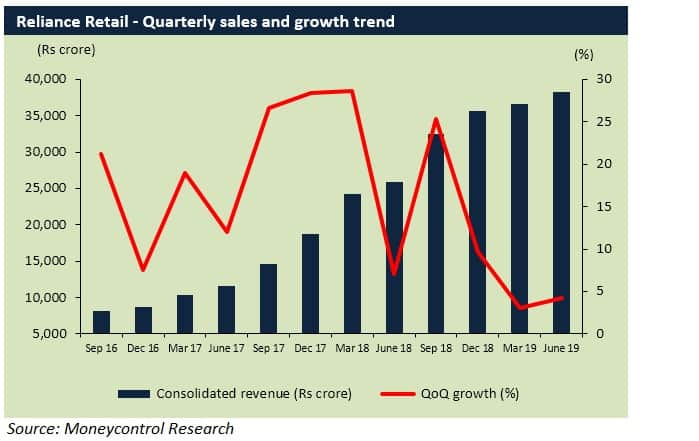 While there's no doubt that RR's revenue traction would remain steady, it will be important to keep an eye on how the margin trajectory pans out. This, in turn, would be predominantly dependent on benefits of scale and product mix.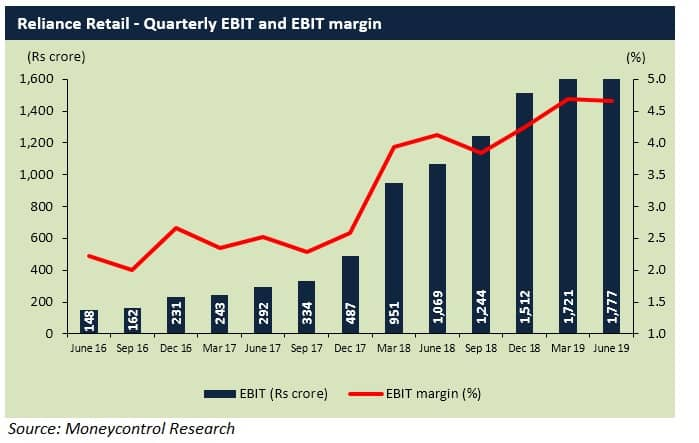 Valuation
Out of India's 15 leading retail companies (listed), RR's EBIT margin is better than 9 of them.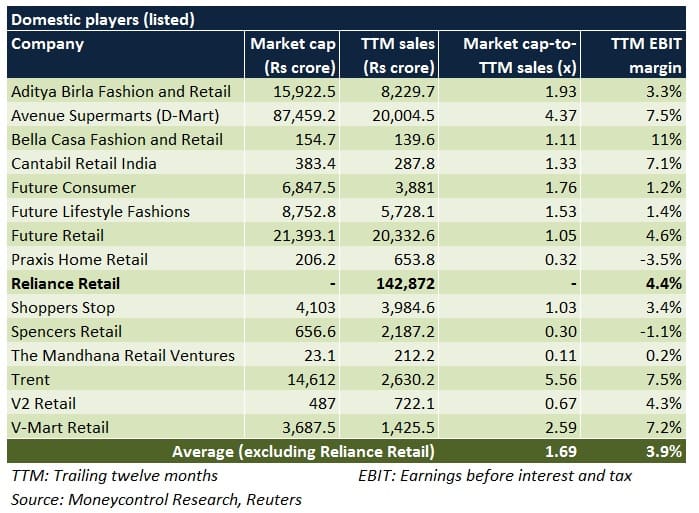 On the back of the investment moats mentioned earlier, we believe RR could command a premium market cap-to-sales multiple in due course if the consistent growth in turnover is complemented by a corresponding surge in profitability.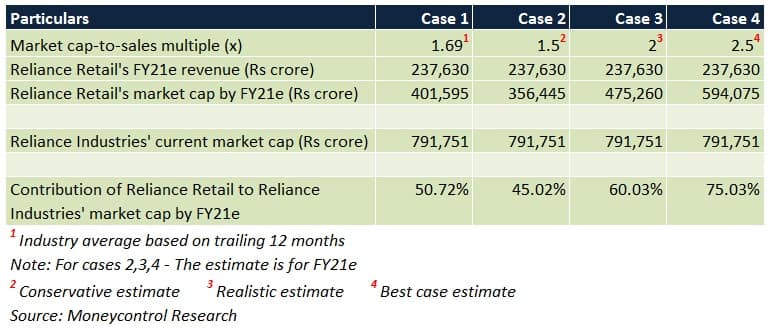 Apparently, going forward, RR's importance in influencing RIL's consolidated numbers -- and consequently on the price returns of the stock -- cannot be overlooked. While RR remains high on the promoter's priority list, talks of the listing of this vertical have been in the works for quite some time. Therefore, an official confirmation from the management team in this regard would be keenly awaited by the Street.
In the next couple of years, RR's valuation could be at least half of RIL's current market cap – So, the Street cannot simply ignore this new growth engine from Reliance's stable.
For more research articles, visit our Moneycontrol Research page.
Disclaimer: Moneycontrol Research analysts do not hold positions in the companies discussed here.
Disclaimer:
Reliance Industries Ltd. is the sole beneficiary of Independent Media Trust which controls Network18 Media & Investments Ltd.
First Published on Jul 22, 2019 12:04 pm