While a rightful discount to HDFC AMC is justified, RNAM is trading at a discount to IIFL wealth, which is unwarranted.
Reliance Nippon Life Asset Management (RNAM), fourth largest asset management company (AMC) in terms of assets managed, reported steady Q1FY19 earnings. While the net profit growth was adversely impacted by mark to market (MTM) losses on investment, core operating performance remained strong.
Till date, RNAM was the only listed AMC. There wasn't any comparable for valuation. The two events in last month --  HDFC AMC's IPO and IIFL Wealth's (subsidiary of IIFL Holdings) capital raising -- provides us with relative valuation benchmarks. In addition to fundamentals and Q1 earnings review, we use relative valuation to conclude that RNAM is a good bet at current levels.
Q1 earnings impacted by the transition to Ind AS
RNAM's reported net profit increased 3 percent YoY in Q1. Transition to Ind AS led to the recognition of MTM loss of around Rs 18 crore in Q1 compared to a profit of Rs 21 crore last year.  The reporting of investment income on a fair value basis instead of cost basis led to the big swing of Rs 39 crore in other income, impacting the overall profitability of the AMC in Q1. We are not much concerned by the MTM loss as this should balance up over the investment period.
The operating profit of the AMC remained strong with a growth of 28 percent YoY despite moderate revenue growth of 7 percent YoY. Controlled operating expenses falling by 1 percent YoY more than compensated the modest growth in operating revenue, resulting in strong operating performance.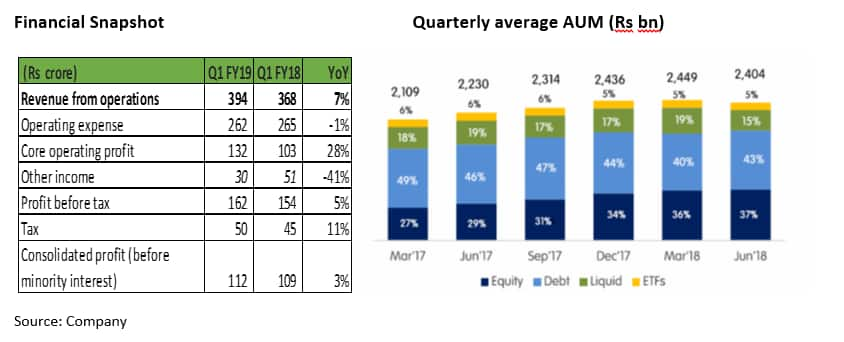 Growth in AUM led by equity assets
RNAM's total AUM stood at Rs 4.07 lakh crore as of end June 2018. The mutual fund assets which form 57 percent of total assets increased by 10 percent YoY to Rs 2.40 lakh crore. This was in line with industry growth. The key highlight of the quarter was the business mix continuing to change in favor of equity assets. Equity assets witnessed a robust growth of 38 percent YoY increase to Rs 88,948 crore. As a consequence, the share of equity assets improved to 37 percent of average quarterly AUM vs 27 percent last year. This is most encouraging as a fee on equity assets is much higher compared to other asset classes. More importantly, it validates the management's focus on profitable growth.
Healthy trends in AUM growth
 - Retail assets form 32 percent of RNAM's average AUM, much better compared to industry's retail AUM at 24 percent. This is comforting as retail assets tend to have better persistency as compared to institutional flows.
- We are enthused with the uptrend in systematic transactions that continued with the addition of 297,000 new SIP (systematic investment plan) folios in Q1. The monthly run rate of SIP is now Rs 827 crore. This provides visibility of AUM growth since SIP inflows are generally for the long term. Management mentioned that 75 percent of AMC's incremental SIPs have a tenure of more than 5 years.
-  RNAM is ahead of the industry in sourcing assets from beyond the top 30 cities, referred to as B30 locations. These locations contributed 16.3 percent of RNAM's average AUM. The strategy will result in an expansion of the market and drive assets growth for the AMC in the future as mutual funds are largely underrepresented investment class in these locations.
Overall, trends in asset flows indicate that RNAM is well progressing on the path of profitable AUM growth.
Why do we believe that RNAM's stock should rerate?  
Compelling relative valuation
At the current market capitalization of Rs 15,800 crore, RNAM is trading at 6.5 percent of average MF AUM of Rs 244,900 crores as at end FY18. Its total AUM was higher at around Rs 400,000 crore because of pension assets managed. However, the management fees on pension assets are minuscule. Hence we don't include these assets while valuing the company. In terms of price to earnings (P/E) metric, RNAM's stock is currently trading at P/E of 30 times trailing earnings and 21 times FY20e (estimated) earnings.
Reliance AMC vs HDFC AMC
RNAM's valuation at current market price is at a discount of 16 percent to HDFC AMC's valuation in terms of issue price. The discount has now narrowed as RNAM's stock rallied by 13 percent in last month. On HDFC AMC's listing, RNAM's discount to HDFC AMC will again widen to more than 35-40 percent as HDFC AMC is expected to list at much higher price than the issue price. While HDFC AMC will always command premium valuation for its brand and superior return ratio with return on equity (RoE) at 40 percent, we feel very high valuation gap ( more than 25 - 30 percent) between the two AMCs is unwarranted. Hence, we see more upside to RNAM's stock price in the medium term.

Reliance AMC vs IIFL Wealth
The most common pushback to comparison with HDFC AMC's valuation is that HDFC AMC is in a league of its own and hence commands a very high valuation. Hence, we would like to draw investors' attention to IIFL wealth's valuation. Though not a like-to-like comparison it is worthwhile comparing RNAM to IIFL wealth because wealth and asset management are related businesses and feed into each other just like auto ancillary company and OEM (original equipment manufacturers). AMCs are manufacturers of the product (mutual fund) and wealth managers are distributors of the same.
Last month, IIFL wealth raised Rs 746 core from marquee investors. The capital raised values the IIFL wealth manager at Rs 14,600 crore which is 38 times its trailing profits i.e.FY18 profit. On a forward basis, valuation is at 25 times FY20e profits.
While IIFL wealth is India's second-largest wealth manager in terms of assets under advisory at Rs 131,762 crore as at end FY18, a bulk of these assets are distribution assets. The discretionary assets managed under AMC were a mere 10 percent to total assets.
We believe Reliance AMC should command higher P/E multiple than IIFL wealth.
First, AMC business is relatively more stable and less risky than wealth business. Wealth managers can be dis-intermediated out of the market and more stringent regulations can be in the offing for them.
Second and the most important, despite wealth managers increasingly shifting away from the regulated mutual funds to alternates and PMS products in a bid to grow profitably, the wealth management industry still largely earns distribution revenues from mutual funds. Hence, we think the growth of wealth and asset managers has to be hand in hand in the near future with AMCs commanding better valuation.
Fundamentally too, RNAM's valuations are undemanding
With its strong retail brand, improving asset mix and well -diversified sourcing platform, we expect RNAM to continue to grow its AUM. Growth in AUM along with the rise in the market share of equity AUM will aid RNAM to deliver topline growth in high teens. Operating costs might inch up as the AMC is expanding the distribution network in B30 locations. Having said that, operating leverage is inherent to an asset management business. Hence, expecting the earnings growth to match, if not lead, the AUM growth is reasonable.  So, fundamentally also, given the return on equity (RoE) of 25 percent and expected earnings growth in high teens, RNAM's current valuation with FY20e P/E of 21 looks undemanding.
The financial problems of the ADAG Group—of which the company is a part of, has hurt the stock. But Nippon Life being an equal partner with 42.88 percent stake in the asset management firm, helps assuage the concerns
Overall, we see scope for a stock re-rating. Hence, investors should consider RNAM, one of the key beneficiaries of the enduring growth in the mutual fund industry, as a worthy bet for the medium to long-term.
For more research articles, visit our Moneycontrol Research page
First Published on Aug 3, 2018 02:20 pm