Post the Q1 results, the management has maintained its guidance for a topline of Rs 440-450 crores along with an operational profit of 190-200 crore. We believe there could be some upside risks (3-5%) to this guidance on account of the rupee depreciation.
Advanced Enzymes Technologies (AET) reported a very strong performance in Q1 FY19. The company posted a topline growth of 38 percent to Rs 104 crore. Operating profits jumped 64 percent to Rs 48 crore as the company benefited from revenue growth as well as margin expansion.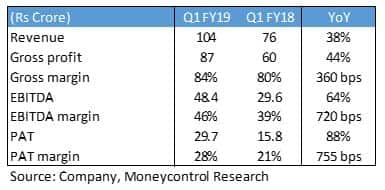 Business background
AET is a research driven company which offers provides enzyme-based solutions for a variety of industries. Enzymes are protein molecules in cells that catalyse chemical reactions in the body, but do not get used up in the process. For example, a traditional method for producing apple juice results in yield of 70-75 percent. However, the enzymes have the capability to enhance this recovery to upwards of 90 percent resulting in lower wastage and higher yields.

AET operates in four different segments. Human Health Care (HC) is the largest segment which forms around three quarters of revenue base. This segment recorded a year-on-year revenue growth of 42 percent in Q1 FY19 on account of a low revenue base in the corresponding quarter last year. This segment is expected to lead the overall revenue growth for AET followed by Animal HC.
High margin business with strong operating leverage
Advanced Enzymes has a total fermentation capacity of 420 million cubic meters spread across Maharashtra and Madhya Pradesh in India and California in the US. The company is currently operating at a capacity utilisation of around 50 percent. It has enough headroom to scale its business without incurring any major capacity expenditure for plant expansion.

Enzymes is a niche business with high entry barriers and therefore the company enjoys very high operating margins (60-70 percent). The business stands to benefit from economies of scale as AET generates an operating profit margin in excess of 40 percent even at half capacity utilisation.
Acquisition of JC Biotech and Evoxx
As a part of its growth strategy, AET had made two strategic acquisitions in recent years. In 2016, it acquired 70 percent stake in active pharmaceutical ingredients (APIs) maker JC Biotech for Rs 50 crore and in 2017, it acquired a 100 percent stake in Evoxx Technologies, an industrial biotechnology firm with a team of 35+ scientists & technicians across the two sites in Germany.
Both these companies have a very strong R&D focus and will help AET grow its business in the coming years. Both JC Biotech and Evoxx is witnessing a turnaround under AET and their performance continues to improve on a quarter-on-quarter basis. While the operating profits of JC Biotech has increased from Rs 3.3 crores in Q4 FY18 to Rs 4.8 crores in Q1FY19, Evoxx has also trimmed its operational losses from Rs 4.5 crores in Q3 FY18 to Rs 2.5 crores in Q1 FY19. The management is targeting expansion in European markets through Evoxx and expects it to turn operationally positive in the second half of this fiscal year.
Strong focus on R&D
The company has a very strong focus on research and development as it forms the core of AET's business. The R&D team has around 85 scientists. Of this, 60 scientists operate from India while 25 scientists operate from its German-subsidiary (Evoxx). The company historically incurred an expenditure of 3-4 percent for R&D. This will move higher to 5.5 to 6 percent on account of full-year consolidation of Evoxx with its overseas R&D arm having a vast library of enzymes.
Concentrated revenue and product profile
One of the biggest risks for AET is its concentrated product, customer and geographic profile. While the top product and client contributed around 25 percent and 15 percent to the revenue in Q1 respectively, the US business formed around 55 percent of the topline. Expansion of revenue base on account of establishment of new client relationships over the past couple years has resulted in business diversification to certain extent. The management expects further diversification as it is targeting new products and clients across Europe and Asia. However, this is expected to happen in a gradual manner as the new client acquisition takes between 12 to 18 months.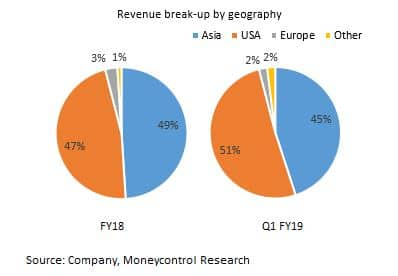 US tax rate reduction to aid bottomline
The reduction in US tax rates from 39 percent to 28 percent has resulted in significant tax savings on a consolidated basis. The overall tax rate was around 26 percent in Q1 FY19 compared to around 32 percent in FY17 and FY18. Going forward, the blended tax rate is expected to be in the 26-28 percent range as AET currently enjoys some SEZ related tax benefits for its India business which will be phased out over the next couple of years.
Market growing at a steady rate
Global enzymes market size was estimated at around USD 5 billion in 2016 and is forecasted to grow between 5-7 percent over the next few years. In terms of geography, Asia Pacific is expected to outpace other regions. On a segmental basis, growing demand for nutritional diet will propel the demand of food and feed enzymes.
Valuations appear attractive post the recent correction
We expect FY20 to be a transformation year for AET as the two subsidiaries will start contributing to the topline and bottomline in significant manner. Besides, the commercialisation of palm oil business is also expected to start over the next fiscal year. AET also stands to benefit from increased penetration to food & feed industries as it has obtained approval of organic certification from the Control Union.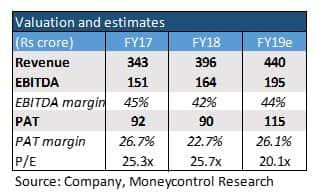 Post the Q1 results, the management has maintained its guidance for a topline of Rs 440-450 crore along with an operational profit of 190-200 crore.  We believe there could be some upside risks (5-7 percent) to this guidance on account of the rupee depreciation.
The initial euphoria at the time of AET's IPO (116x subscription) has subsided and the recent correction in stock price has rendered the valuations attractive (FY19 price-earnings multiple of 20x). We anticipate that a few more quarters of consistent performance should help in stock re-rating for this niche business. We therefore recommend a strong buy at the current levels as the business has potential grow like a Chinese bamboo tree in the long run.
For more research articles, visit our Moneycontrol Research page
First Published on Sep 22, 2018 08:56 am