So far this calendar year, midcap indices have fallen 8-10 percent, compared to a 3-5 percent rise in the Nifty and Sensex.

Caught off guard by the steep fall in mid cap shares, ace investor Porinju Veliyath in a letter to his clients has asked them to 'wait patiently' till a portfolio rejig was possible.
"We have nothing much to do right now, in a market environment which absolutely lacks buying interest, but wait patiently," wrote Porinju, Equity Intelligence's founder and CEO.
"We would do some restructuring as required at an appropriate time, in a more rational market. I expect significant bounceback in many of our value stocks going forward," the letter said.
Porinju has confirmed the authenticity of this letter to Moneycontrol.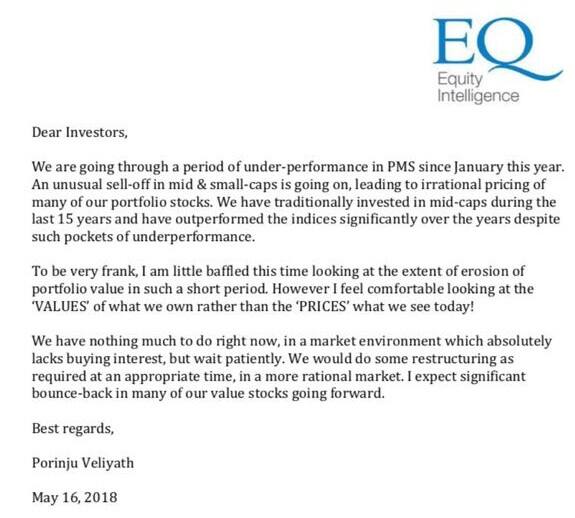 So far this calendar year, midcap indices have fallen 8-10 percent, compared to a 3-5 percent rise in the Nifty and Sensex. In 2017, midcap indices had risen around 51 percent, compared to a 29 percent rise in the Sensex and Nifty.
Rising crude oil prices, a weak rupee and political uncertainty have aggravated concerns investors were already having about expensive valuations. Quarterly performances of most companies--large cap and midcap--were nothing out of the ordinary.
"To be very frank, I am a little baffled this time looking at the extent of erosion of portfolio value in such a short period. However, I feel comfortable looking at the 'values' of what we own rather than the 'prices' what we see today," Porinju wrote.
"An unusual selloff in mid- and small-caps is going on, leading to the irrational pricing of many of our portfolio stocks. We have traditionally invested in midcaps during the last 15 years and have outperformed the indices significantly over the years despite such pockets of underperformance," he wrote in the letter.
Numbers Speak
A look at Porinju and Equity Intelligence's portfolio for the March quarter reveals that majority of stocks, in which they hold more than 1 percent ownership, are down for the calendar so far, data from AceEquity has revealed. The stocks mentioned below may not be reflective of his entire portfolio as there could be other stocks which have holdings less than 1 percent, which does not require public disclosures.
Barring BCL Industries, which is trading around just a percent higher, rest of the 10 stocks in the portfolios have fallen between 24-44 percent. Cimmco has fallen the most, followed by Emkay Global, Palash Securities, Raunaq EPC International and Sarda Plywood, among others.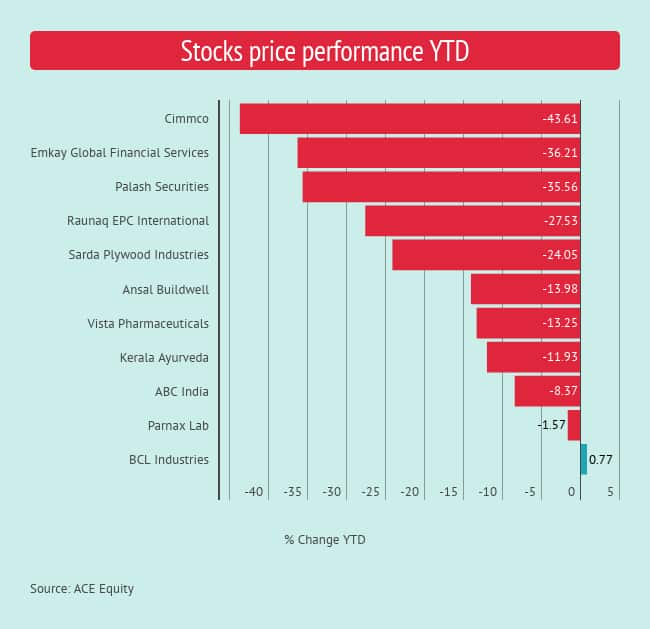 First Published on May 17, 2018 04:21 pm