Hotel companies reported an encouraging performance amid rising room rates and occupancies. With a favorable supply demand situation we stay positive on the growth story for the sector
Hotel companies reported an overall healthy Q1FY19 supported by favourable domestic demand-supply situation in the industry. With limited new rooms entering the system and sustained uptick in demand, room rates saw an improvement. With a parallel increase in occupancies, the revenue per available room (RevPAR) improved. We expect the momentum to continue followed by strong growth especially from Q3, given the first half is seasonally weaker for the leisure industry. We like Indian Hotels and Royal Orchid from the investment perspective.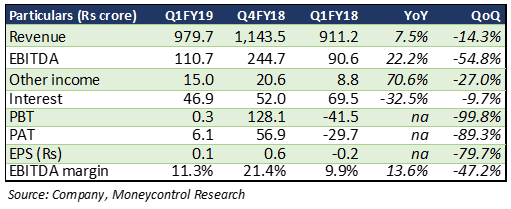 Indian Hotels (IHTL) reported a mixed performance with an overall healthy 7.5 percent year-on-year (YoY) topline growth driven by improved revenues from the domestic operations, though the international segment remained weak. Earnings before interest tax depreciation and amortisation (EBITDA) margins improved 140 basis with higher RevPAR which grew 9.7 percent YoY in the domestic segment and declined 0.8 percent YoY in the international segment. The company reduced its debt which led to savings in interest cost. Other income too was higher YoY. Consequently, the company posted a net profit from negative base last year.

Lemon Tree Hotels (LEMO) which got listed in March this year, posted a net profit in Q1 compared to a loss last year. The company reported an 18 percent increase in revenue on the back of a 15 percent YoY growth in ARR. Despite a 3 percent YoY uptick in the number of rooms, the company saw a 2.5 percent YoY increase in occupancies. A limited increase in operating costs led to a 31 percent YoY expansion in EBITDA and 260 basis points jump in EBITDA margin.

Royal Orchid (ROYL) reported a strong 18 percent uptick in revenue with improvement in both occupancies and ARRs. With a sharp uptick in margins, the company managed to more than double its EBITDA and saw 79 percent YoY growth in net profit. Losses at the subsidiary level have started to trim. With reduced debt, the company reported a reduced interest cost. It has plans to add around 15 more properties in FY19 which would lead to the addition of 600 rooms in the portfolio and would provide a boost to topline in the coming quarters.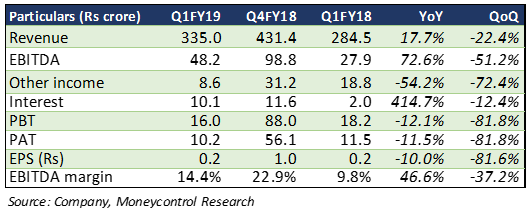 East India Hotels (EIH) reported a strong uptick in the revenue and profits after the reopening of one of its main property in Delhi. EBITDA margin improved 460 basis points with reduced employee costs. Due to fall in other income, net profit declined 11 percent YoY.
With the reopening and revenue traction from the Delhi property, the occupancies and revenues are expected to improve further in the coming quarter. Moreover, the company has a strong pipeline of rooms which will help drive growth in the longer run. The debt-equity ratio at 0.2x is lower than peers and with an interest cover of 9.8x the company has a cushion for raising funds for the development of the new upcoming properties.
Outlook
The sector had suffered in the past on account of low occupancies and suppressed room rates due to strong supply.
With recovering occupancies, improving domestic room rates and RevPARs, a rise in domestic leisure spend and favourable demand-supply scenario, the quarter reported a healthy performance which we expect to continue in the coming year.
The overall demand-supply situation is improving with a slowdown in supply and a rapid uptick in demand, leading to an improvement in rates. With a concomitant increase in occupancy, we expect revenue and profits to improve in the coming year. In recent times, the stocks have corrected 15-37 percent from their 52-week highs.
Indian Hotels has completed all restructuring and cleaned up a lot of debt from the balance sheet, and is now positioned for growth. The company aims for margin expansion via cost savings and monetisation of its brand.
Royal Orchid Hotels is a relatively smaller hotel chain but better placed than peers on the valuation front. The hotel chain is growing rapidly and the stock has corrected substantially from its 52-week high.
Lemon Tree and EIH are both quality stocks but at their current price seem a tad expensive and we would like to see a better entry point for these, although these should be kept on the radar as the tourism sector as a whole is positioned for growth.
For more research articles, visit our Moneycontrol Research Page.
First Published on Sep 5, 2018 06:45 pm