Garg told Moneycontrol that he wrote the blog post to express what he had done in the past one year and his future plans, but it would have been incomplete without talking about his last few months in government.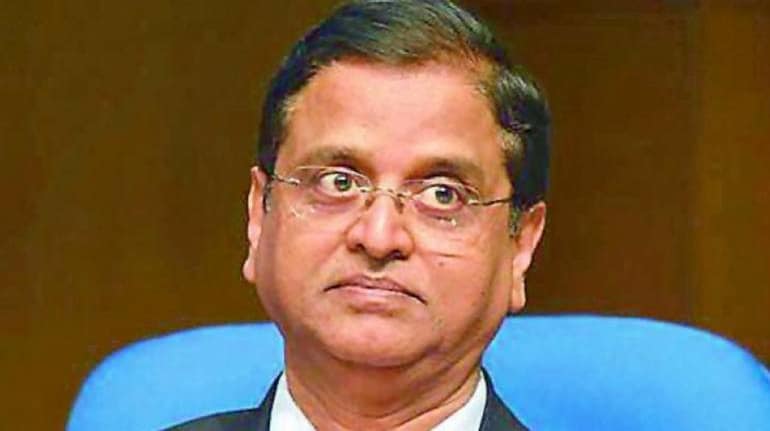 Former Finance Secretary Subhash Chandra Garg has said Finance Minister Nirmala Sitharaman asked for and insisted on his transfer from the Ministry of Finance in June 2019, within a month of her taking over as the head of the ministry.
Not only that, in his latest blog post published on October 31, Garg also said that the Narendra Modi administration had eschewed the drive for bold economic reforms in favour of a populist turn.
Moneycontrol reached out to the office of the Finance Minister for a response, and to Subhash Garg to understand the reason behind writing such an account, given that retired bureaucrats are usually bound by a code of silence about their views of their political bosses, and their working relationships. Sitharaman's office declined to comment on Garg's piece.
Garg, however, did respond. "Through this blogpost, I had wanted to convey what had kept me occupied in the past one year, and what I plan to do in the near future. While writing it, I realised that it would be incomplete without speaking about the end of my time in the Finance Ministry and the government," Garg told Moneycontrol.
 In his blog, Garg has made it clear that he did not wish to work in the government apart from the Ministry of Finance.
Moneycontrol also spoke to senior serving and a retired government official who have been associated with the Finance Ministry. They are of the view that Garg's position in the Finance Ministry had become untenable and had nothing to do with Sitharaman. He was seen as someone who had soured relations between North Block and institutions like the Reserve Bank of India (RBI) and Securities and Exchange Board of India (SEBI).
In his blog, Garg has said that in terms of an economic agenda, "the situation, after elections 2019, unfortunately took a turn for worse."
"Reform agenda was acquiring tinge of being more short term and tinkering type. I had expected the Government to take the requisite bold reforms in first six months. However, this did not seem to be the case. While the real economic reform agenda seemed like getting relegated to a side-show, the non-economic priorities started assuming primary space," Garg said.
The former finance secretary said that while the government, after re-election, did talk about making India a $5 trillion economy, the reform agenda and the investment plan for attaining the goal of $10 trillion economy articulated in the Interim Budget 2019-20 got side-tracked and was virtually forgotten.
Garg said that towards the end of this time in the government, when he had been shifted to the Power Ministry, he had presented his views on economic reforms to the Prime Minister's Office, and was told that his recommendations were circulated amongst the relevant departments.
Government knew about economic slowdown
Garg also said that at the time of presenting the 2019-20 interim budget, a few months before the general elections, the government was aware of the fact that the Indian economy had started slowing down.
"India's growth in second half of 2018-19 was only around 6 percent. Capital investment was falling. The financial system, most significantly the public sector banks, which still have the dominant share of credit, were in a lot of bother," he said.
Garg said that the government's revenue growth had become muted and targets for 2018-19 and 2019-20 were in the danger of being missed by a wide margin. The Make in India programme was moving at a snail's pace with the competitiveness of Indian manufacturing not improving much and the country was further losing its low share in global exports, he noted.
On the reasons for his exit, Garg said, "Serious difference also developed on some key issues like economic capital framework of RBI, a package for dealing with problems of non-banks, resolution of non-banks, partial credit guarantee scheme, capitalisation of non-banks like IIFCL and other financial entities and the like."
He said that compared to late Finance Minister Arun Jaitley, Sitharaman has a very different personality, knowledge endowment, skill-set and approach for economic policy issues and that it became quite apparent very early, that working with her was going to be quite difficult and it might not be conducive to undertaking necessary reforms for the attainment of the objective of building a $10 trillion economy of India.
Garg said Sitharaman came with some pre-conceived notions about him and did not seem comfortable working with him.
He wrote that he did not want to work in the government outside the Ministry of Finance, as that was the place where an officer got the widest possible view of the Indian economy.
"The budget was due to be presented on 5th July, within 35 days of her taking over as Finance Minister. Despite quite a few episodes of acrimony which had made the working environment unpleasant, I decided that I would do everything possible to see that budget was not harmed and it was delivered on time," he wrote.
However, he had made up his mind in the month of June 2019, much before the Budget was presented, that he would take voluntary retirement from the service.
"Dr. P. K. Mishra, then Additional Principal Secretary, who oversaw appointments and transfers in the PMO, asked me to come over for a chat on 18th July... Both of us agreed that the best course would be for me to make way for the new FM to 'function smoothly'," he wrote.
First Published on Oct 31, 2020 02:37 pm