Notwithstanding its large size, HDFC Bank is gaining market share at an accelerated pace, which will aid sustainable high earnings growth
HDFC Bank, one of the largest and most profitable private sector banks, posted yet another quarter of strong performance with net profit increasing 21 percent year-on-year (YoY) backed by robust growth in loan book.
The bank has been the most consistent performer for many years in a row, delivering earnings growth in high-teens. In fact, earnings predictability make it at times almost boring to analyse. Its loan growth continues to be strong (ahead of the industry), margin steady and asset quality as pristine as ever.
The bank posted robust profits through 1998 to 2018, with a compounded annual growth rate (CAGR) of 32 percent over a 20 year period. Return on equity (RoE) has been more than 15 percent for every single year from 1998 to 2018. As a consequence of superior performance, the stock has generated more than 29 percent CAGR in the last 20 years.
The stock's upward flight is now more than 20 years old. Hence, the moot question is can the rally continue and wealth be created by investing in the HDFC Bank stock today? The bull run in stocks doesn't die of old age and there is no sign of dearth in earnings growth for the bank.
In the current scenario, where public sector banks are saddled with huge non-performing assets (NPAs) and constrained by lack of sufficient capital, we expect HDFC Bank to strengthen its position in corporate lending by gaining market share from public sector banks, while maintaining its leadership position in retail segment. The bank is also keen to explore portfolio buyouts from non-banking financial companies (NBFCs) that are struggling today due to tightened liquidity.
Quarter at a glance

HDFC Bank's Q2 FY19 earnings were consistent as ever. Net interest income (NII, difference between interest income and expense) increased 21 percent driven by loan book growth much above the system average and stable net interest margin (NIM) of 4.3 percent. Despite cost of funds moving up, NIM improved, with loan book getting repriced upwards. Equity capital raised during the quarter also helped to a small extent in margin improvement.
Fee and commission income grew 26 percent and was underpinned by growth in fees on third-party distribution of financial products, processing fees and credit card charges. Solid growth in fee and commission income (82 percent of non-interest income) was partially offset by fall in investment income. As a result, the headline other income growth looks muted at 11 percent.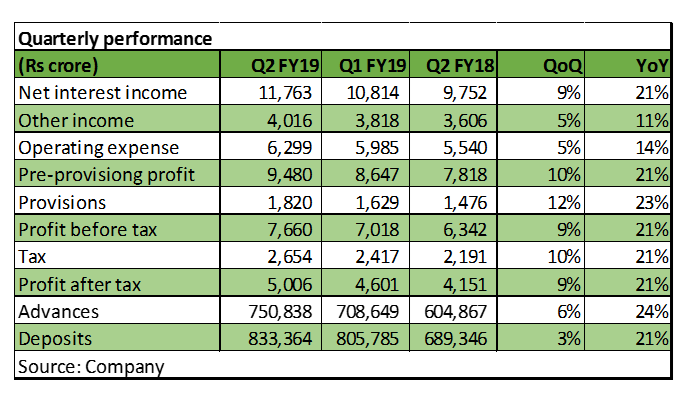 Operating leverage improved significantly as the core cost-to-income declined to 39.9 percent as against 41.5 percent in Q2 last year, led by controlled branch network growth and digital initiatives. The bank continued to maintain its impeccable asset quality, with gross and net NPAs at 1.3 percent and 0.4 percent, respectively, as at September-end.Since management declined to comment on specific accounts we aren't sure on HDFC bank's exposure to IL&FS group. Provision coverage ratio at 70 percent was healthy. If we include floating provisions of Rs 1,451 crore, coverage is more than adequate at 117 percent of gross non-performing loans.
The bank's liquidity position is very healthy, with liquidity coverage ratio (LCR) at 118 percent, much above the regulatory requirement.
Accelerated balance sheet growth

HDFC Bank reported total advances of Rs 750,838 crore as at September-end, an increase of 24 percent over last year. Within total advances, both retail and corporate lending witnessed robust growth of 24 percent and 25 percent, respectively. Deposits growth increased 21 percent YoY. Growth in time deposits was tad stronger at 23 percent as compared to current and savings accounts (CASA) deposits growth of 18 percent. As a result, CASA ratio dipped marginally to 42 percent versus 44 percent last quarter.
The bank's performance is commendable as it continues to grow its loan book at almost double the system average despite a higher base. In FY18, its share in incremental deposit and credit growth in the banking system stood at 20.2 percent and 12.8 percent, respectively, thereby clearly showing how the bank is capturing market share when competitors are vacating the same on account of their weak capital position and burden of non-performing loans.
Capital adequacy at 17.1 percent stood well above the regulatory requirement of 11.03 percent. Its recent equity raising of Rs 23,590 crore equips the bank to take on higher market share and accelerate earnings.
Valuation compelling given the 'significant moat'

We expect the bank to continue to churn out profitable growth over the next few years as it enjoys dual moats (competitive advantage) on both the assets as well as liabilities side. The equally strong performance of the bank's subsidiaries, HDB Financial Services and HDFC Securities, also lends comfort.
The stock is up 5 percent year-to-date, while the Nifty is down 2 percent. Despite the outperformance, the stock is reasonably valued.
The stock currently trades at FY20 estimated price-to-book (P/B ratio) of 3 times, which is below its long term historical range. We have seen many small and mid-size private banks with higher earnings growth getting sharply re-rated and enjoying premium valuation. As such, HDFC Bank's valuation gap compared to some of these private banks has narrowed and looks relatively compelling.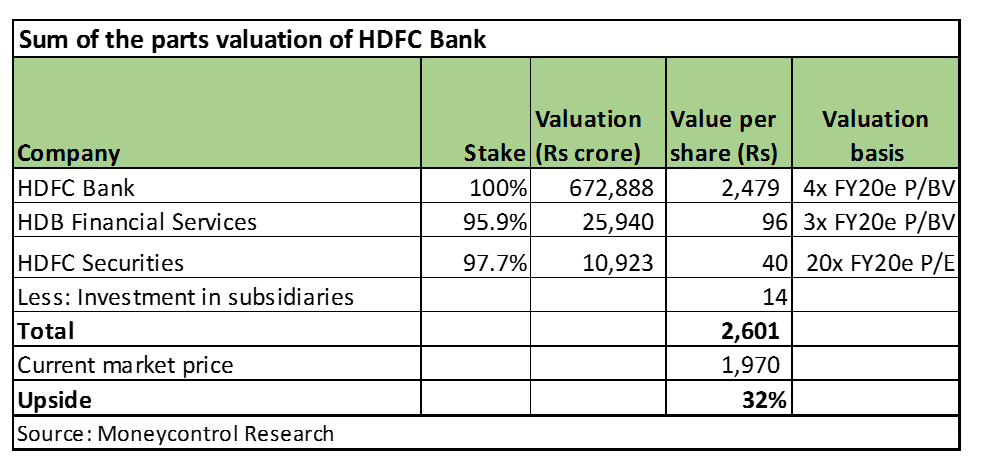 We have used sum of the parts valuation to arrive at a fair value of the stock, which is more than 30 percent above Friday's (October 19) closing market price. So far, subsidiaries have aided earnings with dividends. Currently, they contribute around 5 percent to the bank's valuation, but is expected to drive future valuation upwards as they gain further scale.
It is rarity to find a high quality business with decent and predictable earnings growth at reasonable valuations. The current consolidation in the stock is due to a correction in broader market and may also be due to uncertainty relating to an impending CEO change in FY20. We expect the management transition to be smooth as HDFC Bank is a process driven institution. Hence, investors should utilise this as an opportunity to buy into the stock. With markets staring at multiple challenges in the near term, the stock is a must own core holding among Indian equities.
For more research articles, visit our Moneycontrol Research page


Moneycontrol Ready Reckoner
Now that
payment deadlines have been relaxed
due to COVID-19, the Moneycontrol Ready Reckoner will help keep your date with insurance premiums, tax-saving investments and EMIs, among others.
First Published on Oct 22, 2018 02:22 pm