The global spending power of LGBTQ consumers is estimated to be more than $5 trillion a year. In a white paper published in April 2018, the non-profit LGBT Foundation in Hong Kong calculated that if the LGBTQ community worldwide were a country, it would be the fourth-largest economy in terms of GDP.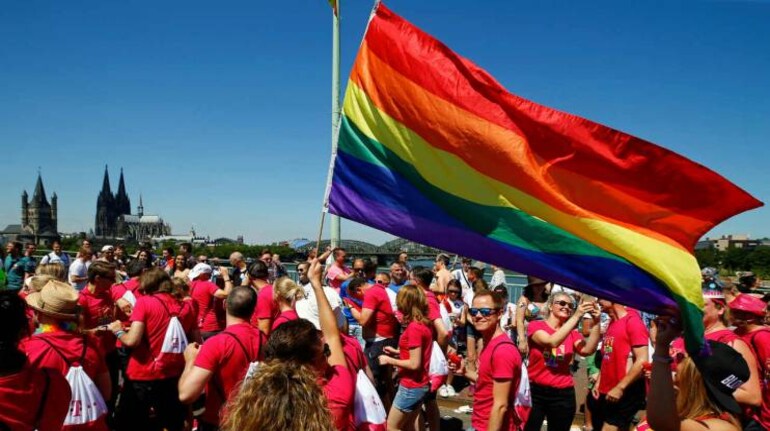 Queeristan: LGBTQ Inclusion in the Indian Workplace
by Parmesh Shahani
 A historic judgment of the Supreme Court of India in 2018 took a fresh look at the provisions of Section 377 of the Indian Penal Code, which had referred to 'unnatural offences' comprising carnal intercourse against 'the order of nature', and had made the 'offences' punishable. The SC judgment struck down S377. "The SC ruled that consensual adult gay sex is not a crime," The Times of India reported. It was a step towards extending long-denied constitutional rights to the LGBTQ community. Since then, many commentators and experts studying the LGBTQ community have said that there are positive but insufficient changes on the ground. By and large, Indian societies and workplaces treat the LGBTQ community with prejudice and hostility; look within, as I have after reading this book, and you will find much to regret there.
Though all is not doom and gloom, Shahani writes, with wit, humour and compassion, a lot needs to be done. The author quotes In and Out: The Indian LGBT Workplace Climate Survey 2016, a study by Mission for Indian Gay and Lesbian Empowerment (MINGLE): "… about 40 percent of the people surveyed confided that they sometimes or often faced harassment in the workplace for being LGBTQ. Two-thirds of them reported hearing homophobic slurs from their colleagues or managers and one-fifth had faced discrimination from their HR managers".
This book has multiple audiences, including LGBTQ folks and their allies, as well as those who are interested in "corporate India, or young India, or ever-changing India", but is squarely aimed at corporates who want to boost inclusion in their workplaces. The book is intended to spur change: Shahani wishes "that many people in the Indian workplace read it and change their company's HR policies and practices, convinced that inclusion makes sense whichever way they look at it". By way of example, Shahani points to his employer, Godrej, which instituted a diversity and equal opportunities policy, and also has a Diversity Council to "define and discuss progress against… diversity goals".
The book is especially friendly to those who have little or no information about the LGBTQ community – for instance, the book has a helpful section expanding each of the terms that make up 'LGBTQ'. We are also told about gender identities, such as bigender, pangender and gender questioning, among others.
The first half of the book makes a moving argument for making workplaces more inclusive, the second half contains a comprehensive action plan to put these intentions into practice at the workplace. The author covers various aspects of framing diversity and inclusion policies, finding talent from the LGBTQ community, creating a recruitment process that is LGBTQ friendly, creating an LGBTQ-friendly work culture at the workplace, and how to be an ally, whether you identify as LGBTQ or not. There is a special chapter on trans employees, because trans people face "a distinctly different set of challenges  in the workplace that are not a part of the lesbian, gay or bi experience", as per A Manifesto for Trans Inclusion in the Indian Workplace by Shahani and Nayanika Nambiar, quoted in the book.
The author is aware that his decision to argue in favour of inclusion on grounds that it makes business sense is controversial. He says that "… in an ideal world the human rights paradigm would be enough to bring about change. However, we aren't there yet". He advises adopting "...other strategies – profitability, innovation and so on – to make a business case for inclusion… [to] translate the language of human rights into these different and largely heterosexual corporate spaces…"
The author says: "According to
report by PriceWaterhouseCoopers, the global spending power of LGBTQ consumers is estimated to be more than $5 trillion a year. In a white paper published in April 2018, the non-profit LGBT Foundation in Hong Kong calculated that if the LGBTQ community worldwide were a country, it would be the fourth-largest economy in terms of GDP. Here's another number for you: US $200 billion. That is the size of India's queer economy". The author has a number of well-told case studies in which companies boosted their business by addressing consumers from the LGBTQ community. In this connection, we are also told about the pitfall of 'pinkwashing' – in which companies "promote themselves as queer-friendly in an effort to tap into the LGBTQ consumer market without authentically championing the rights of the community".
In another chapter, the author makes a case for hiring inclusively. He cites Deloitte Australia, whose 2018 report said inclusive companies performed better than others. He quotes economist Lee Badgett who contends that LGBTQ inclusion in the workplace and in the market would increase India's GDP by at least 1.7 per cent. There is a whole chapter, in fact, on the economic and business benefits of creating inclusive workplaces.
Shahani also informs us of studies that found positive links between inclusion and the GDP of the geographical area that is inclusive – that is, if your town or country is inclusive, it is more prosperous than it would be otherwise.
While speaking of inclusion, Shahani is always mindful of the Indian context; he says Indian corporates need to be "space[s] for reconciliation" where employees can "explore their multiple selves". He says Indian corporate LGBTQ policies "need to be about caregiving, because you are supplementing broken infrastructure, and an aching lack of information. Most often, you are the only support system available to help them (LGBTQ employees) develop their identities. I often see many employees who are out as gay only at their offices, but are closeted everywhere else. So, as an organization, you have to be nurturing to compensate for the lack of nurture over the years from their families or their educational institutions".
The author covers three main legal developments that affect inclusion in India. One of the verdicts, of course, is the one by the Supreme Court striking down Section 377 of the Indian Penal Code. The second is the NALSA verdict of 2014 that "recognised the fundamental rights of trans people, and spoke about protection from discrimination, equality of opportunity, freedom of expression and right to dignity"; the author also speaks of the Union bills of 2016 and 2018 which harmed the struggle of trans people for their constitutional rights. We are also told about the Transgender Persons (Protection of Rights) Bill 2019, which "retained most of its older regressive qualities", and which sailed through Parliament to become law.
What book doesn't have lacunae? So does this one; many if not most of the case studies of LGBTQ inclusion in this book are drawn from rather privileged circles within corporate India. But at least the presence of case studies helps us to understand what inclusion looks like at the workplace.
Whether he is dealing with legal topics or sharing the success stories of LGBTQ office workers, Shahani's effervescent, conversational tone of voice draws you straight in. Think of a knowledgeable and witty friend being generous with his knowhow and time, sharing strategies to make Indian workplaces more LGBTQ-friendly over a cup of chai. Moreover, Shahani is utterly hilarious when he wants to be – funnier, in fact, than many a standup comedian in India's standup comedy capital, Mumbai.
But this warm and empathetic book will, at certain places, bring tears to your eyes with its themes of love, acceptance and dignity. It will inspire you to bring about change in your own way. If you're a company CEO or HR head, or even the proprietor of your own concern, you can pick up this book and begin the journey towards making your workplace inclusive. So I recommend it to the general audience, and in particular to business leaders who want to be inclusive but don't know where to begin. I also recommend the book enthusiastically to business leaders who don't see the need to be more inclusive – the book has the potential to change their minds.
Suhit Kelkar is a freelance Journalist. He is the author of the poetry chapbook named The Centaur Chronicles.
First Published on Aug 29, 2020 03:06 pm