The government will operate 64 flights to bring back its citizens, from May 07.
India plans to bring back 15,000 Indians stranded in more than 10 countries, over seven days in 64 flights.
The evacuation will begin on May 7. On an average, about 2,000 Indians will be flown back each of the days.
This is first part of what is being termed as the biggest repatriation exercise ever done. Overall, reports say, nearly two lakh Indians have registered with local Indian consulates to come back home.
The government, in a statement on May 04, had said the process will begin from May 7 and travel will be arranged by aircraft and naval ships. It said, the returns will be facilitated on "compelling grounds" in a phased manner.
COVID-19 Vaccine
Frequently Asked Questions
View more
How does a vaccine work?
A vaccine works by mimicking a natural infection. A vaccine not only induces immune response to protect people from any future COVID-19 infection, but also helps quickly build herd immunity to put an end to the pandemic. Herd immunity occurs when a sufficient percentage of a population becomes immune to a disease, making the spread of disease from person to person unlikely. The good news is that SARS-CoV-2 virus has been fairly stable, which increases the viability of a vaccine.
How many types of vaccines are there?
There are broadly four types of vaccine — one, a vaccine based on the whole virus (this could be either inactivated, or an attenuated [weakened] virus vaccine); two, a non-replicating viral vector vaccine that uses a benign virus as vector that carries the antigen of SARS-CoV; three, nucleic-acid vaccines that have genetic material like DNA and RNA of antigens like spike protein given to a person, helping human cells decode genetic material and produce the vaccine; and four, protein subunit vaccine wherein the recombinant proteins of SARS-COV-2 along with an adjuvant (booster) is given as a vaccine.
What does it take to develop a vaccine of this kind?
Vaccine development is a long, complex process. Unlike drugs that are given to people with a diseased, vaccines are given to healthy people and also vulnerable sections such as children, pregnant women and the elderly. So rigorous tests are compulsory. History says that the fastest time it took to develop a vaccine is five years, but it usually takes double or sometimes triple that time.
View more
Show
Moneycontrol  has seen a copy of the flight plan prepared by the Ministry of External Affairs.
The flight plan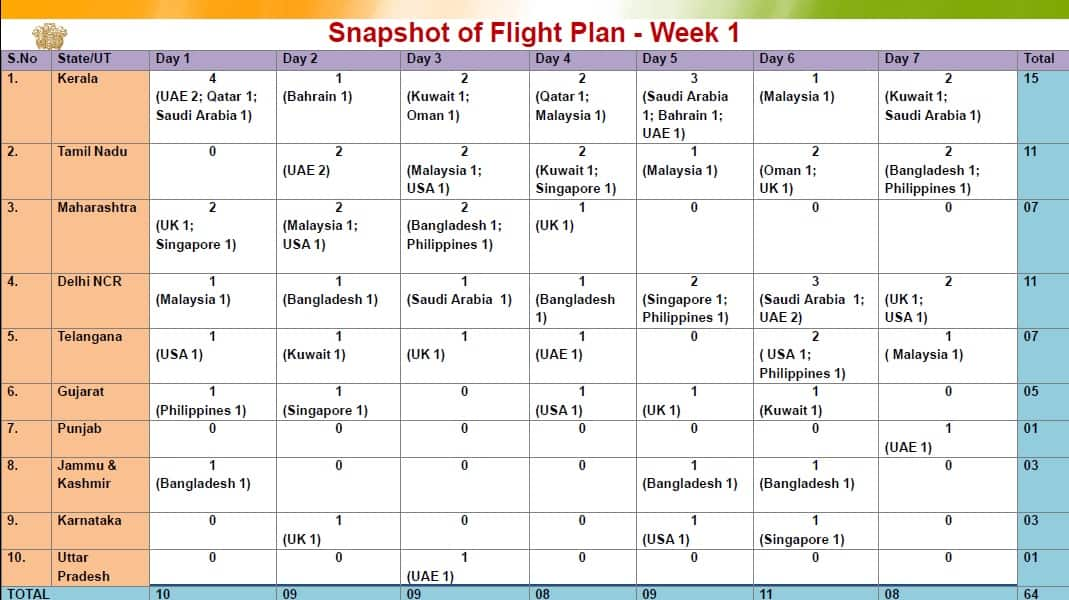 Week 1 flight plan for return of Indians stranded abroad (Source: Ministry of Civil Aviation)
Indians will be evacuated from the following countries:
Bahrain, UAE, Malaysia, USA, Bangladesh, Kuwait, Singapore, UK, Oman, Philippines, Saudi Arabia and Qatar.
Track latest developments on the Coronavirus Pandemic in our LIVE blog
Not surprisingly, the evacuation plan focuses on the Middle-East. In the UAE alone, more than 1.5 lakh Indians had registered to come back. About half of the applicants in UAE,  are from Kerala.
The state will see the most number of flights - 15- coming in, carrying the stranded Indians. Tamil Nadu will receive 11, and Maharashtra seven. Other states are, Delhi NCR, Telangana, Gujarat, Punjab, Jammu & Kashmir, Karnataka and Uttar Pradesh.
Those coming back to India, are required to fill a self reporting form. Apart from sharing their personal details, the passengers will have to declare if they have any COVID-19 symptoms.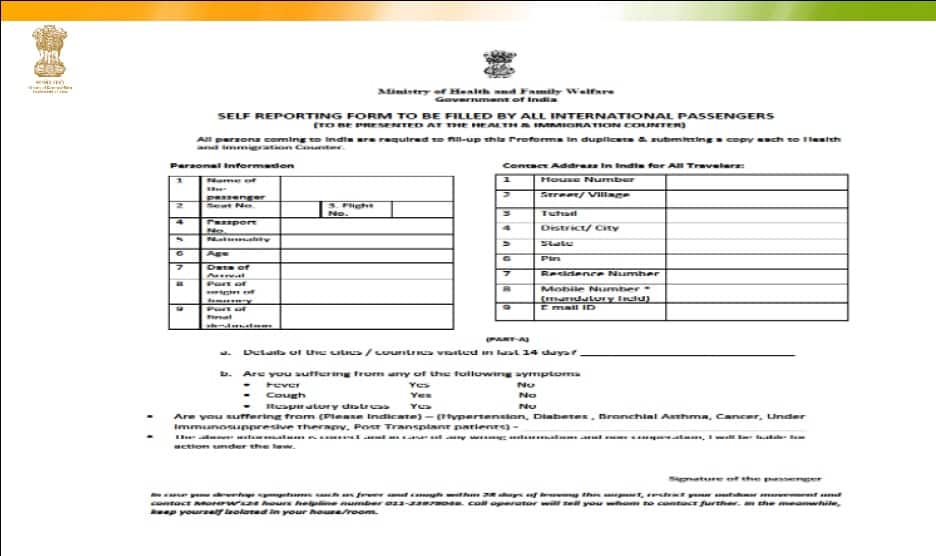 Self reporting form for Indians returning to India (Source: Ministry of Civil Aviation)
The government had earlier said that on reaching the destination, everyone would have to register on the Aarogya Setu app.
"After scrutiny, they would be quarantined for 14 days, either in a hospital or in an institutional quarantine on payment-basis, by the concerned State government. COVID test would be done after 14 days and further action would be taken according to health protocols," it added.
Follow all of our Coronavirus coverage here
First Published on May 5, 2020 08:44 am