At present, the stock is trading at a multiple of nine times FY19e earnings, which is at a discount compared to peers in the chemical sector.
Thirumalai Chemicals (market capitalisation: Rs 2,177 crore), the second‐largest manufacturer of phthalic anhydride (PAN) in the domestic market, reported a decent set of Q4 FY18 earnings. The quarterly performance was mainly guided for a turnaround in its Malaysian subsidiary.
(Read: Thirumalai Chemicals: Exposure to varied markets, capacity expansion & diversification key triggers)
International operations aid Q4 performance
The company's standalone business, which mainly consists of the PAN business, reported a healthy operating performance in Q4 FY18. Though net sales fell seven percent year-on-year (YoY), operating performance at the earnings before interest, tax, depreciation and amortisatisation (EBITDA) level surged 36 percent YoY backed by better gross margin and flattish employee benefit cost. Sequentially, profitability was impacted by higher raw material cost.
Consolidated financial numbers were better, with eight percent YoY topline growth and sharp gross margin improvement (40.4 percent versus 32.2 percent YoY). Aided by a decline in finance cost and operating leverage, consolidated net profit perked up two times. This was mainly led by a turnaround in the Malaysian subsidiary. This entity was loss making till last year and has turned around in recent times.
In the year-ago quarter, contribution of this subsidiary to consolidated sales was 18 percent. This has improved to around 28 percent now. The share of the same in profits is about 26 percent.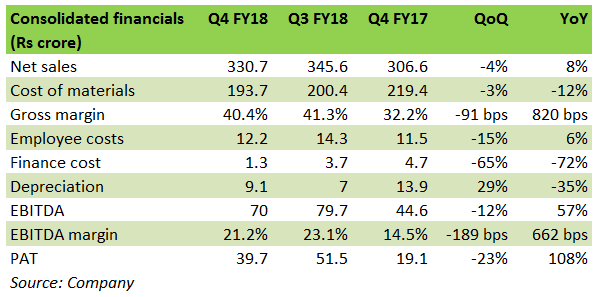 Financials and valuations
For the near-term, we continue to expect sales volume growth to accrue from increased capacity for food acids, fine chemicals and improved operations of its Malaysian subsidiary. Major volume growth is expected post completion of PAN expansion. Margin tailwinds are expected to continue, with improving demand for PAN and Maleic Anhydride. The company's exposure to food acids and fine chemicals is expected to aid overall margins as well.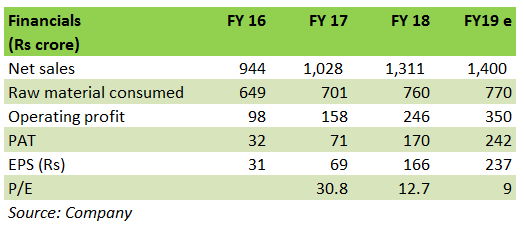 Based on its recent result, we have tweaked our earnings expectations. Currently stock is trading at a multiple of 9x 2019e earnings, which is at a discount compared to the peers in chemical sector.
Moneycontrol Research page
First Published on May 4, 2018 05:03 pm