JSPL is expected to post strong earnings growth led by higher steel volumes, gains from operating efficiency and deleveraging of the balance sheet.
Jindal Steel and Power, which is making an effort to turn around, is showing visible green shoots in its financials aided by the improving steel industry scenario.
During Q1FY18, the company was able to reduce its net loss to Rs 421 crore as against Rs 1240 crore loss in the corresponding quarter of last year. Importantly, its operations have turned profitable at the cash levels with the cash profit (includes depreciation) of Rs 453 crore reported in the June 2017 quarter.
Thanks to the overall improvement in the steel prices, JSPL which produces over 5 million tonnes of steel annually saw its realisation per tonne improving.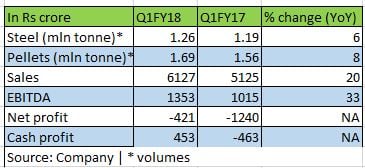 Improving volumes
Along with the higher realisations, the company also gained on account of increase in sales volume. During the quarter, on a consolidated basis, the company sold 1.15 million tonnes of steel as against 1.1 million tonnes of steel in the corresponding quarter last year. Both higher prices and volumes led to 26.4 percent year on year increase in consolidated sales to Rs 5936 crore.
Power – lights up
Amongst businesses that contributed to this growth were power that saw a 47 percent increase in units generated at 3186. It is worth noting that power business witnessed PLF of 43 percent in Q1FY18 as against 36 percent in Q1FY17 as a result of improvement in demand. Moreover, the power business helped a lot to reduce the overall losses. As a result of higher volumes in power, the business reported an EBITDA of Rs 468 crore as against Rs 182 crore in the corresponding quarter last year. Power business made a cash profit of Rs 310 crore out of the overall group cash profit of Rs 453 crore.
International business, which comprises three coal mines and one steel producing facility in Oman, reported mixed results. Barring disruptions at its Australian mining operation, the 1.7 million tonne Oman steel business produced 0.36 million tonne steel in Q1FY18 as against 0.35 million tonne steel in the corresponding quarter last year. This facility is benefiting from higher steel prices and improved demand. Oman facility maintained an EBITDA of USD 32 million.
Guiding up
While addressing the earnings conference call, Ravi Uppal, CEO and MD, Jindal Steel & Power, said, "We are guiding domestic steel volumes of close to 5.4 million tonnes for the current financial year. In addition to this, we will also gradually see 2.5 million tonnes of contribution coming from the Angul plant which is currently operating at 5000 tonnes of steel per day and expected to reach around 10000 tonnes a day over the next few months."
The management is hopeful of improving its financial performance further with the Angul facility now coming on stream and resultant cash flows helping in reducing the working capital and debt, which are the root causes of stress.
The company has maintained its debt at around Rs 45500 crore despite huge working capital requirements for the power and Angul project, which were largely met through internal accruals and monetisation of assets. Angul facility will be the key to reduction in overall debt. Of the total debt, Angul facility accounted for close to Rs 24,000 crore.
Valuations
JSPL is expected to post strong earnings growth led by higher steel volumes, gains from operating efficiency and deleveraging of the balance sheet. It is estimated to report an EBITDA of close to Rs 8200 crore in FY19. Considering that at the current market price of Rs 127, the stock is reasonably valued at 7 times its enterprise value to EBITDA of FY19.
Follow @jitendra1929
First Published on Aug 11, 2017 06:19 pm