We advise investors to wait for the currency appreciation-linked downside to gradually get into the stock
NIIT Technologies ended 2018-19 on a strong note, although its performance in Q4 FY19 was weaker-than-expected due to several one-offs.
Business outlook remains bright and the management stays committed under the new private equity promoter, Baring Private Equity. The open offer limits significant near-term downside and investors should look to add the stock should there be any currency-led weakness in the IT sector.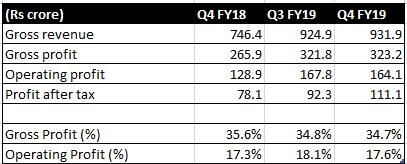 Source: Company
Key positives
The company delivered a robust FY19 – revenue in rupee and constant currency terms grew 23.5 percent and 17.6 percent, respectively. Operating margin improved 90 basis points (100 bps=1 percentage point) to 17.3 percent.
All key verticals, namely insurance, banking financial services as well as travel and tourism, showed healthy growth.
Business momentum remains strong. The company announced two large deals in Q4 – one in the banking financial services and the other in the travel and tourism vertical.
The company added 11 new clients in the quarter gone by and 40 in the fiscal.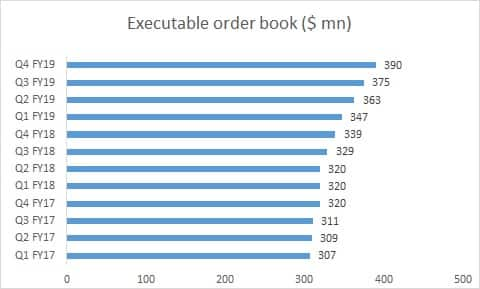 Source: Company
Order inflows gained traction, with the company bagging orders worth $170 million in the quarter under review. The unexecuted order book at the end of FY19 stood at $390 million.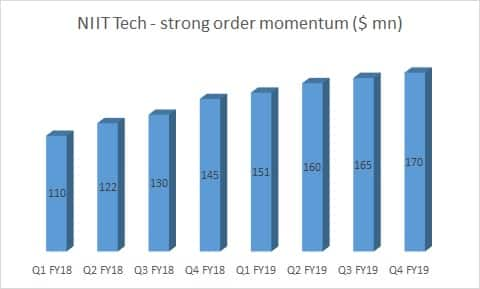 Source: Company
Last fiscal, the company bagged orders worth $646 million, up 27 percent over the previous year.
The share of digital revenue stood at 30 percent at the end of the March quarter and showed a growth of 45 percent YoY.
The management did not signal any overt macro concern impacting business.
Key negatives
In Q4 FY19, revenue in rupee terms was sequentially flat while revenue growth in constant currency stood at 1.3 percent. Weakness in revenue growth was due to a deferral of a contract in the insurance segment. Q4 is normally the strongest quarter for GIS (geographical information system) business, but this fiscal the same declined 13 percent sequentially due to imposition of the Code of Conduct before general elections, which impacted government procurement.
Margin took a big hit. Reported margin declined 50 bps sequentially to 17.6 percent owing to weakness in GIS, insurance and rupee appreciation versus the dollar. There was also a one-off impact due to M&A and royalty tax in Australia. Adjusted EBITDA margin stood at 18.1 percent.
The company has divested its 88.9 percent holding in ESRI India Technologies, an exclusive distributor of cutting-edge GIS products in India. However, NIIT Tech will get a matching revenue contribution by way of acquisition of WHISHWORKS IT Consulting, an IT services and consulting company specialising in MuleSoft and Big Data technologies. While the latter will be integrated from Q2 this year, the absence of GIS business will impact revenue from Q1. In addition, the company will implement a wage hike in Q1. So, the near-term performance may be uninspiring.
Attrition, while not alarming, has risen by 50 bps sequentially to 12.2 percent. The management, however, has reassured that there was no senior level exit and it has in fact added two senior executives in the quarter gone by.
Demand environment remains healthy, but supply of skilled resources could pose some challenges.
Outlook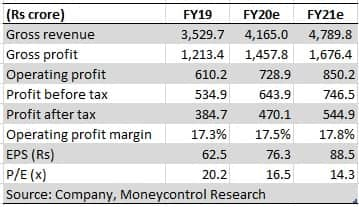 NIIT Tech has strategic clarity in terms of its focused verticals and geography. The new promoter, Baring Private Equity, is likely to drive growth. The management has seen no adverse reaction from clients or employees so far due to the ownership change. With the open offer price at Rs 1,394 per share limiting the downside, we advise investors to wait for currency appreciation-linked downside to gradually get into the stock.
Disclaimer: Moneycontrol Research analysts do not hold positions in the companies discussed here
First Published on May 7, 2019 03:49 pm