Given this correction we have been looking to add quality balance sheets with good growth prospects.

The one-way rally is likely to give way to sideways consolidation at some point and investors best be ready when it comes. We also believe that if a second wave of COVID comes about, market dynamics may change materially, Jinesh Gopani, Head – Equity at Axis AMC, said in an interview to Moneycontrol's Sunil Shankar Matkar.
Edited excerpt:
Q: Given the 45 percent rally seen from March lows, is it just a liquidity driven rally?
The situation on COVID-19 continues to remain fluid. As we stand today, the market perception of the economic impact has diminished significantly as India has begun to reopen. Furthermore, many frontline consumer facing businesses have seen a steady recovery as they have adapted to the current situation very well. Markets have cheered this and hence the resulting over 45 percent rally. There is also a significant flow of money due to the global central bank liquidity push. Public markets, the world over have seen significant influx of money that is driving stock prices higher. This global move has been emulated in India as FPIs have returned to the markets meaningfully. We also believe significant money continues to remain on the sidelines.
A caveat however remains that markets are volatile and sharp sell offs cannot be ruled out. The one-way rally is likely to give way to sideways consolidation at some point and investors best be ready when it comes. We also believe that if a second wave of COVID comes about, market dynamics may change materially.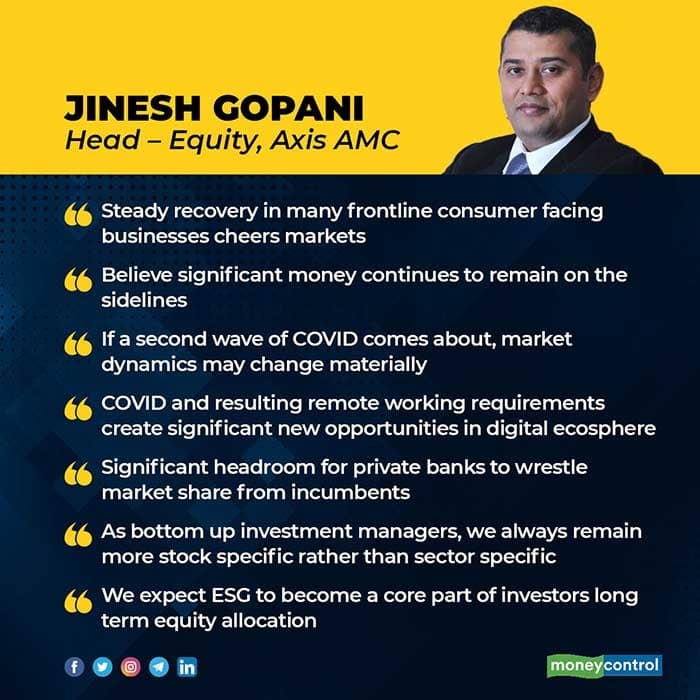 Q: The flow into equity-oriented mutual funds has been declining consistently for last three months and SIP also has seen a moderation during the same period. What is the major lows, what is the market actually discounting well in advance or is it just a liquidity driven rally?
The trend in mutual fund inflows is a function of the health of the economy. In an environment where cash is king and investors want to remain as liquid as possible, investors have shied away from long term investment products. To that effect flows into equity mutual funds fell. However, the industry SIP book has remained robust. That degree of persistency has been seen as a sign of maturity of the Indian retail investor. With that being said, we believe this a short term impact as people are conserving capital as industry wide job loss fears have spiked and should recover as investors played the entire cycle and reaped the benefits.
Q: Most of technology stocks are near their 52-week highs given the strong results from large players despite COVID-9-led lockdown, which clearly indicated that work-from-home has been working smoothly for them. So what are you advising to your clients now and what is the rationale behind it?
The COVID and the resulting remote working requirements have created significant new opportunities in the digital ecosphere. Faster implementation of technology has led to new business opportunities for IT service providers, including Indian IT companies. The recent results and management commentary from the listed companies also indicate significant business opportunities in this space. Indian companies have been large beneficiaries due to the significant engagement they have with global companies and the recognition these companies have built over time.
Disruption as a theme has always been an opportunity for new idea generation. COVID-19 and the resulting changing business landscape for technology companies is likely to open up opportunities for companies that are flexible enough to adapt to changing business requirements.
Q: Given the stellar rally in benchmark/broader markets and across leading sectors, what are those key sectors which are yet to participate in the rally and are worth looking at now. Also what are those sectors one should keep invested or completely avoid now? Also, what are your thoughts on BFSI space?
We will not look to ignore sectors with a wide brush. We will remain stock specific. Given this correction we have been looking to add quality balance sheets with good growth prospects. Market leaders will remain a focus. For example, even today, within the banking space private banks account for 5-6 percent of total industry market share while the rest is dominated by public sector banks. There is significant headroom for these companies to wrestle market share from incumbents. The same is the case in many sectors.
As active managers our role is to identify changing macro trends and companies best positioned to capture growth, market share and sectoral leadership. A quick look back through history shows that in markets, winners keep changing. The goal of every active fund manager is to catch the next cycle and build a portfolio of winners over a consistent period of time. As bottom up investment managers, our view has always remained more stock specific rather than sector specific and we believe our portfolios today reflect our views across of markets.
Q: What is ESG and Sustainable Investing Concept? How these funds work and what are the features of these funds? As a fund manager, what are parameters you consider before selecting the stock of the company? Do you think that ESG metrics will be one of the most critical metrics to evaluate before making an investment in that particular company, say in next 5-10 years down the line?
Long term decision making in businesses has historically factored only the tangible costs of their processes. Investors have also used the same yardstick as the trade-off between financial risk and return is well understood by them and the markets. Sustainability is an additional dimension, which brings a forward looking and holistic approach to investment. Incorporating the Environmental, Social, and Governance (ESG) thought process is no longer a luxury but a necessity. This change is a result of company stakeholders proactively evaluating and addressing sustainability challenges in a company across society, consumers, regulators and investors.
Going forward, to make credible long term assessment of sustainable growth potential of any business, assessing the impact through the ESG lens is imperative. This approach will give investors a better understanding of the company's business and the intangible costs associated with doing business.
The intangible impact costs that the company invariably bears for not being ESG compliant be it costs associated with environmental damage, social impact like those occurring out of striking workers or damaging consumer confidence or governance factors around management integrity have a long term bearing on the company's prospects and thereby investor returns.
Considering all these factors we expect ESG to become a core part of investors long term equity allocation.
Q: There are many global companies that are not listed in India but their business/services/products are available worldwide. How a common investor can invest in such companies through MF route and take advantage of global diversification of the portfolio.
Global investing through mutual funds as a concept has been around for a while now. However, they have been receiving much needed attention off late due to wider acceptance and greater understanding. Mutual funds offer two ways in which investors can gain exposure to global markets – feeder funds or funds that deploy a proportion of assets to international stocks.
The aim of investing globally is to take advantage of opportunities that may often not be available on domestic exchanges. From an asset allocation standpoint investing in global assets may yield twin benefits – lower correlation thus diversifying away market risks and benefits accruing from currency depreciation. Since INR has a tendency to depreciate versus the international basket of currencies – investing in global assets may help preserve international purchasing power especially if your expenses are linked to international currencies like children's international education or an overseas family vacation.
Disclaimer: The views and investment tips expressed by investment expert on Moneycontrol.com are his own and not that of the website or its management. Moneycontrol.com advises users to check with certified experts before taking any investment decisions.
First Published on Jul 28, 2020 01:39 pm