An oligopolistic nature of the market, higher consumer discretionary spending, wider reach of organised retailers and increased awareness towards health/hygiene should benefit leisurewear companies in the long run.
Innerwear and leisurewear companies (ILCs) started Q1 FY19 on a fairly strong note. While the likes of Dollar Industries and Lux Industries witnessed some sluggishness in terms of top-line growth year-on-year (YoY), Page Industries and Rupa & Company reported healthy momentum. Barring Rupa, margin expansion was observed in all cases. Dollar and Page are our favourite long-term picks.
Dollar Industries
A 3 percent volume decline YoY was the primary cause behind the muted sales performance. Though benefits of low price cotton inventory helped gross margin expand, a sharp increase in advertisement spends led to a contraction in operating margin.
Lux Industries
Revenue growth was mainly driven by value, whereas margin accretion at the EBITDA (earnings before interest, tax, depreciation and amortisation) level was on account of cost control measures and higher procurement of cotton at relatively low price in the last quarter.
Page Industries
A balance of value and volume growth resulted in the company's top-line increasing sharply YoY. The improved offtake had a positive rub off on operating margin as employee costs and other expenses, as a percentage of sales, declined sharply.
Rupa & Company
Oban Fashions, the company's wholly owned subsidiary that has 2 international licensed brands - FCUK, Fruit of the Loom - in its kitty, was the key contributor to the turnover growth, albeit on a low base. An increase in other expenses and advertisement costs curtailed the EBITDA margin.


What lies ahead?
Network
An ILC's visibility can be best augmented through store additions. To facilitate regional diversification, tapping the export markets is also a commonly adopted practice.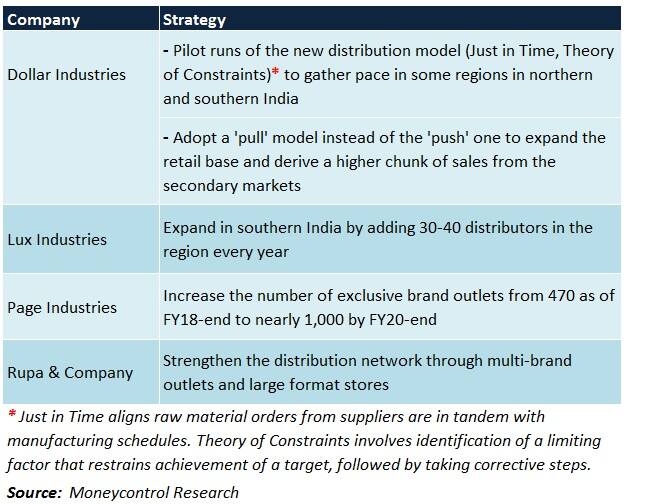 Product
Premium products command better realisations than non-premium ones and are crucial in yielding higher margins. Historically, ILCs have been taking steps to increase the contribution of such high-value products to revenue and will continue doing so.
ILCs have been repositioning their product portfolios to achieve brand differentiation. Steps taken in this regard include rebranding, price revisions, introduction of variants/designs within the same brand, product launches and moving up the value chain (i.e. apparel for specific purposes such as lounging, sporting and casual occasions).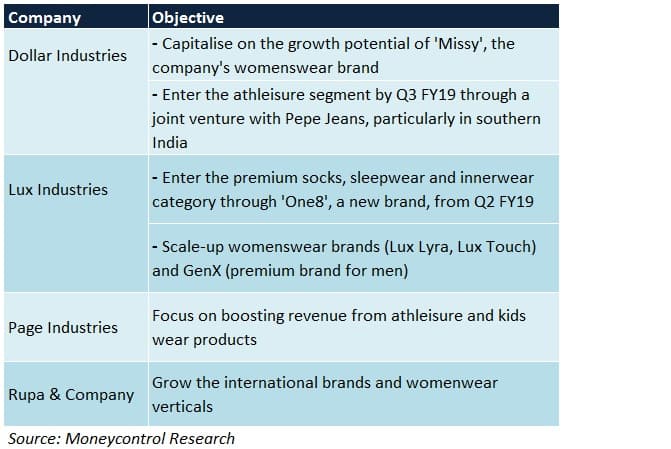 Marketing
Tie-ups with celebrities, extensive promotions through online and offline media, cross-selling opportunities (for example – buy a product and get another one free or at a discount) and periodic availability of schemes are pivotal to revenue growth. Moreover, the impact of these on margins needs to be assessed closely too.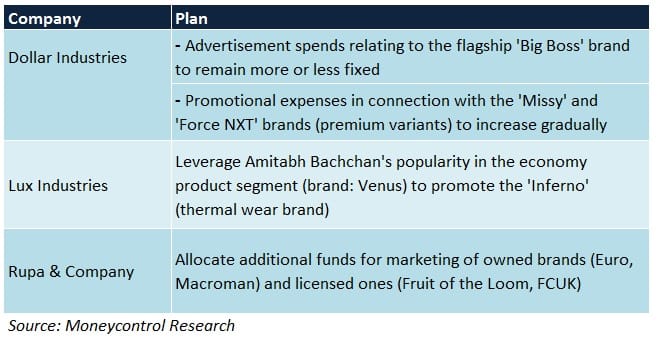 Asset-light model
ILCs have been outsourcing a higher chunk of their manufacturing processes to third parties every year in a bid to keep capex-related outflows low and generate better return on capital. Additionally, the move allows ILCs to lay more emphasis on core activities such as brand management.
ILCs are choosing franchise partners to bolster their retail operations in new regions, especially in the smaller cities and towns. Franchisees tend to strike a good chord with consumers and also understand local trends better.
Efficiency
This parameter needs to be looked at from a company-specific perspective, as seen below:-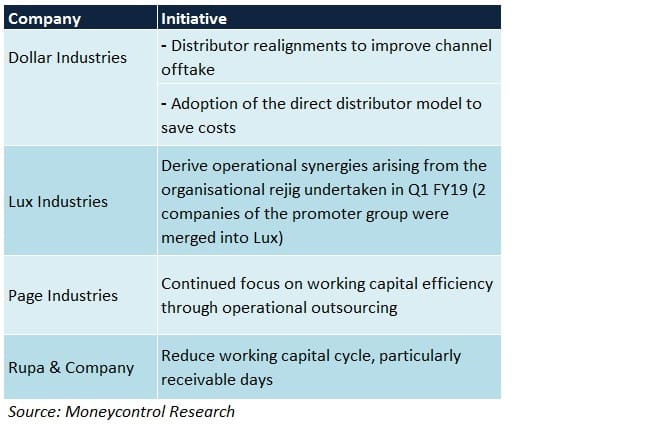 Outlook
An oligopolistic nature of the branded innerwear market, higher consumer discretionary spending, pan-India reach of organised retailers and increased awareness towards matters associated with health/hygiene should benefit ILCs in the long-run.
However, competition from foreign brands, steep raw material (cotton) costs, difficulties in normalising high advertisement overheads over an extended period of time, changing fashion preferences and revenue disruptions triggered by process re-engineering are among the major bottlenecks that ought to be taken note of.
Which stocks should you choose?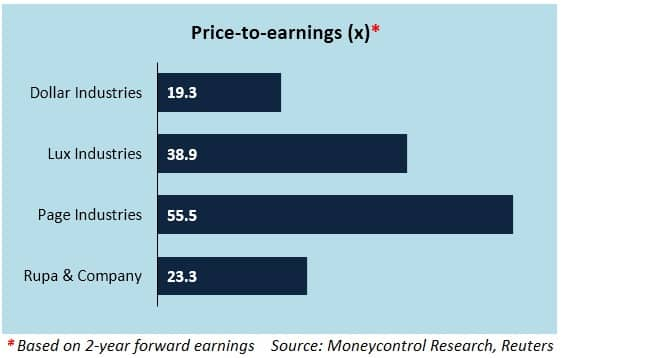 Dollar may face a dip in sale volumes in the near-term as the management hints at restructuring its market reach strategies. Nevertheless, current valuations provide us comfort and merit the attention of long-term investors
Lux, by virtue of the merger of J.M. Hosiery & Company and Ebell Fashions Pvt Ltd, is en route to extending its product offerings. With no capex plans lined up in the next 2-3 fiscals, cash flows are likely to improve.
Despite a formal merger announcement being made, it remains to be seen as to when the same comes into effect. Without considering the impact of such reorganisation on profitability and earnings, the stock's valuation, prima facie, appears expensive.
Page will continue to sustain its ongoing price rally as long as its growth momentum on the revenue and profitability front remains unhindered. Despite trading at a steep premium, the stock should be able to counter market volatility. While a multiple re-rating is unlikely, investors should look at this company for its robust earnings potential going forward.
For Rupa, a lot would depend on how quickly its foreign (licensed) brands pick up pace and start contributing meaningfully to annual turnover. We advise buying on corrections.
For more research articles, visit our
Moneycontrol Research Page
First Published on Sep 10, 2018 04:50 pm