Analysts largely bet on the entity's likely benefits of the government's housing push as well as its exposure to non-private entities. They recommend subscribing to the issue from a long term perspective.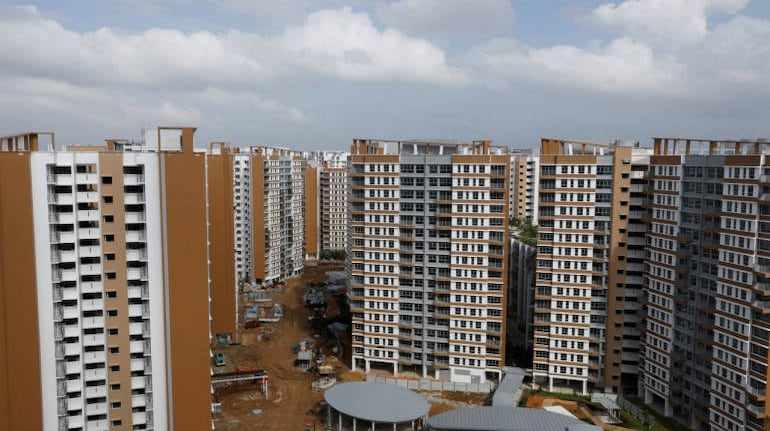 Even as the Street witnesses a trend of many companies taking the initial public offering (IPO) route to raise funds, another major player is set to take the plunge on Monday.
Government-owned Housing and Urban Development Corporation (HUDCO)'s issue is set to open on Monday and will look to raise over Rs 1,120 crore. The IPO is seen as part of government's efforts to meet its disinvestment target.
The price band has been set in the range of Rs 56-60 per share. The issue comprises sale of 20 crore equity shares (10 percent paid-up capital) by the central government through an offer for sale (OFS). It will close on May 11.
HUDCO is a wholly-owned government company which provides loans for housing and urban infrastructure projects in India. As of September 30, the total assets under management (AUMs) are to the tune of Rs 36,110 crore, which includes housing finance assets of Rs 11,290 crore and urban infrastructure finances of Rs 24,820 crore.
Moneycontrol has collated reports from few brokerages and all of them recommend a buy call on the issue with a long-term investment perspective.
Brokerage House: Centrum | Call: Subscribe
The brokerage house cited the measures against asset quality risks that the housing finance company has taken. It said that HUDCO has a weak asset quality with gross NPAs at 6.8 percent as on December 2016.
"However, with provision coverage ratio of 79 percent, the NPAs are largely provided for. Also, to avoid further asset quality risk, HUDCO has stopped disbursals to the private sector in March 2013," the brokerage house said in a report.
Centrum finds the valuation of the stock attractive as well. "At the higher end of the price band of Rs 60, the stock is valued at 1.6x its FY16 adjusted book value (ABV). The valuation appears attractive, given the good fundamentals and highest credit rating of 'AAA'," the report added.
What works?
The brokerage house is betting on the government's housing push going forward. Having said that, it also remains cautious on the execution front. "With most of its business is state government driven, the growth will be highly dependent on the pace of execution of government projects," the report stated.
Given the current financial profile, growth prospects and IPO valuations, investors with long term perspective can be advised to subscribe, it said. Furthermore, given the interest of the market in housing and urban infrastructure segments, there could be listing gains as well," Centrum said in its report.
Brokerage House: Ajcon Global | Call: Subscribe
What works?
The research firm is also placing a positive bet on the government's schemes to develop Indian housing and infrastructure sectors. HUDCO's key role in various government's schemes to develop Indian housing and infrastructure sectors are a key positive.
Along with it, "highest credit ratings, access to diversified and lower-cost funding and ability to significantly increase the borrowings in compliance with HFC directions" are a positive.
The valuations at the current level is cheap, it feels. "At the upper end of the price band of Rs 60, the IPO is valued at 1.3x at FY17E post issue book value which is cheap," it said. Ajcon also cited that there are no direct listed peers when the company is considered as a whole as it is catering mainly to state governments for housing and infrastructure projects.
Brokerage House: Reliance Securities | Call: Subscribe
The brokerage house feels that the company is not directly comparable to any listed NBFCs as it is primarily engaged in wholesale funding compared to retail lending by the latter.
What works?
It expects HUDCO to deliver a healthy performance due to the growth opportunity in housing and urban infrastructure. "It provides favourable investment opportunity for long term investors with attractive valuations," the brokerage house said in its report.
Further, discount of Rs2/share to the retail investors acts as an additional sweetener.
Is it rightly valued?
At the upper price band of Rs 60, HUDCO's market cap would stand at Rs 12,000 crore, which gives it price-to-book multiple of 1.3x on December 2016 book value.
Brokerage House: LKP Research | Call: Subscribe
What could work?
LKP Research likes HUDCO's dual focus towards infrastructure development and housing finance sectors. "With 90 percent exposure of its loan portfolio coming from state governments and their agencies, it has managed to maintain its AAA rating and gain access to a diversified & low cost funding base," it said in its report.
The IPO is attractively priced considering its long standing relationships with state governments, comfortable NIM and debt position, it said. Along with that, the ability to raise funds from a wide variety of institutional and non institutional sources, healthy asset quality & prudent approach is a positive according to the brokerage.
Brokerage House: IIFL | Call: Subscribe
What could work?
IFL sees growth opportunity for HUDCO enhancing significantly, thereby enabling the company to swell its loan assets faster than its historical pace. "The loan spread is expected to remain steady at 2-2.2 percent over the longer term, although there could be intermittent volatility due to higher share of floating rate assets," it said in a report.
Going forward, it terms the company being substantially capitalized and commanding the highest credit rating. With this, it can raise long term money at the best possible rates from the bond market, it added.
"Consequently, credit cost may come-off in the coming years augmenting the franchise profitability. Given the reasonable visibility for steady asset growth and better return ratios, the IPO valuation seems attractive."
Brokerage House: Spa Securities | Call: Subscribe
The company's asset quality remains healthy, due to 90 percent exposure towards government projects that are mostly secured.
Core metrics
The company has very high capital adequacy ratio of 65 percent, all of which is Tier I capital. 67 percent of total loan portfolio is guaranteed by state governments.
"Current leverage position at 3 times provides enough room for future lending growth," it said in the report. At the issue price, the valuation is fair, given the low leverage ratios and adequate PCR.
First Published on May 8, 2017 08:10 am