Debt repayment, employee cost changes, and operating margins in the cash & facility management service segments will be the decisive factors worth tracking in this fiscal.
Differentiated businesses have always caught the fancy of investors, and the initial public offer of Security and Intelligence Services (India) Limited (SISL) is no exception.
India's first manpower security company to opt for a public issue will have the TINA (there is no alternative) appeal, even as it attracts a fancy valuation.
While the business model is good, we would have preferred a pricing that would have left something on the table for investors. Do not expect a runaway rally on the back of this valuation. Instead, look for opportunities to accumulate on weakness.
Background
Set up in 1974, SISL, a New Delhi-based company, is one of the largest private manpower security solution providers in India and Australia. The company serves a diverse range of renowned clients across all sectors.
Electronic systems surveillance, security consulting and pre-employment verification, facility management, and cash/bullion logistics are some of the other services offered.
Offer Details
The issue size of Rs 779.5 crore includes a fresh issue of Rs 362.25 crore and an offer for sale of Rs 417.25 crore. The price band of the issue is Rs 805-815 with a lot size of 18 shares and in multiples thereof. Net proceeds from the issue will be used for repayment/pre-payment of debt (Rs 200 crore), funding working capital requirements (Rs 60 crore), and meeting general corporate expenses (Rs 519.5 crore).
What Augurs Well For SISL?
Limited competition, GST: India's manpower security sector is largely fragmented with unorganised and small players occupying 70-80 percent of the industry size. Prima facie, though there are very limited barriers to entry, there are definitive barriers to scale up operations owing to the skill set required and high costs associated with personnel hiring and systems/process management. The post-GST phase would put organised players in a vantage position. Larger tax-compliant security firms like SISL, amongst the top three by revenue in India, are likely to benefit the most.
Inorganic growth benefits: MSS Security Pty Limited (MSS), SISL's wholly-owned subsidiary, is the largest security services provider in Australia in terms of revenues. Down under, they also provide paramedic and allied health, mobile patrol, and fire rescue services. Chhub Security (CS), another subsidiary of the company, manages security arrangements for various clients in every Australian state. CS has been consistently generating positive cash flows to the tune of nearly 20 million Australian Dollars every year, an amount that enables SISL to fund its future acquisitions and/or joint venture plans.
Looking beyond security services: To build its visibility in the facility management segment (which is expected to grow by approximately 20 percent every year), SISL acquired controlling stake in 'Dusters Total Solutions Service Pvt. Ltd', the fourth largest facility management service provider in India. In the past, SISL entered into a joint venture with Terminix, a multinational pest control service provider. 'Service Master Clean', an American brand in the cleaning services sphere, entered into a license agreement with SISL for use of the brand name by the latter in India.
In order to strengthen its cash management service offerings, a segment that is expected to show strong traction, SISL signed up for a joint venture with Prosegur, a globally reputed cash monitoring and safeguarding company. In 2014, SISL acquired the cash and valuables services division of ISS SDB Security Services Private Limited too.
Reputed institutional clientele: SISL's client list includes the likes of Coca Cola, Honda, JSW Steel, Hyundai, Nestle, Tata Steel, ACC, IFFCO, Larsen & Toubro, and conglomerates such as Mahindra and Aditya Birla, among others. Usually, the security contracts with clients are not only long-term in nature but also monetarily rewarding since large organizations don't mind shelling a slight premium to avail better services. Furthermore, for the sake of convenience and uniformity, such clients don't prefer engaging in discussions with numerous security providers. Owing to demand consolidation at the clients' end, competitors will find it extremely hard to grab SISL's market share.
Wide network and risk diversification: SISL's 1,54,432 employees are spread across 251 branches in 124 cities/towns in almost every Indian state. No zone/client contributes more than 25/15 percent, respectively, to the company's annual revenues. Demand for security services is relatvely inelastic in nature, irrespective of the economic/cyclical changes involved in specific industries from time to time. The collective strength of these tailwinds insulates the company from operational risks considerably.
Resilience to technological headwinds: While it is true that advancements in technology have enabled organizations to undertake effective implementation of security measures, no arrangement in this regard is foolproof without manpower support. Therefore, SISL's operations, that rely heavily on personnel for security, are unlikely to be substantially affected amidst all the technological innovations.
The Roadblocks
While SISL has carved a niche for itself in security management, the business is manpower intensive, attributable to a high degree of dependence on the right supply of human resources. Any regulation that makes labour costly may suppress the company's margins further from the existing single-digit level. While cash management, cash logistics, and facilities management are promising areas, their contribution to the top-line is currently minuscule.
Valuation & Recommendation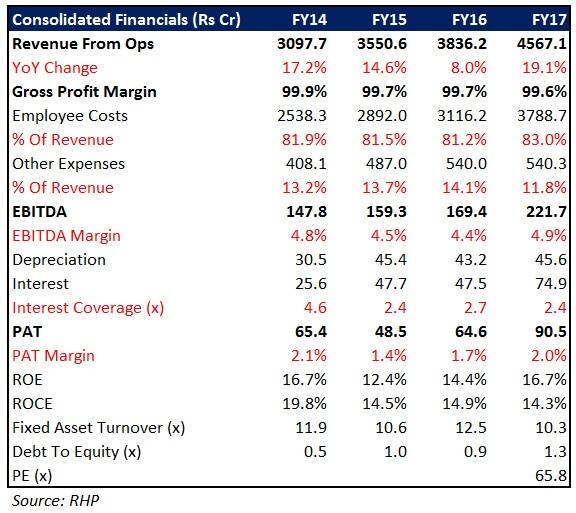 Plans to reduce debt after raising capital will undoubtedly have a positive effect on SISL's financials. The company plans to undertake capex to the tune of Rs 50-60 crore in FY18. This, coupled with the probable change in margin profile by virtue of greater emphasis on the management service segments (cash and facility), will be the key monitorables, going forward.
At Rs 815, the upper end of the price band, SISL quotes at 66x FY17 earnings. In the absence of local listed peers, it is difficult to establish a benchmark. Global peers are quoting at a significant discount, perhaps because their growth opportunities are limited in over-penetrated developed markets as opposed to market leaders like SISL in the emerging geographies.
However, despite the decent fundamentals, the pricing leaves little valuation comfort for investors at this stage. A strong listing would solely be a function of the market. Nonetheless, the company warrants close attention and we would prefer buying on any decline.
Follow @krishnakarwa152
First Published on Jul 31, 2017 11:30 am