While improved margin profile would be moderated by increased competitive intensity, the recent decline in stock prices offer some opportunity to keep an eye on
The dairy sector's recent quarterly results have been driven by two vectors: trend in milk prices and share of value added products (VAP). Since milk prices have been subdued in recent times, plain vanilla players were impacted, even as companies with higher share of VAP were better off. As the dairy sector has witnessed significant stock price correction, there is value emerging in selected pockets.
Parag Milk Foods: Value added advantage
Sales growth of 33 percent year-on-year (YoY) in Q1 FY19, majorly volume driven, was aided by value added portfolio (41 percent YoY) and skimmed milk powder (35 percent). Better product mix, with VAP constituting 66 percent of sales (versus 62 percent in Q1 FY18), helped expand margin. In addition, benign input costs and operating leverage have been advantageous.
Distribution expansion and a traction from new launches (whey protein, protein powder etc) have also aided earnings growth.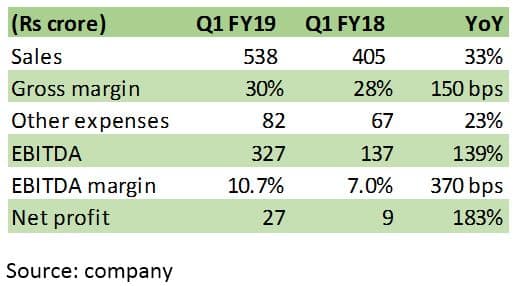 Other prominent players weighed under weak pricing and competition
Heritage Foods' topline growth grew around 4 percent YoY, with most growth accruing from VAP (14 percent YoY). Improvement in earnings before interest, tax, depreciation and amortisation (EBITDA) margin was mainly due to lower procurement cost (-7 percent YoY) and a better product mix (29 percent share of VAP).  Volume growth moderated (5 percent for milk sale volume) due to elevated competition. Further downward pricing pressure in some of the markets led to lower realisation of milk and fat products (ghee, butter). The management underlined that the excess supply of milk will continue to impact volume growth in the near term
Hatsun Agro Products, a major player in Tamil Nadu, posted moderate sales growth on account of subdued volume growth. However, EBITDA improved 18.9 percent YoY on account of lower procurement prices and product mix. In the case of Prabhat Dairy, the 7 percent sales growth was aided by volume growth (36 percent YoY) which offset weaker pricing. Operating margin improved 50 basis points on account of higher gross margin, but was partially impacted by investment for its distribution network.
Trends in play
Shift toward organised sector: As per the Department of Animal Husbandry, co-operatives and private players procure 20-25 percent of the milk produced. Around 35 percent is still sold in the unorganised sector. The department expects milk handling by organised sector to grow from 20 percent at present to 50 percent by 2022-23.
Regional players moving beyond local territory: Parag Milk Foods recently forayed into the north after acquiring Danone's Haryana facility. It expects the latter's Sonipat plant to generate about Rs 60-80 crore in revenue in FY19. Similarly, Heritage Foods had entered north India after acquiring Reliance Dairy. Here the company is relying on the Reliance brand for increasing its presence in Punjab and Haryana.
New entrants: Other entrants in the recent past were the likes of Godrej Agrovet, which acquired Hyderabad-based Creamline Dairy Products in 2015. French dairy giant Groupe Lactalis acquired Tirumala Milk Products in 2014. The joint venture of Future Group and Fonterra (a New Zealand co-operative) is expected to launch its products in mid-FY19.
Consumer oriented companies figuring backward integration: Britannia Industries, for instance, is pushing for new launches, coupled with a sharp increase in milk procurement – from 20,000 litres at present to 3 lakh litres per day.
Structural shift towards VAP: Recent reports from CRISIL suggests revenue from VAP is expected to grow at 14-15 percent compounded annual growth rate (CAGR) for the next three years. Dairy companies are gearing up for an increase of their share in VAP and hence laying emphasis on it in the ongoing capex cycle. As per CRISIL, organised dairies are expected to spend around Rs 14,000 crore over the next three years to enhance processing capacity by 25-30 percent and strengthen their milk procurement infrastructure.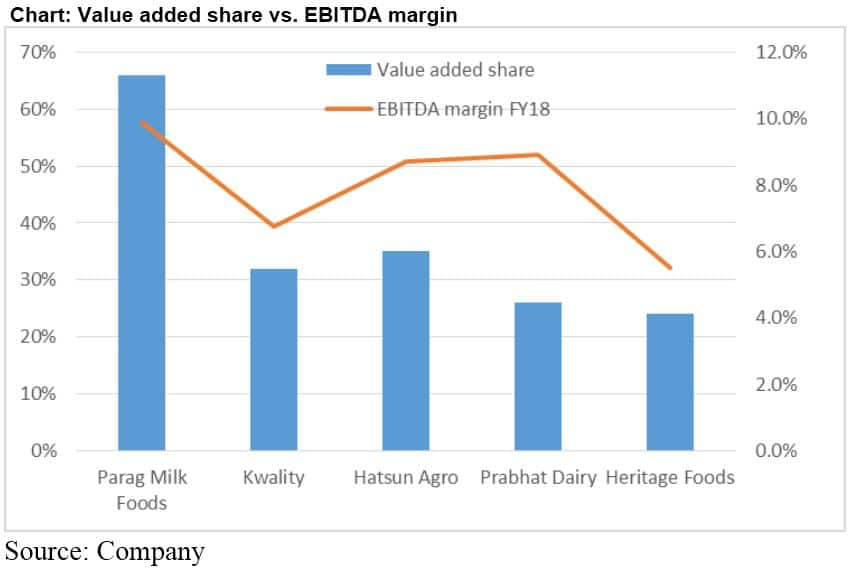 Emphasis on increasing distribution reach: Parag Milk, for instance, plans to add about 9,000 retail outlets per month. As of now, its distribution stands at 2.6 lakh outlets. In the recent quarter, the management attributed 30 percent growth to expansion of its distribution channel.
Investment opportunity emerging as margin profile improves 
The organised sector in the dairy business is looking ahead to increased exposure to high margin high VAP in the milk value chain. This improves the margin profile and helps in reducing sensitivity to milk price volatility. Additionally, efforts are also on to disintermediate the value chain and hence enhance both distribution reach and backward integrate the procurement of milk. While improved margin profile would be moderated by increased competitive intensity, the recent decline in stock prices offers some opportunity to keep an eye on. Parag Milk Foods with its high VAP exposure offers an interesting opportunity to look at the dairy consumption theme.
For more research articles, visit our Moneycontrol Research page
First Published on Sep 3, 2018 09:20 am