Isn't the newspaper industry, one of oldest pillars of the media and entertainment sector, on the brink of extinction with the advent of the digital world? We don't think so
-Revenue growth of newspaper industry in FY18 was the lowest in a decade
-Current profitability of print media companies dented by rising newsprint prices
-Elections to boost advertising revenue, fall in crude prices is a big respite
-Current valuations of print media companies pricing in most concerns
-Jagran Prakashan and DB Corp – safe bets heading into an election year
-------------------------------------------------
The Indian print-media market – the world's largest, with more than 70,000 newspapers and more than 100 million copies sold daily, is undergoing a most challenging period over the past 24 months.
The print industry's growth was disrupted by demonetization and implementation of RERA and GST, which adversely impacted advertising revenue. Consequently, revenue growth of the newspaper industry in FY18 was the lowest in a decade at 3.9 percent, KPMG said in a report. With much of the disruption behind us, revenue seems to have started stabilizing. That said, rise is the cost of newsprint has emerged as a concerning factor now.
So while print media is facing tough times, what whips our interest in the sector?  The answer isn't quite so simple. There are multiple reasons for it, including the potential boost in advertisement revenue due to the upcoming elections. We are also enthused by the fall in crude prices, which raises hopes of newsprint prices peaking in the near future. Valuations of print media companies are at historic lows. As such, they reflect most of the concerns facing the industry, which is another reason that motivates us to look at leading print media companies - Jagran Prakashan and DB Corp.
Jagran Prakashan enjoys leadership position with its flagship daily Dainik Jagran and owns 71 percent in the listed entity Music Broadcast, which runs popular radio channels under the brand name Radio City. DB Corp's portfolio includes Dainik Bhaskar and it has a radio business under the brand name My FM.
But before going into financials and valuation of print-media companies, we endeavor to first address the moot question: Isn't the newspaper industry, one of oldest pillars of the media and entertainment sector, on the brink of extinction with the advent of the digital world? We don't think so.
Print isn't dying yet
Readership in India is still quite promising, having grown at a CAGR of 8 percent between 2014 and 2017. The surge in readership was driven by Hindi and regional language newspapers. Unlike elsewhere, newspapers in India aren't facing a survival crisis, thanks to the country's huge and thriving rural population.  As per IRS 2017, readership of Hindi newspapers grew 45 percent between 2014 and 2017, at a CAGR of 13 percent.
This doesn't mean that the ongoing debate of existential threat to print media is unwarranted. With digital on rise, English newspapers have consistently seen weaker growth rates. English readers have given up clutching the daily newspaper with their morning cup of tea and have instead taken to digital news. This fact was highlighted in IRS 2017 with only one only English-language newspaper featuring in the top 20 list. That said, with around 40 percent of the population reading newspapers, reports of the demise of the newspaper industry seem vastly exaggerated.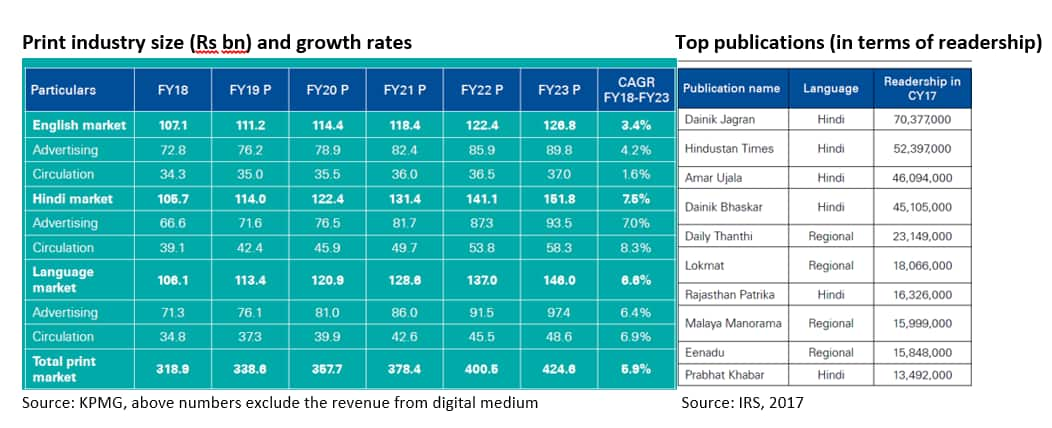 The print industry is expected to continue its growth trajectory, driven largely by advertising and circulation of Hindi and regional language newspapers, for which readership and penetration is likely to grow in rural areas.
Rising newsprint prices have dented profitability
Newsprint – a key raw material which accounts for around 50 percent of total cost of newspaper companies, has witnessed steep increase.  In the Q1 FY19, newsprint prices shot up around 30 percent on-year, and are hovering 20 percent above the average prices of FY18. They are expected to remain elevated over Rs 45,000 per tonne through this fiscal year, as per Crisil's estimates. The surge in demand and prices of newsprint was driven by China after it stopped producing its own newsprint citing environmental reasons.
Most large Indian newspapers significantly rely on imported newsprint. Hence, they are facing a double whammy of rising newsprint costs and a depreciating rupee. Consequently, profitability of print media companies has been adversely impacted with EBITDA margins expected to decline by around 400-800 bps in FY19.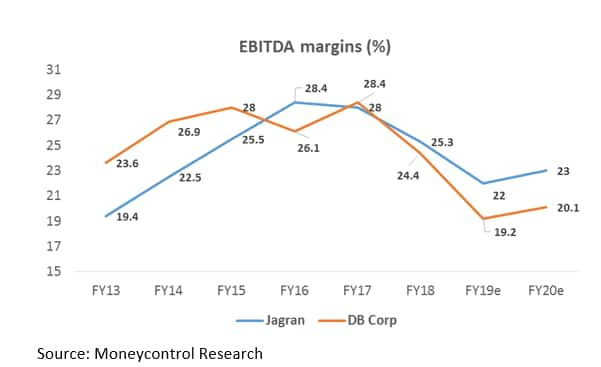 Revival on the cards
While the margins of newspaper companies are getting suppressed currently, we expect them to stabilize in FY20. We highlight 4 factors that would come to the rescue going forward.
First, elections are expected to give much needed impetus to the segment. During 2014 national elections, advertising revenue had risen by around 7 percent for the sector. Taking cue from the same, we expect rise in advertising revenue in H2 FY19 on the back of several state elections and in the FY20 due to national elections.
Second, most companies have initiated cost-control measures such as curtailing circulation of less remunerative copies and optimizing pagination to reduce the newsprint consumption. These efforts will partly contain the impact of rising newsprint prices.
Third, the industry may be forced to resort to increase cover prices. With around 70 percent of newspaper companies' revenue coming from advertising, circulation so far has merely functioned as "a loss-leader to build audiences".  However, with sudden and unusual increase in raw material costs, the likelihood of increasing cover prices though small, has increased significantly.
Last but not the least, the biggest respite for newspaper companies will come from recent fall in crude prices. The steep slide in crude will halt the rise in cost of newsprint prices. The cost of newsprint has positive correlation with crude prices as its production is highly energy-intensive process. Stabilizing rupee would further comfort the newspaper companies.
Valuations attractive
For print media companies, FY18 was an aberration and FY19 too has been a difficult year so far. Earnings have been downgraded and stock prices have seen sharp correction. Both, DB Corp and Jagran Prakashan are trading at historic low valuations and prices in most of the concerns.

With RoE still in mid-teens and P/E multiple in low double digit, risk – reward has turned extremely favorable. A potential bump-up in advertising revenue will be a catalyst for these stocks. Overall, attractive valuation with upside triggers makes DB Corp and Jagran safer bets heading into an election year.
Follow @nehadave01
First Published on Dec 18, 2018 02:02 pm