Online food delivery company Zomato ends arrangement with TechEagle; says it will still go ahead with drone plans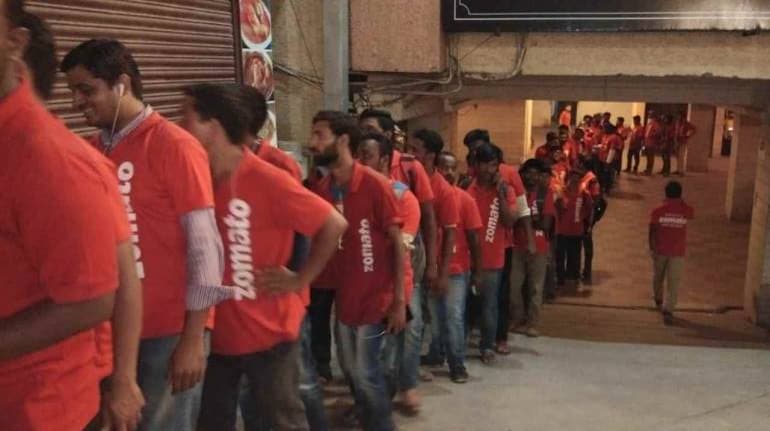 Zomato has parted ways with TechEagle Innovations, the drone startup it 'acqui-hired' with fanfare two years ago, putting a huge question mark on its plans to deliver food through these machines.
When contacted, Zomato and TechEagle said the separation was amicable.
A Zomato spokeswoman said her company and TechEagle have decided to operate as separate entities. "The company is thankful to Vikram for building a strong engineering foundation for its drones team, but we are no longer aligned about our future goals. Vikram and his team are supremely talented and we wish nothing but the best for them."
Meena told Moneycontrol that it was a well-thought mutual decision to part ways and he was in discussions since December 2019. The COVID-19 crisis accelerated the growth of healthcare sector and there was no other time than now for TechEagle to venture into the more promising contactless medical and essentials delivery via drones, according to him.
Zomato will move forward with drone testing as soon as it is safe for its team to travel to the designated testing locations, the spokeswoman said. The online food delivery company recently received permission from DGCA to begin testing drone delivery.
Acqui-hiring is the process of purchasing a company principally to recruit its employees rather than buy the products or services. Zomato concluded such an arrangement with TechEagle in November 2018 soon after the aviation ministry legalised the commercial flying of drones.
"We believe that robots powering last-mile delivery is an inevitable part of the future and hence is going to be a significant area of investment for us," Zomato founder Deepinder Goyal then said.
All the seven members of TechEagle joined Zomato in November 2018 but six of them quit the food livery company in April 2020. Meena said this was to "pursue the bigger vision of enabling On-Demand Drone Delivery Network".
Besides Zomato, DGCA permitted Zomato competitors Swiggy and Delivery, among others, to test the so-called beyond the visual line of sight (BVLOS) drones. DGCA rules insist that commercial drone aspirants must form a consortium to get a permit.
Zomato was the leader and TechEagle an integral part of the consortium formed for the purpose. The company did not answer a follow-up Moneycontrol question on how it will proceed with drone testing with TechEagle out of the picture.
The second person said Zomato's core focus is now to pull back all resources and reduce cash burn.  "Even if the company clears the DGCA test, the final approvals would take at least two years, this person said. That is too long a period to spend money on an activity that is not the focus and requires repeated investments, according to him.
Meena confirmed this. Zomato saw that food delivery via drones might not happen in the near future because of regulatory hurdles and it didn't want to continue investing in R&D, according to him.  "The TechEagle team wanted to utilise the potential to enable drone delivery for other use cases as well. This misalignment in vision led us to part our way to pursue our own vision independently," he said.
Zomato is one of the several companies battered by the coronavirus lockdown.  The company laid off around 500 employees and cut salaries.
In a communication to employees last month, Goyal said a large number of restaurants were shut down permanently and the expectation was that the numbers would shrink by 25-40 percent over the next 6-12 months. The company launched alcohol delivery in some states but scaled back grocery operations.
Zomato reported revenues of Rs 1,397 crore and losses of Rs 1,000 crore in FY2019. The company was last valued at $3 billion when China's Ant Financial pumped in $150 million.
Lucknow-based TechEagle was founded by Meena, an IIT Kanpur alumnus. He joined Zomato as an associate vice-president in 2018.
Zomato's recent acquisition of UberEats is
being examined
by Competition Commission of India (CCI). CCI is looking at two salient aspects of the deal — one, whether the deal is anti-competitive, thereby hurting consumers, and two, whether the two companies should have notified it about the transaction.
First Published on Jun 19, 2020 01:32 pm