Reserve Bank Governor Raghuram G Rajan presented his last monetary policy review. Updates here.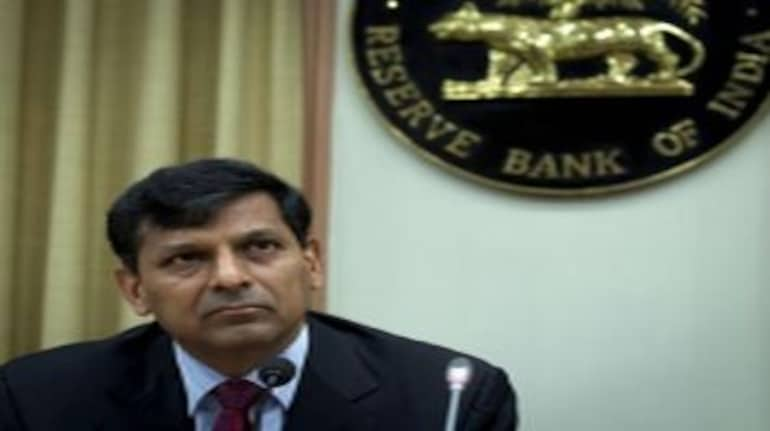 12.30 pm:
There it is then. Raghuram Rajan presented his last monetary policy decision, and in line with expectations, he did not move on interest rates.
But through his three-year term, which ends next early next month, Rajan introduced wide-ranging reforms. Today too, he said he will make full use of the 28 days remaining in his office to announce some pending steps: such as steps on the MCLR, corporate bond market and extension of its public-awareness outreach.
On interest rates themselves, the RBI flagged some upside risks to its inflation forecast but said its 5 percent March 2017 target will likely hold.
Some experts, however, say that the room for further rate cuts is limited going forward.


12.17 pm:
Meanwhile, the subject comes back to the old question. When will banks cuts rates?
Arun Tewari, CMD of Andhra Bank, says that the upcoming FCNR-B outflows will put upward pressure on yields and that with deposit rates expected to remain high, a sharp cut in lending rates going forward.
At the policy meeting today, Rajan had said the RBI would further tweak the calculation of banks' cost of funds based on marginal cost of money. This may lower rates some more.


12.14 pm:
The outlook on the room for rate cuts appears mixed. Sonal Varma of Nomura says that it is a bit surprising that the central bank chose to stick to its inflation forecast.
"Risks to the inflation target of 5 percent for March 2017 continue to be on the upside. Furthermore, while the direct statistical effect of house rent allowances under the 7th CPC's award may be looked through, its impact on inflation expectations will have to be carefully monitored so as to pre-empt a generalisation of inflation pressures," the RBI wrote in its policy statement.
"In terms of immediate outcomes, much will depend on the benign effects of the monsoon on food prices."
Varma says that this limits the room for rate cuts going forward.


12.08 pm:
The advance declines ratio is worsening with 500 gainers to about 1000 losers on the NSE.


12.05 pm:
The market has turned a bit lower. CNBC-TV18's Anuj Singhal says this may be routine profit booking. But Dimensions Consulting's Ajay Srivastava said that investors, who were expecting specific steps on liquidity, are now taking the exit from stocks that have disappointed in earnings so far.


12.01 pm:
Going forward, what is the RBI expected to do?
"In the next few months, we expect continuity in the RBI's policymaking. In particular, the government's notification of the inflation target at 4 percent +/-2 percent through to 2021 denotes ongoing commitment to keeping inflation at moderate levels," says
Marie Duron of Moody's
.
"Meanwhile, the formation of a monetary policy committee is in line with common practice in many central banks around the world. We do not expect the RBI's shift to such a structure to have any significant implications for the conduct of monetary policy."


11.58 am:
Mistry was speaking in the backdrop of the RBI's decision to move to a liquidity-neutral situation from a liquidity-deficit situation.
Sajjid Chinoy of JPMorgan says that RBI's new liquidity stance may result in further softening of yields.


11.55 am:
Mistry says that a pick-up in consumption and demand will result in more demand for money, which will keep a floor to falling bond yields.


11.52 am:
"The policy decision is in line with expectations," says HDFC Vice Chairman and CEO Keki Mistry.
Mistry weighs in Rajan's comments on transmission of monetary policy, saying that banks' cost of funds are high because of high-cost deposits and as they come off, lenders will cut rates. "It's only a matter of time."


11.50 am:
The press conference comes to an end.


11.47 am:
Rajan stays tight-lipped about his future plans, saying that he has not made up his mind on any specific assignments. During a recent lecture in Bengaluru, he had said he would be around for some projects after his stint at RBI ends.


11.44 am:
When asked about what advice Rajan would have for his successor, the governor does not bite. Except to say that he thinks the next policy decision might be taken by the monetary policy committee rather than the Governor himself/herself.


11.39 am:
The Governor is now talking about the monetary policy committee and the government's ratification of a long-term 4 percent inflation target. Deputy Governor Patel says adoption of the target will help control inflation better.


11.36 am:
Rajan is asked about the trend of negative yields seen in some developed markets. He says that while the trend is not healthy, it does not mean there will be an immediate crash in bond prices.


11.34 am:
"I do not want to say anything about the critics," he says. "There have been support from a lot of people. At the end of the day, I look back at my tenure positively as we feel we were able to move the needle a little bit everyday. I am leaving the office feeling I did something."



.@RBI Guv Rajan: It has been a fantastic experience so far, have nothing to say to the critics. #RajansLastPolicy pic.twitter.com/tO96o0WyiA


— CNBC-TV18 News (@CNBCTV18News) August 9, 2016
11.32 am:
Rajan is now asked about the few controversies that marred his term and how he looks back at his tenure.


11.30 am:
Meanwhile, Sanjay Jha has a message for the departing Governor.



#RaghuramRajan leaves the august office of #RBI Governor with an impeccable track-record. Lesson: Never let cowards bully you. Ever !


— Sanjay Jha (@JhaSanjay) August 9, 2016
11.27 am:
"The benefits of the GST is that the cascading disappears. So the effective tax rate comes down. So the inflationary impact could be one-time and/or limited as a large part of the CPI basket is GST-exempt," says Deputy Governor Urjit Patel.


11.25 am:
At the policy conference, Rajan says the central bank will continue to stay in accommodative mode and says the rollout of the GST, which some expect to stir up inflation, will not necessarily come in the way.
Further, he says expects banks to continue to transmit more of the RBI's interest rate cuts. So far, banks have cut rates only by about 75 basis points.


11.20 am:
If you want to read the RBI's policy statement,
go here
.


11.16 am:
Rajan talks about the FCNR-B window, which matures towards the end of his term. He says does not expect outflows to be materially disruptive to the financial system.
The FCNR window netted India USD 34 billion in foreign inflows at the height of the rupee crisis in September 2013. With the rupee more or less stable now, India can afford to let that money return.


11.14 am:
Rajan is not done yet. Announces that the RBI will unveil steps to boost the corporate bond market as well as continue its year-long public awareness campaign.
"If you get an email in my name asking I will transfer you money, ignore it," he says.
Here's what he plans to do with the rest of his tenure.



#RajansLastPolicy Gov: My last policy but I still have 28 days left in my term which I intend to use fully @CNBCTV18Live


— Shereen Bhan (@ShereenBhan) August 9, 2016



11.10 am:
The Governor now starts outlines his rationale for leaving the policy statement, saying he expects inflation to stay within the RBI's target zone but recent increase in food prices and a pick-up in economic growth led the RBI to stay put.

11.09 am:
Rajan is now talking. His last policy statement.


11.09 am:
Here's RBI's periscope feed.



LIVE on #Periscope: Third BI-Monthly Monetary Policy Statement 2016-17 https://t.co/WaTe1Hccno


— ReserveBankOfIndia (@RBI) August 9, 2016
11.08 am:
Rajan will be making the policy statement soon.


11.05 am:
Reacting to the policy decision, the market is largely unchanged.


11.03 am:
The decision to move from a perpetual liquidity deficit banking system to a liquidity neutral was taken in April.


11.02 am: As was expected, one of the key statements in the policy statement is on liquidity.

The RBI will "continue to provide liquidity as required but progressively lower the average ex ante liquidity deficit in the system from one percent of NDTL to a position closer to neutrality."


11.00 am: THERE IT IS. NO RATE CUT. THE REPO RATE STAYS AT 6.5 PERCENT.

10.58 am:
Today, he is widely expected to hold interest rates steady. We will know in two minutes.


10.55 am:
Rajan was criticised by some for keeping interest rates too high in his fight against inflation even though, starting 2015, he cut interest rates by 150 basis points (1.5 percent).


10.52 am:
The tenure of Rajan, a celebrated economist and a Professor at Chicago Booth School, was marked by a falling inflation, increasing reserves, stable currency and rising growth. He also took a number of steps to fight bank non-performning assets and opened up the banking sector like no other Governor had done before.
Here's an in-depth analysis.

10.48 am:
The policy will be the last one chaired by outgoing Governor Rajan as his three-year term comes to end next month.
The governor will walk out from his Mint Street office a proud man as consensus views his stint mostly positively, in spite of some dubious politicking ahead of his decision to not seek a second term.


10.45 am
: Welcome to the live coverage of the Reserve Bank of India's third bi-monthly monetary policy review that will be presented by Governor Raghuram Rajan today.
Stay with us as keep track of the policy decisions, expert reactions and give you real-time commentary as the action unfolds.
First Published on Aug 9, 2016 10:40 am