It would be prudent to wait for one or two more quarters. Defence is a theme that will ultimately play out
Within capital goods, defence has taken a back seat as most companies in this space are going through a difficult patch. Despite strong order book and government's intent to increase domestic procurements in the defence sector, companies have not been able to capitalise on this opportunity. Delays in procurements and extension of execution cycle has been impacting growth. Companies like Astra Microwave has reported a 36 percent year-on-year decline in order inflows to Rs 650 crore during the quarter-ended June.
Excluding the result of Hindustan Aeronautics,
, which got impacted because of the high base of last year, seven companies that we reviewed in this study have reported a mere 2 percent year-on-year growth in Q1 sales. While this is better than the negative 4 percent growth recorded in the March quarter, it is quite low and explains the situation on the ground.
Considering the lean period, most companies were able to reduce their operating and other costs. On an aggregate basis, they have been able to reduce cost by about 4.6 percent during Q1, which resulted in better profitability, albeit with marginal growth. These companies have reported a 6 percent growth in profits for Q1. Among companies, Bharat Electronics posted good results with 22 percent growth in standalone revenue and reduction in expenditure helping it deliver 43.4 percent growth in net profit.
Image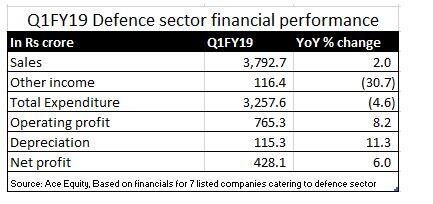 Keeping low expectations

While the results were slightly better than the March quarter, the current situation in the sector may prevail for some more time. Most companies have guided that delays in ordering and procurement is visible, which is supposed to improve over the next two quarters, as few of the large projects in the pipeline are getting finalised.
Meanwhile, the order book is strong at about 3 times or more in some cases. Till the ordering cycle kicks in, companies will keep the factories running with existing orders.
At this point in time, most companies are operating at low capacity utilisation, in light of the recent capex undertaken by them. This would mean that profitability and margin would remain under pressure. Companies like Astra Microwave Products and others have guided to increasing competition and companies working at lower margins to recover fixed cost. Nevertheless, most of them are expecting this scenario to improve over the next two quarters.
Top picks in the sector
It would be prudent to wait for one or two more quarters. Defence is a theme that will ultimately play out. We like 
Cochin Shipyard
, which is sitting on an order book of close to 7 times its sales and trading at 12 times its FY20e earnings. We also like Bharat Electronics, which has 45 percent market share in defence electronics, and is currently trading about 15 times FY20e earnings. In fact, both companies have delivered above industry growth in sales during the June quarter.
For more research articles, visit our Moneycontrol Research page
First Published on Aug 30, 2018 03:09 pm