We remain enthused about the company's branded apparel, advanced materials and engineering businesses given their revenue visibility and ability to perform consistently well
Arvind, one of India's biggest conglomerates, is engaged in businesses across verticals such as textiles (fabric and garment manufacturing cum sale), branded apparel retailing, engineering, advanced materials (home textiles for infra, healthcare, energy, aviation and automotive clients) and water treatment.
Recently, the NCLT (National Company Law Tribunal) allowed Arvind to demerge the branded retail and engineering divisions into Arvind Fashions and Anup Engineering, respectively. The effective date of demerger and record date for allotment of shares is likely to be November 29.
The demerged companies (Arvind Fashions, Anup Engineering) are likely to be listed on the bourses in February next year.

Q2 FY19 snapshot
As far as continuing operations are concerned, Arvind's Q2 numbers pertain to businesses such as textile (fabric and garment manufacturing cum sale), advanced materials and water treatment only.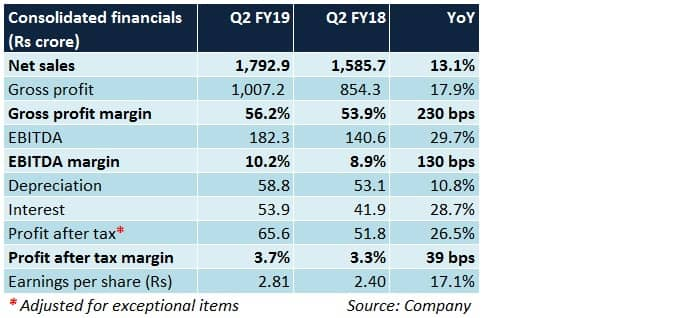 Segment-wise review
Textiles
Revenue growth in this segment was largely driven by sale of garments and woven fabric. Reduced drawback rates and high operating costs (pertaining to new garmenting capacities) led to a margin reduction.

Advanced materials
Higher realisations per unit in connection with value-added products (such as carbon fibre variants), coupled with efficiencies in processing and economies of scale, helped deliver a positive set of numbers.
Branded apparel
Weak consumer sentiment, subdued Onam sales and delay in festive purchases (postponement of Diwali to Q3 this fiscal) took a toll on like-to-like sales growth in this segment. Online sales continued to gain momentum on the back of discounting and improved market penetration.
Engineering
Despite flattish revenue traction YoY, margins witnessed an upmove because of good project execution and cost control initiatives.
What lies ahead?
Textiles
To move up the value chain, Arvind is gradually transitioning itself from a fabric manufacturing company to an apparel maker-cum-retailer. Moreover, the management is adding garmenting units in Jharkhand, Ahmedabad, Andhra Pradesh and Ethiopia (exports to North America and Europe) to nearly triple its existing garment manufacturing capacity (of 30 million pieces per annum) over the next 3 years.
To save costs and reduce dependence on external suppliers, Arvind aims to increase the captive consumption of fabric (i.e. fabric manufactured and used internally to manufacture garments) from 10 percent at present to 25-30 percent over the next 2-3 years.
Currency benefits (owing to Rupee's depreciation vis-à-vis the US dollar) in respect of garment export orders will start accruing from Q4 FY19. Arvind's cash flows are hedged till then.
Branded apparel
Power brands, which have been registering double-digit growth YoY (in the range of 10-20 percent) steadily over the quarters, will be crucial in determining this segment's revenue trajectory. Growth prospects in the branded innerwear category (Hanes, Calvin Klein, US Polo Association) also appear promising.

To capitalise on this uptrend, marketing spends are likely to increase in due course. Benefits of operating leverage, network expansion, brand extensions and product positioning should augur well in terms of margin.
Advanced materials
Arvind has entered into a tie-up with a European firm for cured-in-place-pipe technology (CIPP). Going forward, the management expects sales growth of 20-30 percent YoY. As the company's portfolio of mature products gain scale, margin should gradually move upward too.
Engineering
This segment designs and manufactures critical process equipment (heat exchangers, pressure vessels, reactors, columns/towers, centrifuges, etc) for industries such as petrochemicals, fertilizers and power, among others.
Anup Engineering, India's third largest heavy fabrication player and an entity with a cash positive balance sheet, aims to tap opportunities in global markets, while simultaneously strengthening its operational capabilities domestically. The management's ambition is to reach the Rs 1,000 crore turnover mark over the next 5-7 years.
Major hurdles for the textile segment
Slowdown in denim fabric offtake has resulted in an oversupply situation, thus placing downward pressure on realisations. Stiff competition from unorganised players only adds to the difficulties.
A 3-6 month delay in setting up new garmenting capacities (to the tune of 44 million pieces) will keep sales growth fairly modest (at 5-6 percent YoY, versus 8-10 percent that was initially guided) for FY19.
Is Arvind investment-worthy?
Business reorganisation in the aftermath of the demerger should unlock value for investors. We remain enthused about Arvind's branded apparel, advanced materials and engineering businesses, given their revenue visibility (attributable to favourable industry factors) and ability to perform consistently well.
However, a lot would depend on how quickly the textile arm's proposed capex of Rs 1,500 crore (over the next 3-5 years) begins to contribute noticeably towards improving Arvind's overall returns on capital.
In the branded apparel segment, it will be equally important to watch out for the financials of 'Unlimited' (erstwhile loss-making stores that have been going through a restructuring phase of late) and the pace at which brands maximise their sales potential to facilitate margin accretion.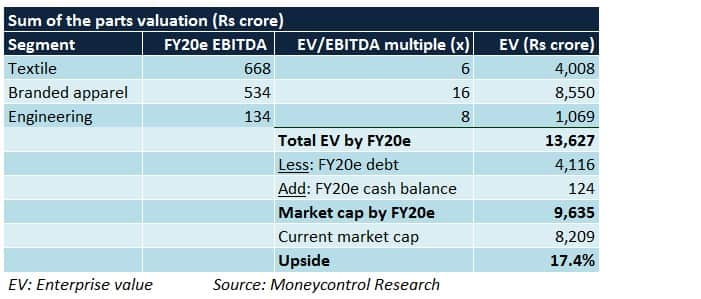 After the demerger is effected, Arvind Fashions and Anup Engineering will, in all likelihood, list at a premium. In comparison, Arvind (excluding branded apparel and engineering) may continue to trade at lower valuation multiples till there are indications of a visible improvement in performance.
Nevertheless, after a sharp correction over the past year, the stock offers decent upside from current levels.
For more research articles, visit our Moneycontrol Research page
First Published on Nov 8, 2018 03:10 pm