India, one of the leading countries in Asia has a whopping 33 million children employed in various forms of child labour. The world's largest democracy is yet to ratify the Minimum Age Convention, 1973 (No 138) of the International Labour Organisation (ILO), that lays down ground rules for employment of minors across the globe.
World Day against Child Labour, on June 12, is an ILO sanctioned holiday first launched in 2002 with the objective to raise awareness and activism to prevent child labor under the above convention.
An estimated 150 million children are involved in child labour worldwide as per UNICEF data.
On the other hand, Article 2 of the Minimum Age (Industry) Convention, of the ILO, 1919, which has been ratified by India, does not allow children under fourteen to be employed in any public/private industrial undertaking, does not even apply for India.
According to a Livemint report, the government last year amended child labour laws to allow children below 14 to work in family businesses and the entertainment industry (excluding circuses) in order to create "a balance between the need for education for a child and  reality of the socio-economic condition and social fabric of the country".
Not only that, the amendment also modified the definition of 'adolescents' – to children between 14 and 18 years of age and barred them from working in any hazardous industries only.
Keeping in mind these developments, here's look at some of the key statistics on child labour in India:
-1 in every 11 children in India works to earn a living, according to statistics by ActionAid India.
-There are five states which are the India's biggest child labour employers- Bihar, Uttar Pradesh, Rajasthan, Madhya Pradesh and Maharashtra, as per data given out by Save the Children NGO. National capital Delhi is responsible for a share of 1 million child labour alone.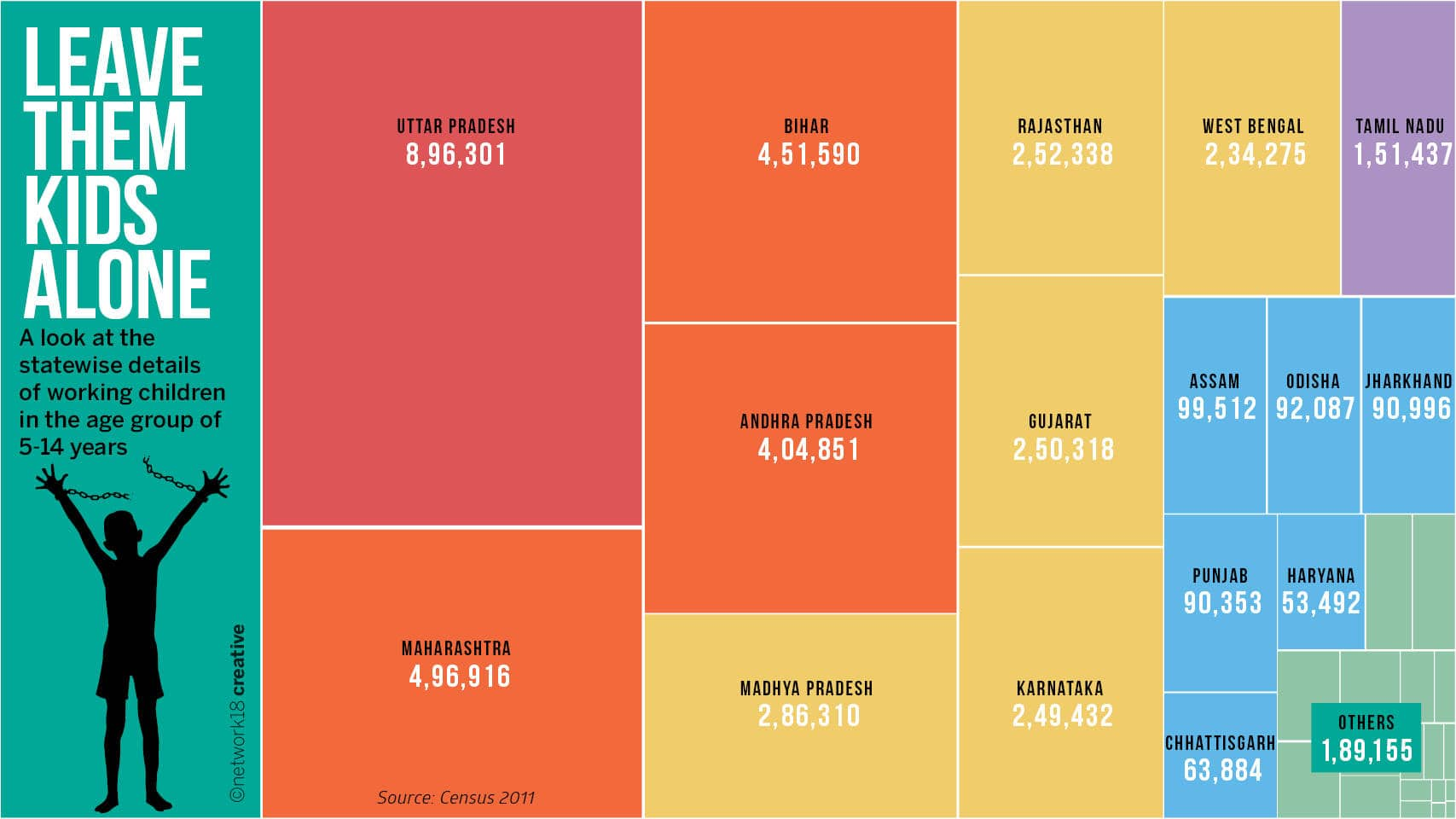 -A recent analysis by CRY of census data in the country shows that the overall decrease in child labour is only 2.2 per cent year on year, over the last 10 years. Also, it has revealed that child labour has grown by more than 50 per cent in urban areas.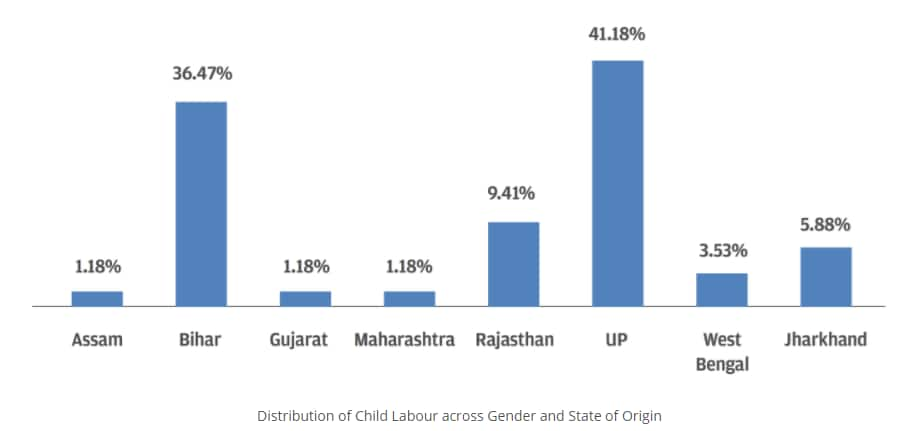 -There are 33 million child labourers between the ages of 5-18  years in India as per Census 2011 data, and 10.13 million between the ages of 5-14 years.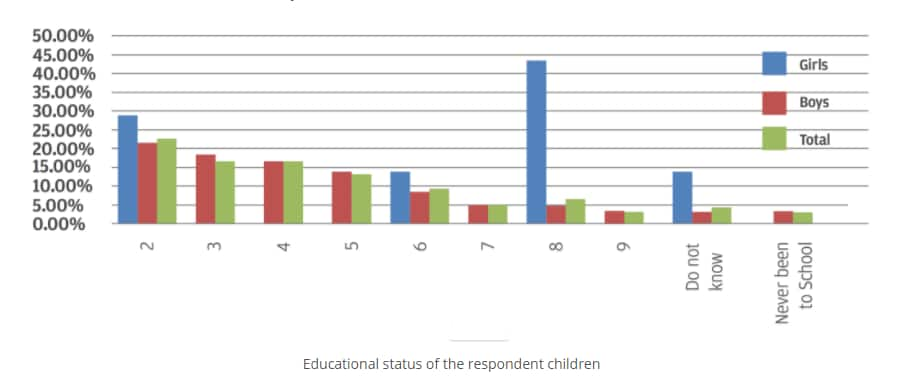 -Considering that there are 444 million children in India under the age of 18, they form 37 per cent of the total population in the country. Therefore child labour in the country in real figures boils down to 10,130,000 kids involved various occupations across hazardous sectors.  And this is only data from six years ago.  (Source: Census 2011 data )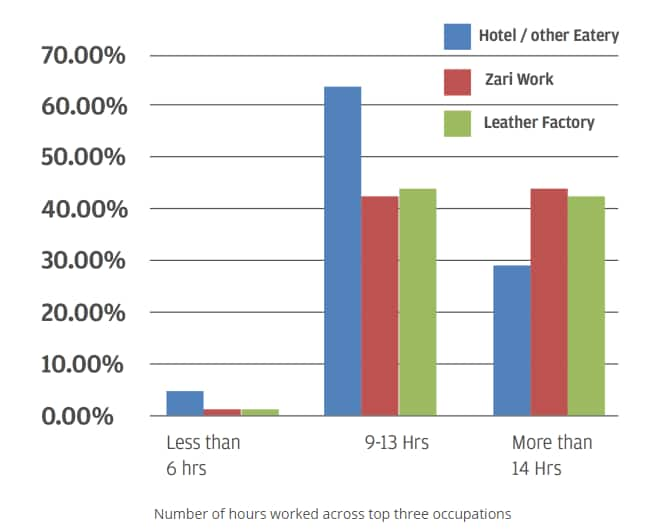 -As per HAQ: Center for Child Rights data, child labour is highest among Backward Classes such as OBCs, Muslims, Scheduled Castes and Scheduled Tribes.
What's the Silver Lining?
The National Child Labour Project, a scheme approved by the Cabinet on 14th August 1987 during the Seventh Five Year Plan, was formulated with the objective of rehabilitating children withdrawn from employment thereby reducing the incidence of child labour in known areas of contention, the target group for which is children below 14 years. Under this, a survey is conducted in the district area and children in the age group of 9-14 years taken and withdrawn from these activities and out into special NCLP training
Under this, a survey is conducted in the district area and children in the age group of 9-14 years taken and withdrawn from these activities and out into special NCLP training centers. Its chief objective remains to wipe out all forms of child labour though.
Ministry of Labour has been financing since 1981, voluntary organisations by the way of grant-in-aid for taking up action oriented projects for the benefit of child and women labour. The Ministry's share as per this is Rs 1,52,550 for each special school of 50 children under the
Grant-in-aid Scheme.



These photos disturb me. I am sure they disturb you too. The only way we can change the picture, is together #WorldDayAgainstChildLabour pic.twitter.com/fN7RsX1mls


— CP Mumbai Police (@CPMumbaiPolice) June 12, 2017
First Published on Jun 12, 2017 04:34 pm