A global survey shows that 88 percent of Vietnamese agree that life is better today than it was in 1967, while Italians feel the 60s were a better time to live in.

India's dramatic economic transformation over the last 50 years, its consistent improvement of social indicators, and its efforts in improving material well being for its citizens have all made it a better country to live in, according to 69 percent of the respondents surveyed for a study earlier this year.
Out of the 2,464 Indians interviewed in the union territory of Delhi and 16 of the country's 18 most populous states, 1,700 adult citizens said life is better today, while the rest believe things are worse than they were back in 1967.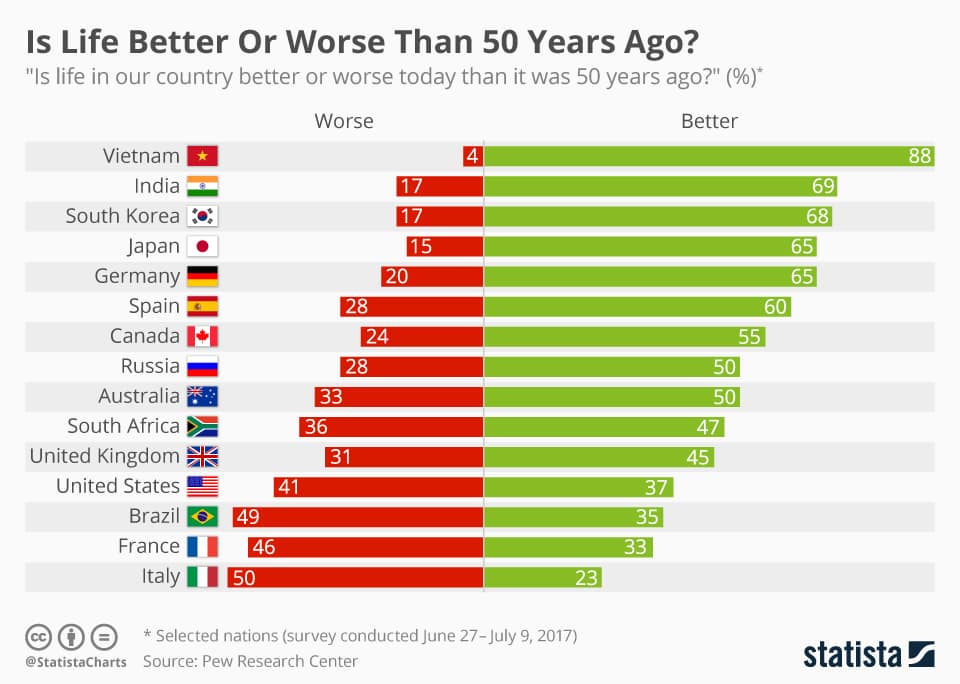 Also Read: India ranks 100 in global prosperity index, catches up with China
Here are several reasons why Indians believe that the country makes for a better place to live in now:
> Economic transformations
A positive reply from the majority of the Indians surveyed is indicative of the transformation in India's economy over this period of time. India's economic growth, particularly after 1991, has resulted in rapid development of facilities and infrastructure.
Despite being the world's seventh-largest economy, India's gross domestic product (GDP) grew at pace of 6.3 percent year-on-year in the third quarter of 2017. The lowest GDP growth figure recorded in the last three years was 5.7 percent, which happened to be the previous quarter's figure. At this pace, the country's economy is growing faster than any other major economy in the world, except China.
By 2050, India's economy is projected to be the world's second-largest, with China being the largest, according to the World Economic Forum. The International Monetary Fund (IMF) projected that by 2022, India's GDP per capita is expected to grow to USD 2,792 dollars at current prices.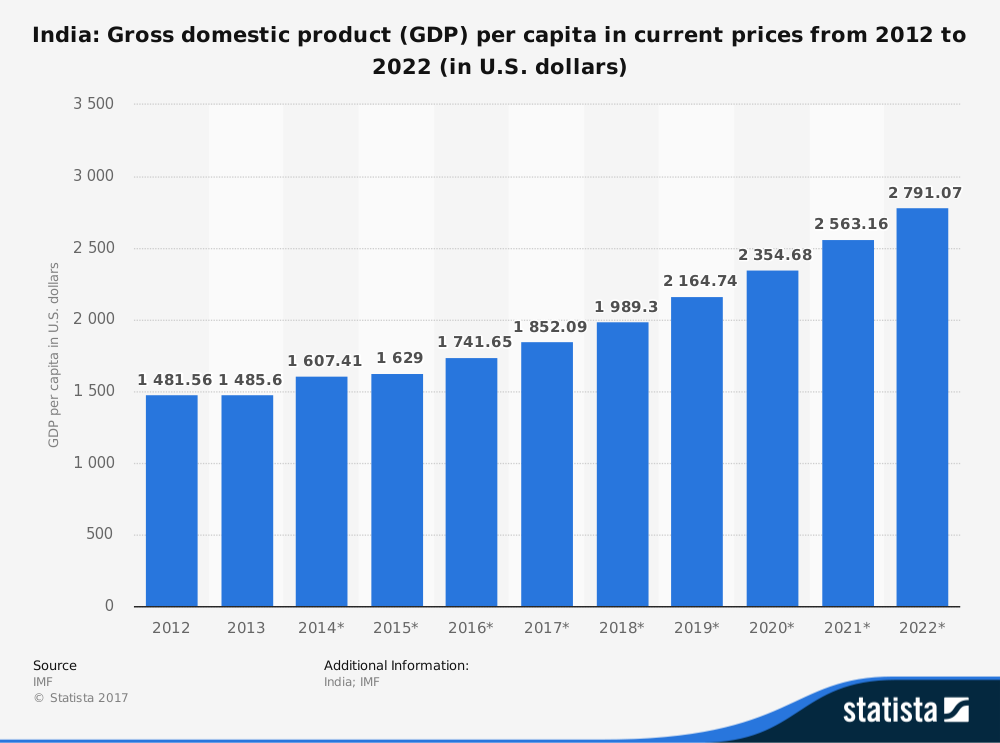 A continuously improving per capita income and positive projections for India's GDP have resulted in positive opinions about the country in the minds of its citizens.
"In general, countries that are more upbeat about their national economy are more likely to say life today is better compared with the past," said the Pew Research Centre report.
> Decline in unemployment rate
The rate of unemployment in India decreased to 3.46 percent in 2016 from 3.49 percent in 2015. According to Trading Economics, the unemployment rate in India averaged 4.08 percent between 1983 and 2016, with an all-time high of 8.30 percent in 1983 and a record low of 3.46 percent in 2016.
This consistent decline in unemployment rate indicates that more and more citizens have been employed over the last few years, thereby increasing their purchasing power and circulating more cash in the economy.
Source: tradingeconomics.com
> Improved social indicators
Apart from consistent economic growth, social indicators like education, mortality rate, poverty, gender equality and others reflect the growth and prosperity of a country.
India's improving rank in indices that measure social progress, such as the Human Development Index, indicates that the country is a better place now than what it was 50 years ago.
The country's rank in the Human Development Index (HDI), which studies three main indicators - life expectancy, years of schooling or education, and gross national income in terms of purchasing power parity (PPP) - in a country, has gone up four notches since 1990.
In 2016, India ranked 131 among 188 countries at 0.624 HDI. The life expectancy of its citizens improved to 68.3 years from 57.9 years in 1990. This increase in life expectancy indicates an improvement in the country's healthcare and pharmaceutical sectors, which are crucial for the well being of its people.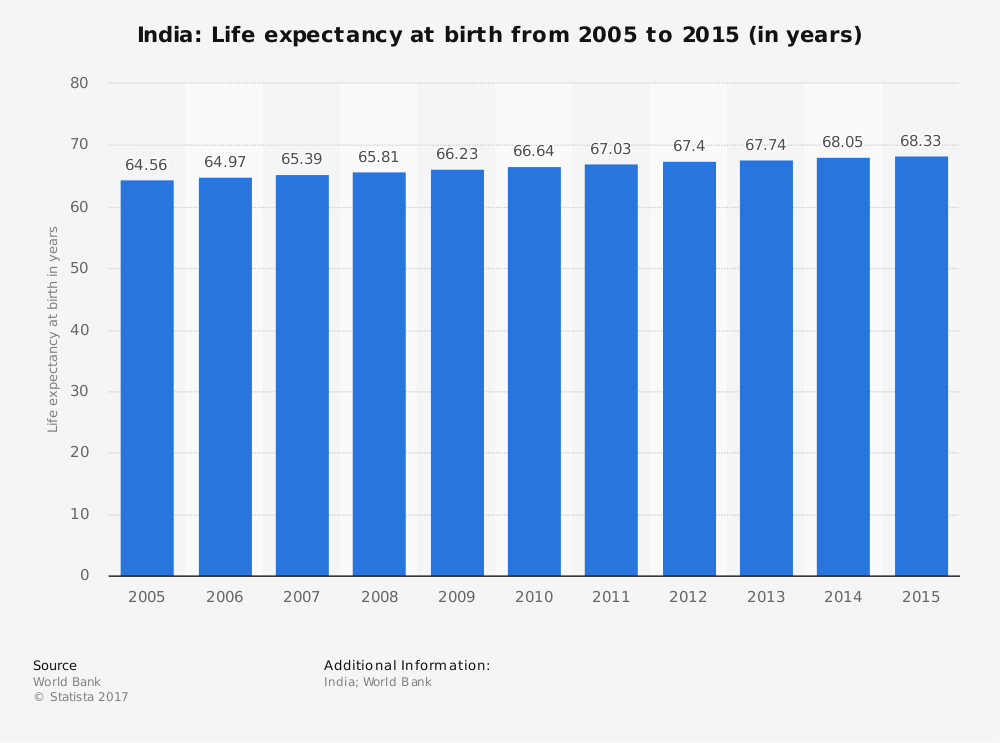 Some of the other major social indicators are literacy rate and years of schooling, which pertain to the spread of education in a country and the quality of educational facilities available.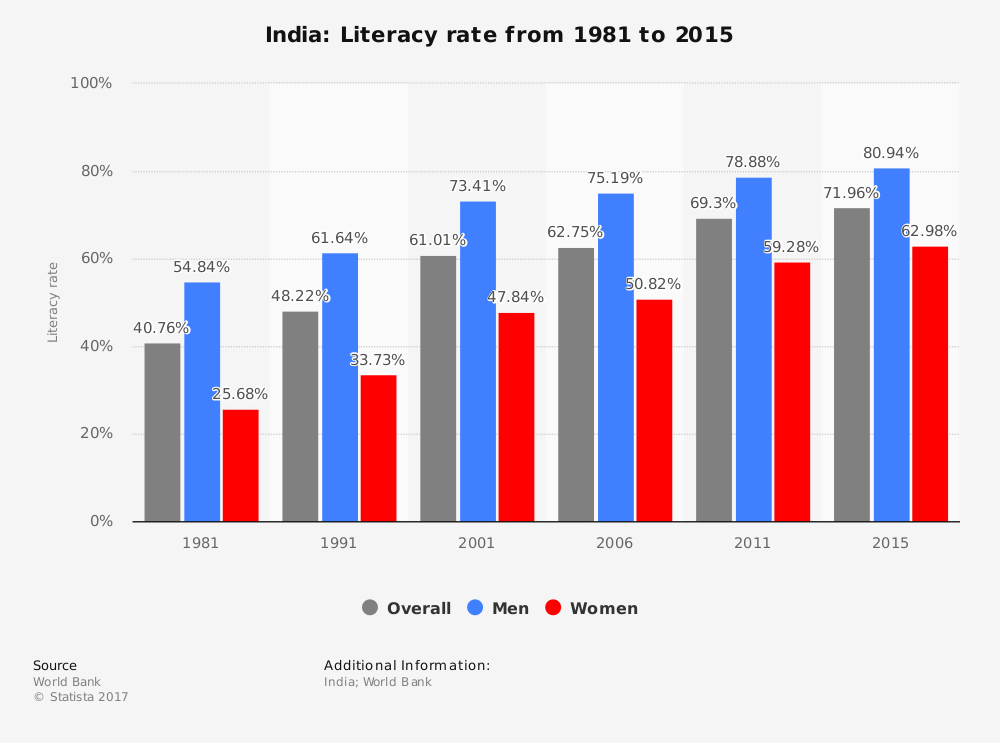 In contrast, 17 percent of the Indians surveyed reported that they believe their country is worse today than what it was in 1967. This could be due to reasons like increasing income inequality. According to a Credit Suisse report, 92 percent of Indians have wealth less than Rs 6.5 lakh while 0.5 percent have a net worth of over Rs 65.2 lakh.
Also Read — DATA STORY: India's household wealth grows by more than Rs 29 lakh cr, but not everyone is getting richer
The percentage of citizens across the globe who feel that life was better 50 years ago is as high as 70 percent in countries such as Venezuela, Mexico, and Jordan, despite these countries showing a healthy HDI, indicating better health and education facilities.
Less than 20 percent of the people in these three countries said that life is better now, mostly because of the countries' present economic and political instability.
Venezuela, where only 10 percent of citizens believed that life is better now, is experiencing the worst economic crisis in its history with an inflation rate of over 400 percent after prices of oil fell across the globe. Oil is what brings in the lion's share of the country's revenue.
In the case of Mexico, the IMF in October cut its economic growth forecast to 1.9 percent from 2.1 percent following its prolonged North American Free Trade Agreement (NAFTA)-related uncertainty along with political uncertainty and tighter monetary conditions after two earthquakes in September.
Also Read: All you need to know about NAFTA
These recent uncertainties and increased tensions with neighbor United States resulted in a majority (68 percent) of the Mexicans stating that life in the country is worse than it was 50 years ago.
However, in the case of Jordan, economic growth or social indicators had nothing to do with the dissatisfaction of its citizens. The country has performed well on both fronts but only 18 percent of citizens feel that life is better than it was 50 years ago.
The low percentage may be due to the dispute between Jordan's neighbors  Israel and Palestine. Both countries have been fighting over Jerusalem to make it as their capital city, claiming it as their sacred city. Palestinians and Israelis have also been fighting over control of the West Bank and the Gaza Strip, both of which are under Israeli occupation but have large a Palestinian population.
First Published on Dec 26, 2017 01:35 pm